Estimated read time: 6-7 minutes
This archived news story is available only for your personal, non-commercial use. Information in the story may be outdated or superseded by additional information. Reading or replaying the story in its archived form does not constitute a republication of the story.
PROVO — John Curtis was declared the winner in Tuesday's Republican primary for the 3rd Congressional District seat vacated earlier this summer by former Rep. Jason Chaffetz.
The Associated Press called the race for the Provo mayor over Chris Herrod and Tanner Ainge shortly before 10 p.m., about an hour after Ainge had conceded.
Herrod said that was "interesting," but he wasn't ready to say the race was over.
Results posted late Tuesday showed Curtis with just over 42 percent of the vote in the largely by-mail election, compared with nearly 31 percent for Herrod and slightly more than 27 percent for Ainge.
Curtis addressed a crowd of supporters gathered in a conference room at the Provo Marriott after being introduced by Gov. Gary Herbert, who had backed the fellow Republican in a rare primary endorsement.
"I'm so proud we did it the right way," Curtis said, calling his opponents "tough" and "fierce," and urging them to unite behind his candidacy. He said the "attack ads" against him paid for by out-of-state super political action committees didn't work.
"They said you can't win a campaign without being negative. We were not negative," he said to cheers and applause before telling the political action committees, "This is my town, this is my district, go home. You wasted your money."
Curtis declined to comment on Herrod not conceding but said it wouldn't hurt him in his race against Democrat Kathie Allen, the new United Utah Party's Jim Bennett, and several independent and minor party candidates in November.
State GOP Chairman Rob Anderson was more blunt about Herrod.
"He's got a lot of ground to make up. I don't think it's possible. I think the prudent call would be to concede, but we'll find out," Anderson said. "It doesn't hurt the party. We're all in for Curtis now. He's the winner, and we'll get him elected this fall."
The governor's advice? "Let's get past it. I know it hurts to lose, but we need to bind up those wounds and come together. Because the big election is November."
Herrod, however, said throughout the evening he intended to wait for more results.
"We're not ready," he said. "I want every vote to count."
Thank you UT3CD! On to the general!#CurtisforCongresspic.twitter.com/cu7xV5q9gw

— John Curtis (@Curtisut) August 16, 2017
Herrod said the Utah County Clerk's Office reported that 30,000 ballots have yet to be counted. Conservatives and undecided voters often wait until the last minute to vote, he said.
"I just think there's a little too much optimism on the other side," Herrod said. "But we'll see what happens. Whoever wins, I'll be the first, if it's not me, to congratulate him."
Utah County Clerk/Auditor Bryan Thompson confirmed his office still has 30,000 last-minute by-mail ballots still waiting to be counted.
Thompson said he was "not going to speculate" whether those ballots could give Herrod enough votes to pull ahead, but he noted that those 30,000 would essentially double Utah County's turnout.
"If AP is calling the race, maybe they ought to hold off just a little bit," he said.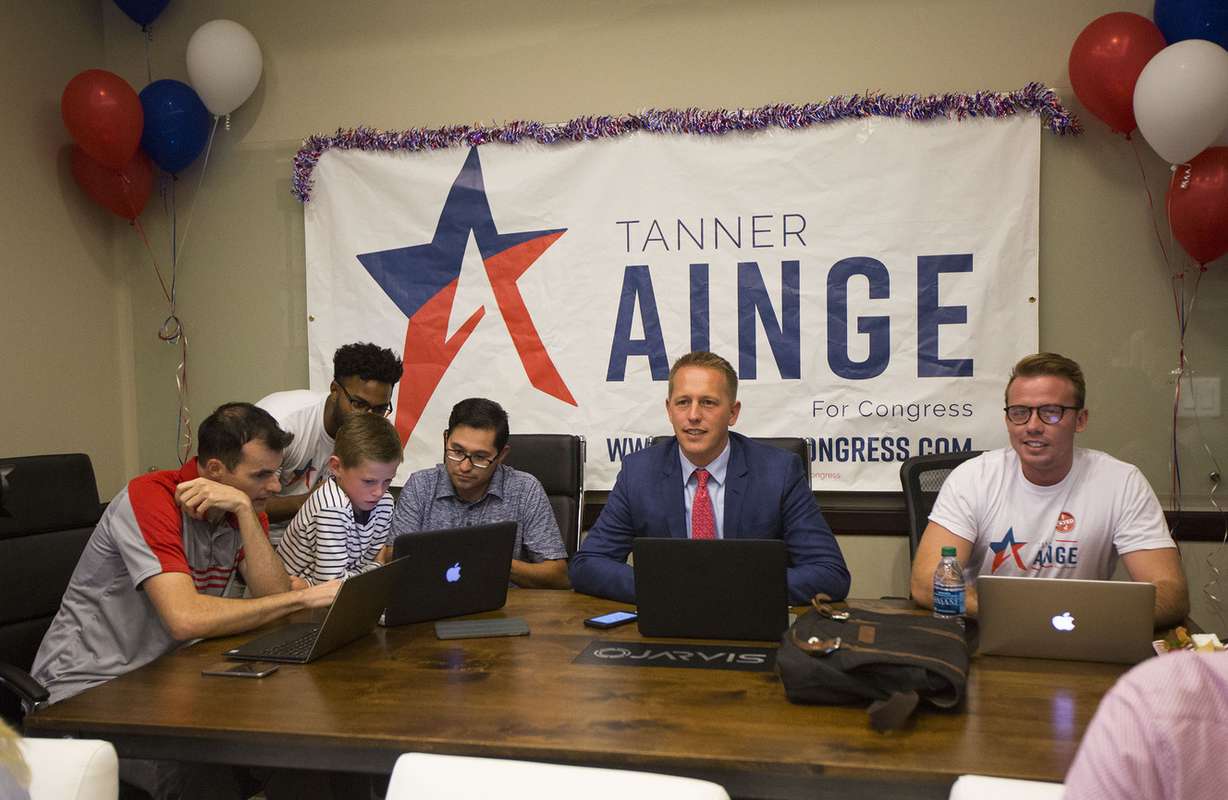 Ainge told reporters he called Curtis to congratulate him after the first set of returns came in.
"It looks like it's John Curtis' night," he said. "We're proud of the campaign that we ran, but we wish John the best."
Ainge said he hopes Curtis continues to tell Utah's story on the national stage.
"Utah should be the poster child for conservative principles and action," he said.
Although he was disappointed about not winning, Ainge said he has a lot to be happy about. Nobody took his campaign seriously at first, yet for the last week it was "pretty obvious" to his opponents and outside political groups that he had a chance to pull an upset, Ainge said.
"Think how crazy that is. They had an incredibly big head start. They've been part of the political establishment here for decades," he said. "They both knew that they were going to run for this particular office well before I did, and yet we gave them a run for their money."
Ainge said he ran an honest campaign that stuck to issues even when faced with personal attacks. He declined to say Tuesday whether he would seek public office again.
Congrats to @Curtisut! As one the most entrepreneurial districts in the country we need a rep who has biz leadership like him for #CD3.

— Tanner Ainge (@tannerainge) August 16, 2017
The unprecedented off-year election required when Chaffetz stepped down June 30 and became a Fox News contributor was complicated by unaffiliated voters in Utah and Wasatch counties receiving GOP ballots in the by-mail race.
The ensuing confusion led to a last-minute push to get unaffiliated voters to sign up as Republicans at the polls so they could vote in the closed primary election and was expected to delay results until the end of the week.
About 60 percent of 3rd Congressional District voters are within Utah County. The district includes portions of Utah and Salt Lake counties, as well as Carbon, Emery, Grand, San Juan and Wasatch counties.
Curtis had been on top in polls going into the primary and had raised more money than either of his opponents, but Herrod and Ainge both had the backing of super PACs that poured close to $1 million into the race.
The race was marked by largely negative campaigning by outside groups that primarily targeted Curtis for having been a Democrat years ago and for supporting tax increases as mayor, although some ads were also aimed at Herrod or Ainge.
Herbert was critical of the tone of the campaign and praised Curtis for taking the "high road" in a radio commercial.
Herrod, who beat 10 candidates — including Curtis — for the backing of 3rd District GOP delegates, also had the support of Texas Sen. Ted Cruz. Cruz was the big winner of Utah's March 2016 GOP presidential preference caucus vote.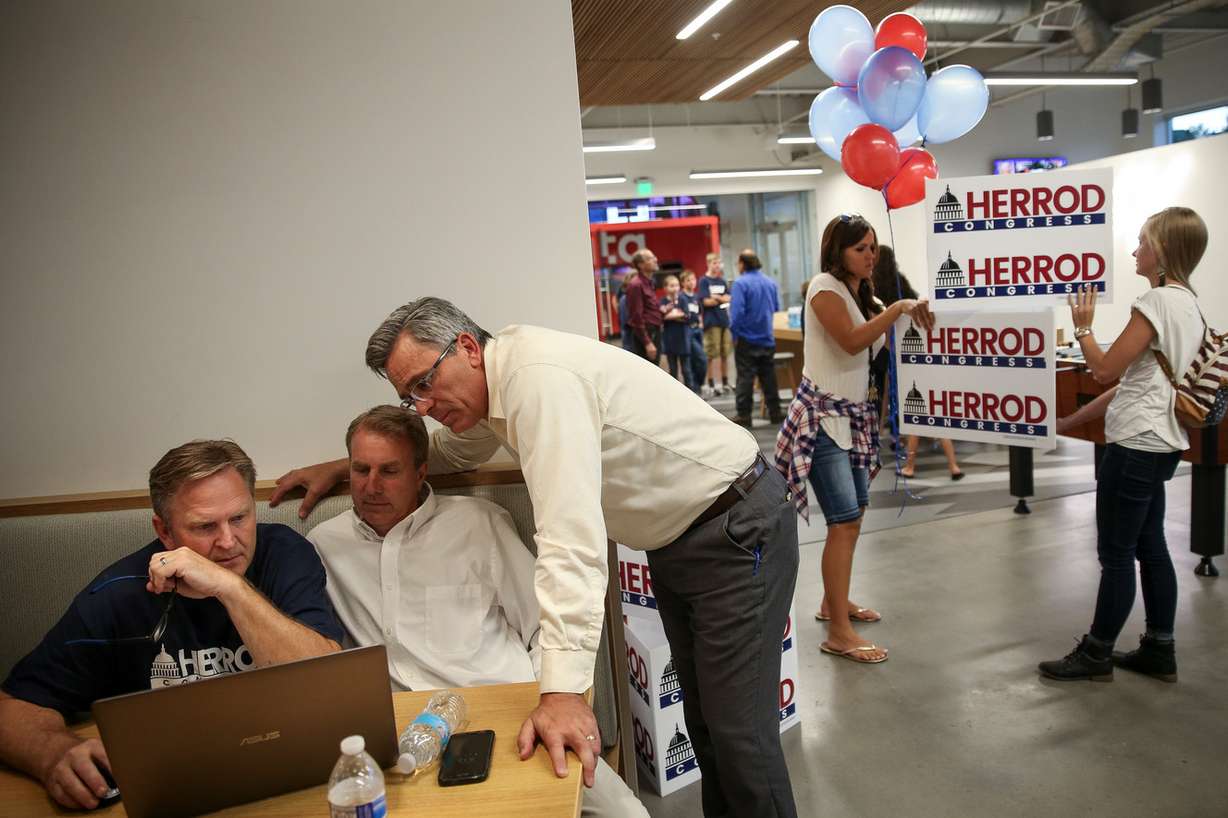 Cruz appealed to Utahns to vote for Herrod at a rally in Lehi and in a TV commercial citing the need for "conservative reinforcements" in Washington, D.C., after the recent defeat of the effort to repeal and replace the Affordable Care Act.
Ainge received an endorsement from former Alaska Gov. Sarah Palin. Palin, who was Arizona Sen. John McCain's running mate on the 2008 presidential ticket, called Ainge a "patriot" in a radio commercial.
Herrod had not been seen as the front-runner in the party delegate race but relied on his long history with the Republican Party to emerge as their choice over state Sen. Deidre Henderson, R-Spanish Fork, and others.
Curtis advanced to the primary even though he lost among party delegates because he also chose to gather voter signatures as allowed under a law known as SB54. The Utah GOP has sued the state over the law and is appealing a loss in federal court.
Ainge, the son of former BYU basketball star and Boston Celtics general manager Danny Ainge, only gathered voter signatures and did not launch his candidacy until after the delegate vote.
Tanner Ainge capitalized on the attention from the Celtics' recent signing of former Utah Jazz All-Star Gordan Hayward, holding a fundraiser featuring a dunk tank with his father.
But his family contributed $260,000 — including $250,000 from Ainge's mother — to a newly created super PAC, Conservative Utah, that supported Ainge, as of the most recent federal filings.
Contributing: Dennis Romboy, Katie McKellar
×
Photos
Related Stories