Estimated read time: 4-5 minutes
This archived news story is available only for your personal, non-commercial use. Information in the story may be outdated or superseded by additional information. Reading or replaying the story in its archived form does not constitute a republication of the story.
OREM — When former Pleasant Grove slugger Payton Henry signed with the Milwaukee Brewers following the 2016 Major League Baseball draft, he expected his pro baseball career to start fast.
After all, he was passing on a guaranteed education at BYU to jump-start his profession.
But the teen phenom who plays catcher and designated hitter as a pro spent 24 games with the Brewers' Arizona League team last year, and he didn't start his rookie season until the Brewers' Pioneer League squad in Helena, Montana, called him up on June 19.
"From being in Arizona for so long, it was nice to finally go to Helena and see a new place and some new faces," said Henry, who is hitting .240 with 21 RBIs and six home runs. "I've really enjoyed Helena; it's a nice quiet town … they love baseball, and it's been fun to play there."
A year later, the Brewers are finally starting to see what they saw in the sixth-round draft pick.
"He's made a lot of adjustments from last year. It was challenging for him, and this year has seen all of his talent coming back," Helena Brewers skipper Nestor Corredor said. "We've seen a lot of good things so far. Hopefully he keeps doing what he's been doing.
"In my perspective, he's going to grow in a good way."
Henry made his return to his hometown this week, when the Brewers were scheduled to play a three-game series with the Orem Owlz. After a pair of losses, the third game of the series was rained out and will be made up when the Owlz travel to Helena for a now-five-game series Monday.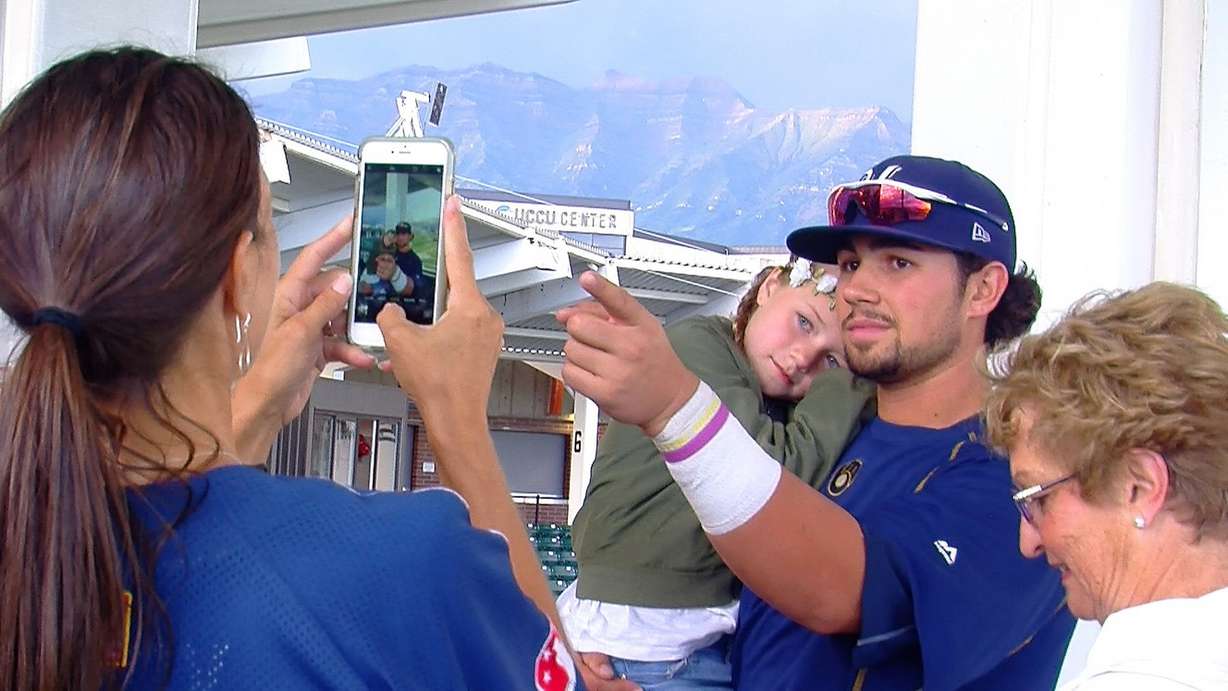 Like the postponed contest — which featured a small army of friends, family and former Pleasant Grove classmates — Henry's game has seen ups, downs and everything in between since signing his contract last June.
"It has its ups and downs, but it's been a really good time," Henry said. "I have some really good teammates, and this has been a fun team to play for.
"Pro baseball is awesome. It's everything I hoped it would be."
Henry, who is slugging .471, has hit the second-most home runs for a Brewers team that rebuilt in the offseason. Even Helena has had plenty of bright spots, like former University of Utah third baseman Dalton Carroll, who hit .336 with five home runs, 21 RBIs and 28 runs scored before being called up to Class A Wisconsin last week.
There's plenty of familiarity for Henry to settle into his team, too. Besides Carroll, the Brewers also had former Utah pitcher Jayson Rose and reliever Dylan File, formerly of Dixie State. The four Utahns on the roster were more than Orem or fellow Pioneer League (rookie league) team Ogden.
"We know of each other growing up — I remember my dad telling me about Dallas and his twin brother at Taylorsville — but it's cool getting to play with these guys," Henry said. "It's a baseball fraternity; once we see each other in pro ball, it's awesome. We have really good conversations about (Utah), and it's been fun getting to know them."
The Brewers are hoping to see even more out of Henry, even a possible call-up to join Carroll in Wisconsin.
"The progress he's shown right now is tremendous. He's improving a lot," Corredor said of Henry. "He's a solid defender behind the dish, and a really clutch hitter.
"He's a really young guy with a lot of progress with just one year in the organization."
Many of the challenges for Henry have been off the field, too. He struggled with injuries in Arizona, and admitted to having to get used to long bus trips across Montana, Idaho, Utah and Colorado in Pioneer League play.
In his early days in Helena, he even got stopped at a train crossing — something he had never experienced in Utah. It's all part of the experience of pro baseball, he says, where being a two-time Gatorade Utah player of the year and Class 5A state champion don't mean as much.
"This is professional sports, and everybody is good. You have to man up and play like they do," Henry said. "It takes some getting used to, and I hope I'm getting better."
His teammates — even the Latinos who make fun of his lack of dance skills — have helped him along, too. With games of "Flip" and a lineup of movies for those long bus rides, he's proving that Utahns can succeed in the grind of minor league baseball.
Now it's time to repay the organization that took a chance on him.
"The organization is great," Henry said. "There are so many good managers, coaches and people here. I can't complain about one single thing, and the teammates as well.
"It's been a really good opportunity. From (time I signed) until now, everything has been so surreal. I've had a really good time."
Related:
×
Photos
Related stories
Most recent Sports stories