Estimated read time: 5-6 minutes
This archived news story is available only for your personal, non-commercial use. Information in the story may be outdated or superseded by additional information. Reading or replaying the story in its archived form does not constitute a republication of the story.
SALT LAKE CITY — Just last weekend, a long-running hackers convention in Las Vegas lined up a dozen U.S. electronic voting machines, many of which were obtained from government auctions and second-hand sources like eBay, and unleashed attendees on them.
By the end of the weekend, all of the machines had been breached in one form or another. And while most of the equipment was somewhat out of date in terms of technology, a few of the models are still in use. DefCon 25 organizers said the exercise was about illustrating and helping address security vulnerabilities in the U.S. election system, a popular national conversation topic following allegations that are still under investigation of outside meddling in the 2016 election cycle.
On Wednesday, another lineup of voting machines popped up at the Utah Capitol. This time, however, the event was aimed at giving members of the public an opportunity to audition some of the latest in voting technology as part of a state process to choose a new provider of voting equipment for county officials who operate Utah elections.
Utah Director of Elections Mark Thomas said the tryout was intended to gather input from real-world customers — aka, voters — to complement the vetting process underway by a committee that includes election officials, digital security experts and others.
"I think it's great that we have the equipment here," Thomas said. "I want the vendors to have to answer tough questions coming directly from the voters that participate today."
Visitors not only got a chance to give the machines a workout, but were also asked to complete a survey about their experience, with questions seeking ratings on each of the machine's ease of use, user confidence in the equipment and, for people with disabilities, how the particular systems accommodated those with vision, hearing or mobility challenges.
Thomas said the process, which will winnow the five finalists down to a single selection, will likely be completed in the next couple of months and will provide Utah counties with both cost benefits and advantages from an economy-of-scale perspective.
Related
"In a lot of states, counties will have several providers to choose from," Thomas said. "All of our counties supported a decade ago the decision to go with a single provider and would still like to continue with a single, statewide solution."
While the single-vendor approach has definable benefits like being able to share resources, knowledge and interchangeable parts and components, Thomas said not all Utah counties have stuck with the current equipment provider, Canadian company Dominion Voting. He noted Beaver County had opted for a different provider and one other Utah county is leasing voting equipment pending the outcome of the state's current selection process.
One participating vendor, Omaha, Nebraska-based Election Systems & Software, featured a slick-looking touchscreen system for in-person voting that was easily adjusted for those with vision challenges, had an audio-only option that verbally walks a voter through the process of completing a ballot and additional, proprietary equipment for scanning and counting mail-in ballots. Regional sales manager Daniel Clark, who works out of Ogden, said his company is one of the national leaders in voting technology.
"We're one of the best in the industry," Clark said. "In the last election cycle, our equipment was in use for over 60 percent of the voters in the country."
While the Election Systems & Software system components have a futuristic look and feel, as did the other finalists' systems, Thomas said they are all functionally similar to the one currently in use. Utah's system includes voting machines that are completely isolated from the internet or digital network access and create a paper ballot record, versus a digital-only accounting, of a voters choices. He also noted that security is high on the priority list for the new provider.
"One of the benefits we have in our system now is it's never hooked up to the internet," Thomas said.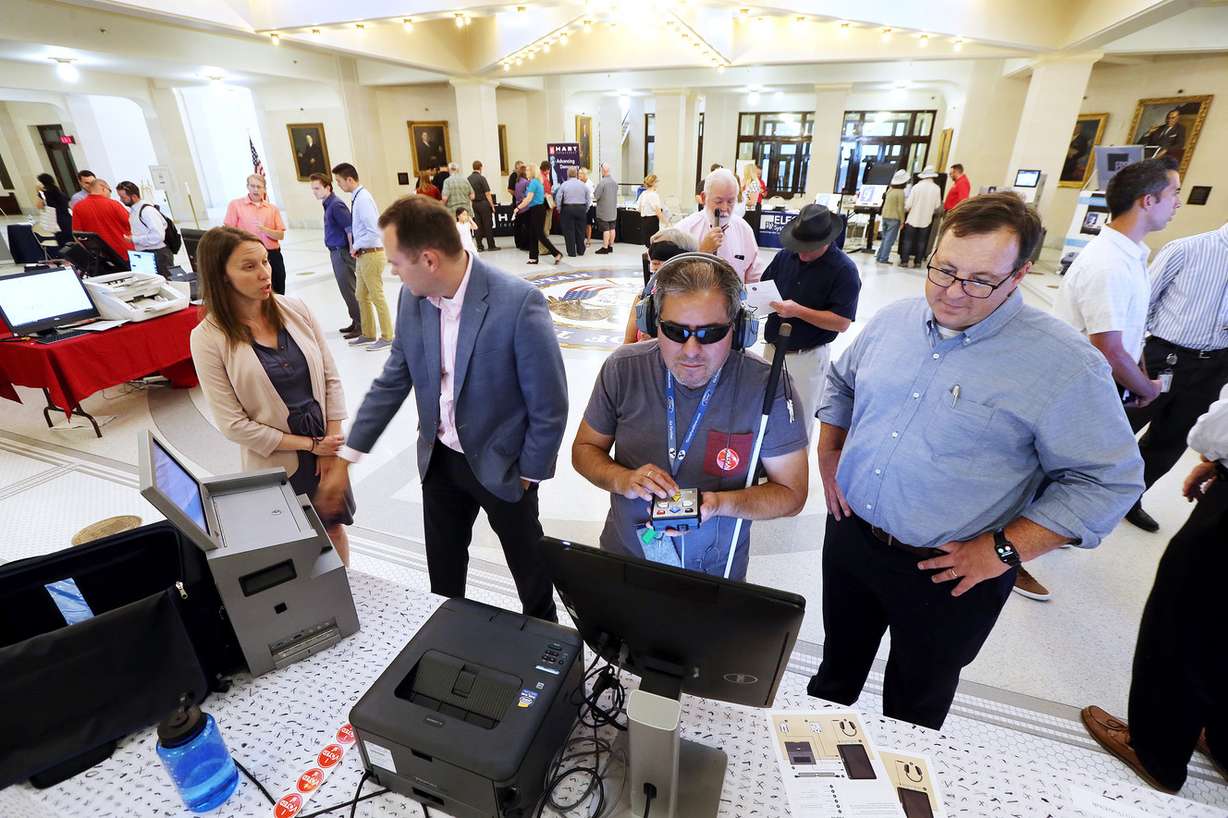 Thomas read about the voting machine hacking exercise at the DefCon event in Las Vegas, but noted that the conditions for that experiment, where participants were allowed to dismantle the equipment to gain access, wasn't a realistic portrayal of a true voting environment.
"I think most election officials would acknowledge that no system is completely safe and secure," Thomas said. "And that's why we have both a thorough system in place for vetting this new equipment, as well as many levels of security and auditing that is in place before, during and after the election process."
While the work of the review committee happens before any costs are attached to the various equipment options (to protect against any intentional or unintentional biases based on price), Thomas said the Legislature has already committed about $270,000 in "seed money" that could go toward subsidizing the costs to individual counties that upgrade their systems.
Total costs statewide would likely be in the range of about $10 million, Thomas said. While a large figure, Thomas said the last upgrade cost about $29 million, most of which was offset by the federal government. This time around, however, federal funding is no longer an option and counties will be mostly on their own, though additional state funding is a possibility. Most of the reduced cost tracks back to a big shift toward mail-in only election processes, which have been adopted by all but seven of Utah's 29 counties, and significantly reduced the amount of equipment needed to operate an election.
While Thomas said he expected many counties were ready to make a system upgrade, Utah's biggest county will likely be sticking with the current equipment.
"We won't be looking to upgrade," Salt Lake County Clerk Sherrie Swensen said. "We've been updating our system along the way and purchased high-speed ballot scanners when we switched to mail-only in 2015. We had 3,000 machines from before we switched to mail, so we now have plenty of back-up equipment."
Swensen is confident in the performance and security of the current system, and she said she expects it to be reliable at least until the 2020 elections and possibly beyond.
Confidence was a topic also on Thomas' mind as he discussed the challenges of operating safe, secure and accurate elections.
"As an election official, I believe the most critical thing is having voters confidence in the system," Thomas said. "They have to trust that their ballot will get to election officials and be counted appropriately.
"There is so much trust extended to us, that I feel its an obligation to ensure we live up to that trust." Email: araymond@deseretnews.com Twitter: DNTechHive
×
Photos
Related stories
Most recent Utah stories