Estimated read time: 3-4 minutes
This archived news story is available only for your personal, non-commercial use. Information in the story may be outdated or superseded by additional information. Reading or replaying the story in its archived form does not constitute a republication of the story.
HEBER CITY — A Utah Department of Transportation worker urges all motorists to stay focused behind the wheel and stay alert for workers on the road.
Morgan McCarthy was seriously injured two weeks ago when a semi-truck barreled into his work zone and bounced his body between two work trucks.
"I never thought this could happen to me," said the maintenance supervisor for UDOT in Park City.
Around mid-morning on July 20, McCarthy was with a three-man crew getting ready to do a routine inspection of the I-80 bridge at Jeremy Ranch. McCarthy was first out of his truck.
"Low and behold, there was a truck coming down the shoulder," he said.
It was headed straight at him, and he had only several seconds to react. "Hey, you'd better move," he thought to himself, "because you're going to get hit."
McCarthy ducked behind his truck, in front of another UDOT vehicle where his co-workers were waiting, and then felt the impact.
"He had smacked my truck and the truck in front of me, and sent me down the road 20, 30 feet," McCarthy said.
He was "pin-balled" between the two trucks, as a sergeant with the Utah Highway Patrol put it.
The semi-truck rolled off the interstate and came to rest on the embankment above the Jeremy Ranch eastbound entrance ramp. McCarthy lay seriously injured but still alive.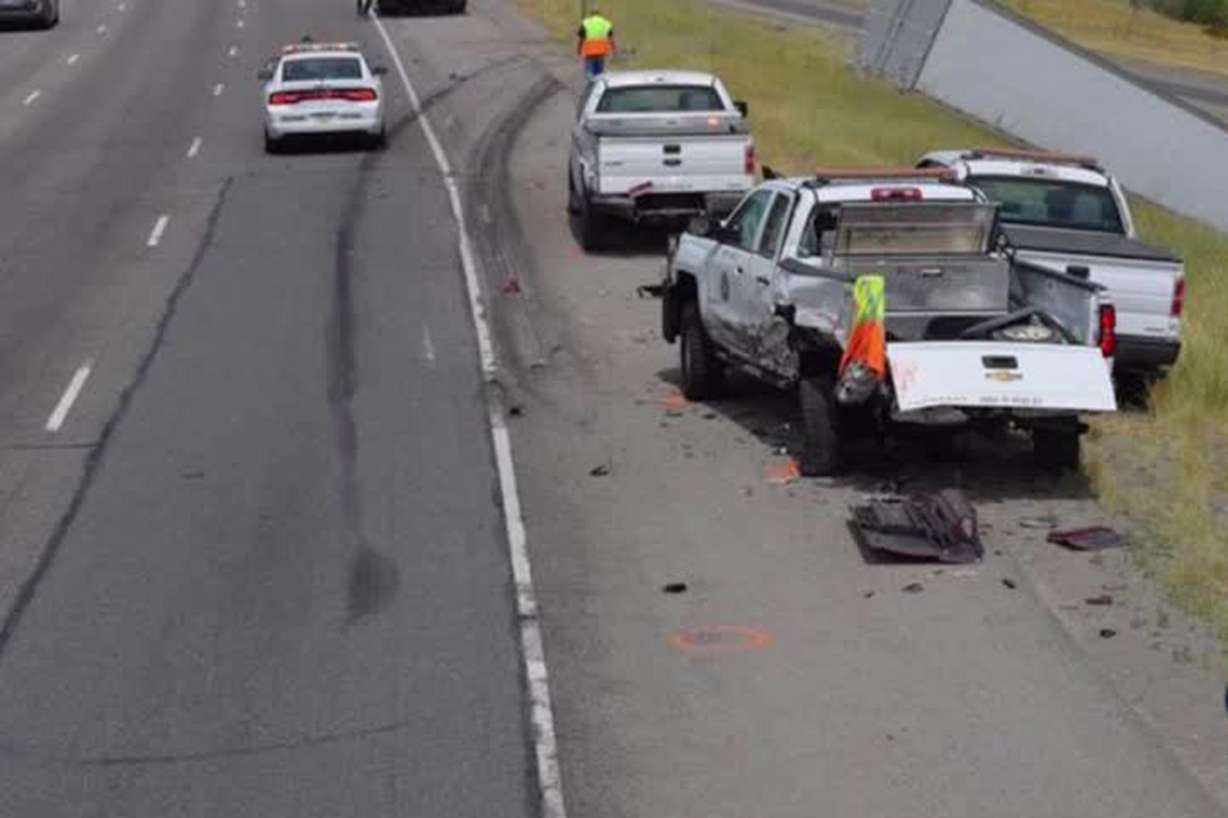 "I was kind of in that shock mode of, 'What just happened?'" he said. "My legs were in real bad pain."
McCarthy's neck, right knee and lower back were seriously injured. His co-workers looked after him until help arrived and took him to the hospital.
"I didn't think that I was going to spend my daughter's birthday in the hospital," McCarthy said. "She turned 7."
McCarthy is still not entirely sure what kind of lingering physical trouble he will have. He still walks with crutches and wears a neck brace. Recovering at his home in Heber City, McCarthy has new perspective on his job, and life.
"Safety is No. 1 for everybody," he said.
According to a UDOT report released in April, 3,024 crashes in Utah work zones in 2016 caused 1,229 injured and 11 deaths. One of those people killed was a road worker contracted with UDOT. The vast majority of the injuries were to motorists driving through work zones.
"It's a scary deal out there on the road," McCarthy said. "It is a life-changing situation for me."
When he returns to work, McCarthy said he will re-dedicate himself to safety. He said he has already had a conversation with his crew about better safety lighting when they are working on the side of the road. McCarthy wants to make sure the same kind of crash doesn't hurt another worker again.
"We want you to get home safe to your family," he said. "We want to get home safe too. So, if we're out there working, just slow down and give us some room."
According to the Utah Highway Patrol, the truck driver was cited for improper lane travel and for falsifying his logs. UHP Sgt. Todd Royce said the trucker drove longer than allowed by law for a commercial trucker, and falsified his travel logs to cover that up. Royce said they suspect fatigue contributed to the crash. The driver and his company were fined for the federal violation, according to Royce. >
×
Photos
Related stories
Most recent Utah stories