Estimated read time: 2-3 minutes
This archived news story is available only for your personal, non-commercial use. Information in the story may be outdated or superseded by additional information. Reading or replaying the story in its archived form does not constitute a republication of the story.
LAYTON — William O'Briant and his brother were headed back from a weekend in Wendover when they stopped to help a stalled motorist. Before he knew it, O'Briant was offering up his brand new truck to be used in a police chase.
"I barely got it two weeks ago," said O'Briant, standing beside his red Ford truck near his Layton home Monday.
Though the truck may be new, it's already seen a lot of action.
On Sunday morning, O'Briant and his brother were driving east on I-80 when they noticed someone who needed help.
"Somebody pulled me out the day before, so I thought: Let's pay it forward and help them out," he said.
Shortly after they pulled over to help the driver of the stalled vehicle, O'Briant saw another vehicle go off the road.
"We hear this loud bang, and we turn around, see this poof of smoke, and the car's on its side," he said.
O'Briant called 911, then went to help. "(The car) was banged up pretty bad," he said.
About 10 minutes later, a Utah Highway Patrol trooper arrived on the scene and quickly realized the car was stolen.
"He was on his game," O'Briant said. "He was so good."
He watched as the trooper took both the man and woman who were inside the car and handcuffed them with their hands behind their backs. O'Briant said the trooper placed them in his cruiser then turned to begin collecting possible evidence from the accident scene.
"He said, 'OK, I'm going to get my gloves;' and he took a step and his car was gone, and it whipped by," O'Briant said.
Within seconds, O'Briant offered up his truck to the trooper.
"It's awesome because it's something you see on TV," he remembered thinking as he saw the truck drive away.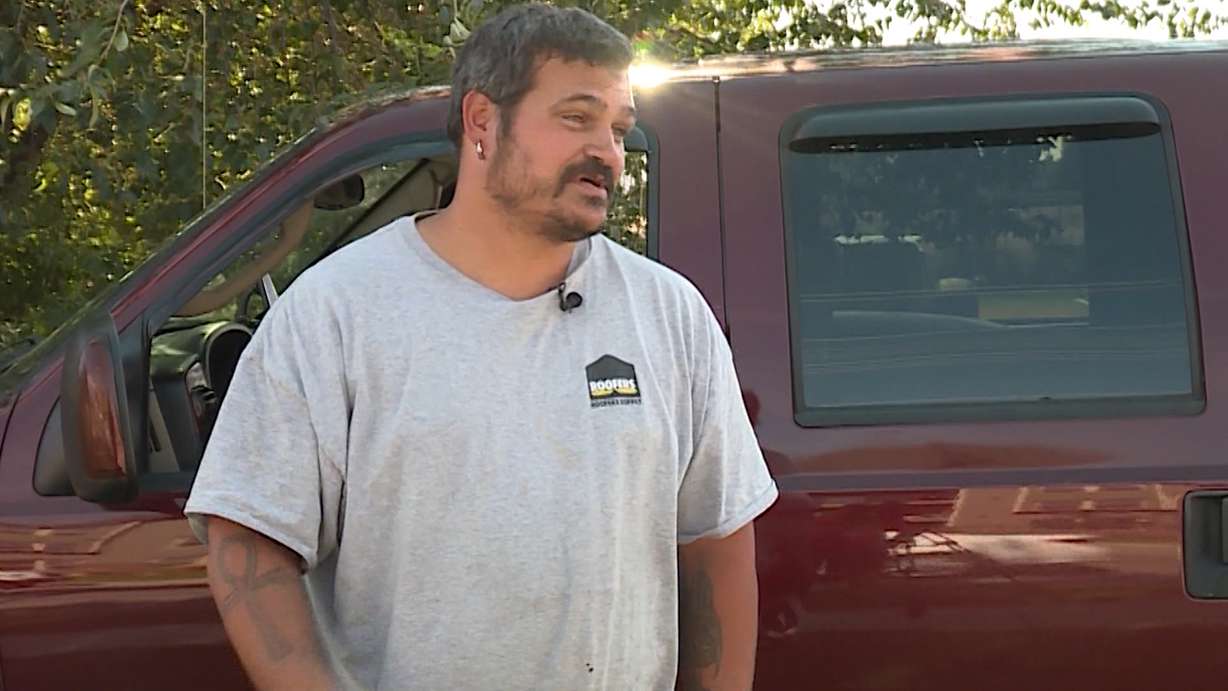 O'Briant said he doesn't want any praise; he wants to give credit to the trooper for staying so calm and reacting so quickly. Just a short time later, that trooper caught up to his stolen cruiser as the suspects ditched it and took off on foot.
"(They) ran into the desert for some reason," O'Briant said.
The trooper stopped pursuing them when he lost sight of them as they ran over some raised train tracks, but he called for assistance.
A Utah County Sheriff's search and rescue helicopter was already flying about 10 minutes away on a different call, UHP trooper Evan Kirby said, and was able to respond quickly. Not long after, the pilot spotted the two — still handcuffed — in the desert.
"(They) got the job done and the bad guys off the street," O'Briant said.
UHP identified the suspected thieves as Tommy Rodriguez, 28, of West Valley City, and Brady Willes, 32, of Kearns. Kirby said Rodriguez had to be transported to the hospital for some minor injuries possibly associated with the crash.
Contributing: Katie McKellar
×
Photos
Related stories
Most recent Utah stories