Estimated read time: 5-6 minutes
This archived news story is available only for your personal, non-commercial use. Information in the story may be outdated or superseded by additional information. Reading or replaying the story in its archived form does not constitute a republication of the story.
PROVO — The safety is the quarterback of any college football team's defense.
Having a signal caller like Kai Nacua, then, was a boon for the BYU defense the past four years.
Nacua signed a free-agent contract with the Cleveland Browns in April, and replacing the 6-foot-2 ball hawk who pulled down six interceptions in back-to-back seasons is key to the success of the BYU secondary as the Cougars enter the second week of fall camp.
But just because the Cougars are replacing a full-time starter doesn't mean they are in trouble. Matt Hadley, Zayne Anderson, Tanner Jacobson, Utah transfer Austin Lee and true freshman Chaz Ah You have all been grooming themselves to become the heir apparent to Nacua in the safety spot, next to incumbent starter Micah Hannemann.
"When we look at the safety spot, we see a lot of names that people haven't talked about — but it's probably the deepest group with how many people we feel comfortable playing," defensive coordinator Ilaisa Tuiaki said. "You don't skip a beat with a lot of those guys. We can go 3-4 deep with those guys, and I feel comfortable."
Indeed, the Cougars lost quality talent in Nacua, Chris Badger and Eric Takenaka. But they returned plenty of quantity ahead of the 2017 season — and the quantity has been on display through the first week of fall camp as reps are limited and players are fighting for a chance to prove themselves.
"I've been saying since spring, we have a lot of athletic guys in our position group," said Hadley, who spent time at running back in the spring before moving back to safety for his senior season. "There are a lot of guys who can get the job done. It's looking good.
"We've got the athletes and the talent in that room for everyone to contribute."
Replacing Nacua will be difficult, but the Cougars have options. The cupboards are anything but bare for Tuiaki and safeties coach Ed Lamb to mold into the next BYU ball hawk.
"You guys all know Kai, the impact he had and the kind of player he was. For all of us, we look at it as a great player left, but however big the hole was, we are going to have to fill it," Hadley said. "We will have to produce and pick up where a great safety left off."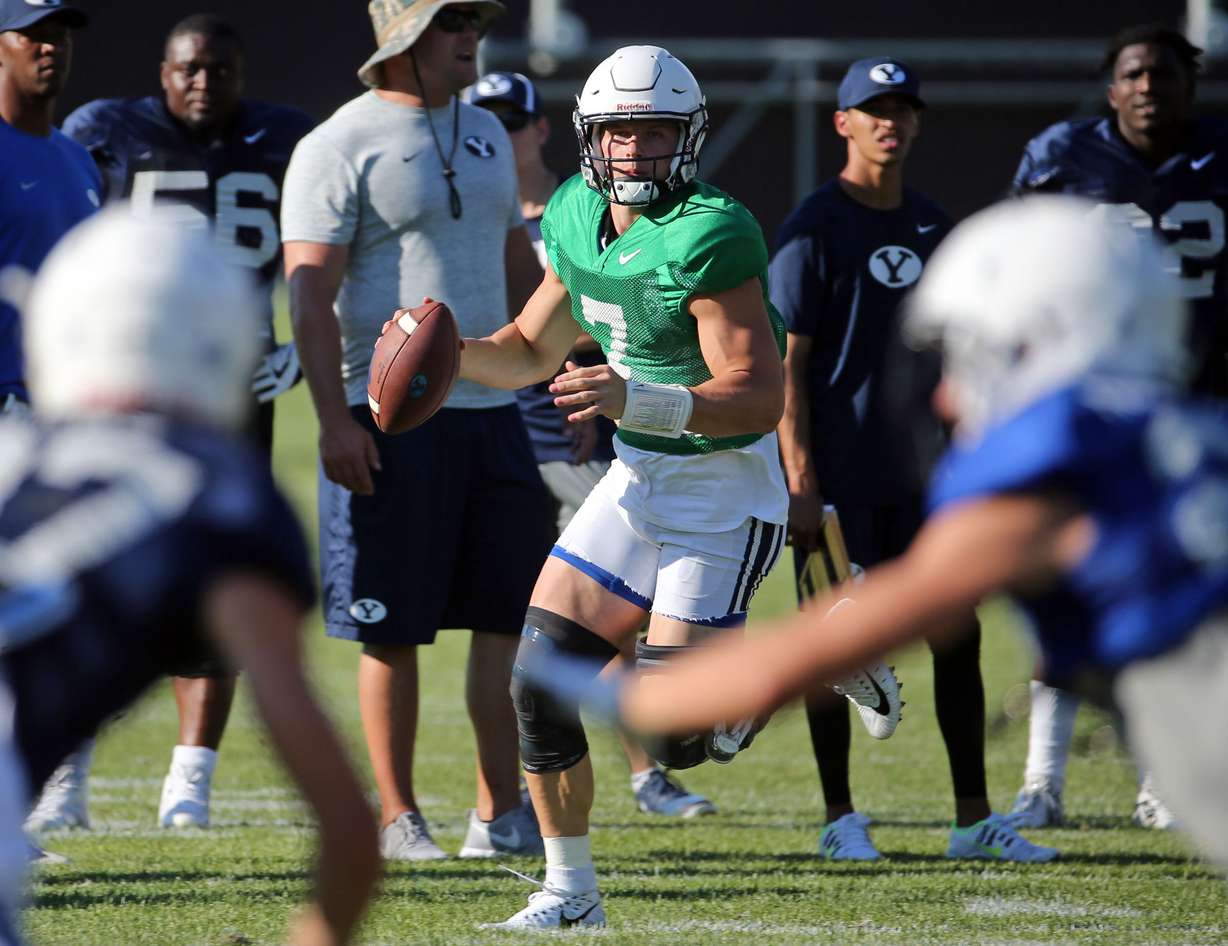 Hannemann is one of four senior safeties the Cougars will rely on for stability in the defensive backfield, but his start to the season could be delayed. A targeting call in the second half of BYU's win over Wyoming in the Poinsettia Bowl could see him miss the first half of the Cougars' opener against Portland State, per NCAA regulations.
Tuiaki admitted BYU's coaches haven't thought much about that option; there is still plenty of time left in fall camp to file an appeal and return Hannemann for a full game before the Cougars head to Houston for an FBS opener against Louisiana State.
But if Hannemann is forced to miss any time, Hadley knows his role on the team.
"I've tried to be a leader," he said. "Coming into my senior year, I've tried to be the leader that I should be as someone who has been in the program for a while. I see myself as one of the leaders in the DB group."
Expect the rotation to continue through the next three weeks of training camp, head coach Kalani Sitake said.
"There are a lot of guys who are getting opportunities," he added. "There's plenty of time, so right now, we'll just keep rotating them."
Backup QB shuffle
Tanner Mangum is the incumbent starter, but who will BYU line up at QB2 by the opener against the Vikings?
That's still to be determined, Sitake said. But much like at safety, the Cougars have options.
Beau Hoge, Koy Detmer Jr., Austin Kafentzis and Kody Wilstead all took snaps during the media viewing portion of Monday's practice, and Mangum found Talon Shumway for a 25-yard touchdown during a hurry-up system.
The numbers of backup quarterbacks aren't much of a concern for Sitake as he heads into the second year at the helm of a program that has experienced quarterback injuries in five of the past six seasons.
"I feel really good about them," Sitake said. "Koy and Beau are good because they've been there longer. But there's a lot of talent there — it's just a matter of who will be the second guy and who the third guy.
"If our biggest worry is not finding a backup quarterback, then I feel good about that."
Trinnaman goes down
Not everything was right with BYU's offense Monday.
Jonah Trinnaman, the Cougars' lead returning wide receiver, fell in a heap during live workouts. The senior from American Fork clutched his leg while the athletic training staff and coaches tried to figure out what was wrong.
In the end, Trinnaman walked off the field with barely a limp, the Cougars ended practice a few moments later in the hot sun, and Sitake seemed unconcerned with the potential injury.
"I think they are further ahead than I anticipated," Sitake said. "But the physical part of the game is on par with where we need to be."
×
Most recent Sports stories