Estimated read time: 4-5 minutes
This archived news story is available only for your personal, non-commercial use. Information in the story may be outdated or superseded by additional information. Reading or replaying the story in its archived form does not constitute a republication of the story.
PROVO — There was plenty of optimism and enthusiasm as BYU football players and coaches met on the north field behind the Student Athlete Building for the first day of fall camp Thursday.
But for Sione Takitaki, there was an extra emotion: gratitude.
Takitaki returned to the practice field for the Cougars' first day of fall camp — his first official camp since the 2015 season.
"I feel like I never left," he told reporters after practice. "Today was just a sweeter day for me. I've been gone from football for a while, but coming back makes me really excited. I can't tell you guys how excited I am for this season."
Takitaki's talent on the football field is well established at BYU, but so have been his off-the-field occurrences that kept him away from the game for the past year.
The Fontana, California native posted 21 tackles, including seven tackles for loss and three sacks as a sophomore in 2015, when he helped the team to a 9-4 record in the final season under previous head coach Bronco Mendenhall.
A dynamic pass rusher who floated between defensive end and outside linebacker, Takitaki was viewed as the future at the position in combining with former standouts Harvey Langi, Logan Taele and Travis Tuiloma.
He was suspended from the team after an altercation in which he was charged with two counts of misdemeanor theft that occurred on campus. Takitaki missed half the 2015 season with various suspensions and redshirted during the 2016 season as he stepped away from the game.
"I went through a lot, but I'm just glad to be back," Takitaki said. "There were a lot of people who helped me get back. I'm blessed to be back, and it's all I can say about that."
While Takitaki has been away from the program, he hasn't gone far. Rumors and false reports swirled about his playing status, but the 6-foot-2, 240-pound defensive end stayed close to his BYU teammates as he worked to get back on the team.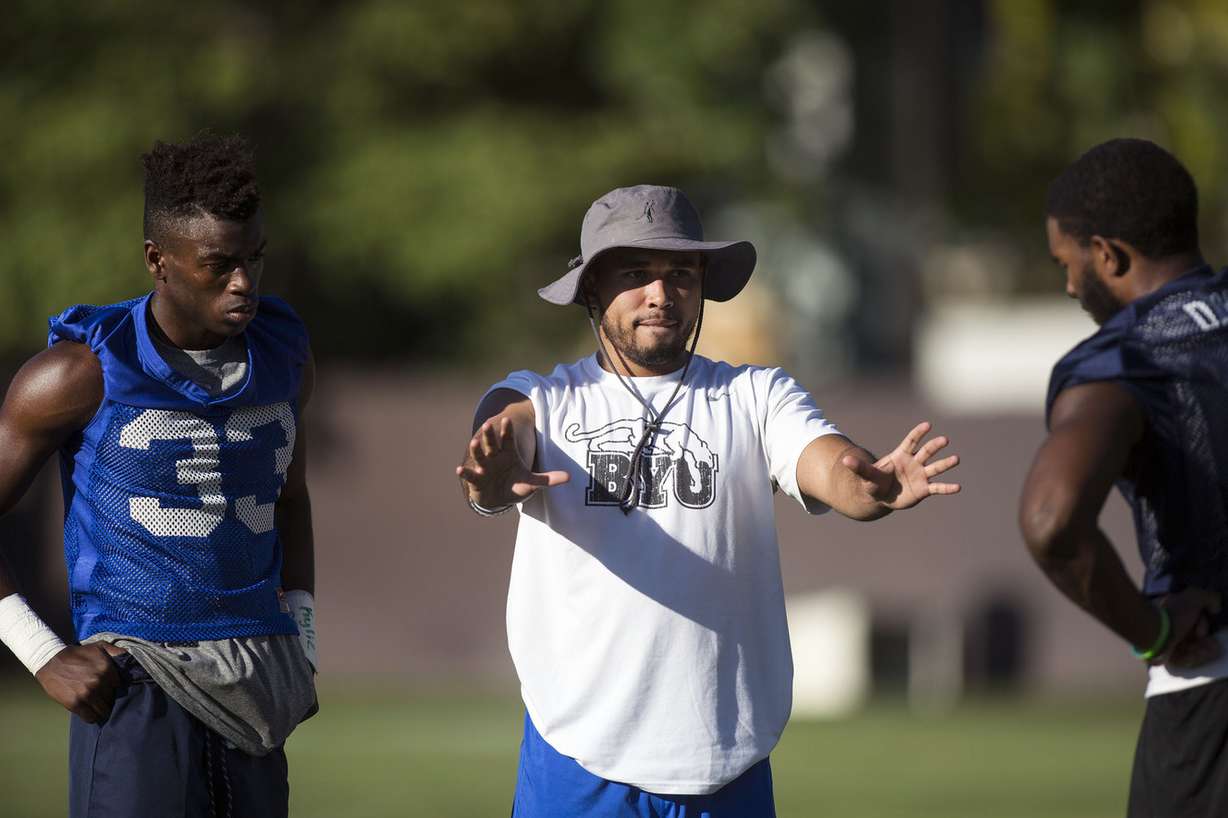 He also got married in the offseason, something he described as "a blessing during this journey." Family was important to Takitaki, and that included his BYU family — led by new coach Kalani Sitake.
"We all talk good about each other, but we really mean it at the end of the day," Takitaki said. "I would come around here and there, and those guys always said they wished I would be back. I told them, 'No worries' that I'd be back. Now that I'm back, it's a sweeter joy."
Same ol' Sitake
"Comfort" was a common word used by multiple players and coaches after the first day of fall camp, the earliest first-day of practice since the 1996 season that began with the Aug. 24 kickoff against Texas A&M.
There's more comfort with the coaching staff in the second year of Sitake, and more comfort with new systems installed by offensive coordinator Ty Detmer and defensive coordinator Ilaisa Tuiaki.
"Not too much has changed," Mangum said. "He's (Sitake) that same passionate, fiery guy with that love for the game. He's one of the funniest guys off the field, but on the field, he's intense."
There's also more comfort with Mangum — the clear-cut No. 1 signal caller as the Cougars prepare for the season opener Aug. 26 against Portland State.
"Tanner is more confident, especially in the huddle, as he had a full year with coach Detmer," senior linebacker Fred Warner said. "Confidence is a big thing with him and his leadership role has increased. He's doing really well."
Related:
Defense wins the day
A lot of the big plays came on the defensive side of the ball in camp opener, which is to be expected after a summer layoff from official workouts.
Don't pin that all on the offense, though, Warner said.
"The defense had a lot of fun today, with guys flying around making plays," he added. "Our job is to make the offense's job hard. Sometimes it may seem like the offense isn't doing too well, but that just means that we are doing what we were supposed to do."
×
Photos
Most recent Sports stories