Estimated read time: 6-7 minutes
This archived news story is available only for your personal, non-commercial use. Information in the story may be outdated or superseded by additional information. Reading or replaying the story in its archived form does not constitute a republication of the story.
PROVO — Football is back. Well, sort of.
Fall camp returns to Provo under second-year head coach Kalani Sitake beginning with the Cougars' first practice Thursday evening.
The players have received their gear, they're meeting all of their teammates, and getting ready for a 2017 season that includes name-brand opponents like Louisiana State, Wisconsin, Boise State and rival Utah.
Here are six storylines to watch before the Cougars' season opener Aug. 26 against Portland State.
Tanner Mangum, starting quarterback
The Benjamin Button-like career of Mangum is wide open heading into his third season at BYU. The former Elite 11 standout quarterback from Eagle, Idaho served a two-year mission for the LDS Church before enrolling at BYU, then returned content to sit behind incumbent starter Taysom Hill as a true freshman.
But life comes at you fast.
Mangum started all but one game of 2015, replacing Hill following his third of four season-ending injuries on the road at Nebraska. A year later, Hill returned from a medical redshirt to take back the starting job, and Mangum resumed his place in the quarterback pantheon — becoming one of the most experienced backup quarterbacks in the nation. He saw action in four games for BYU in 2016, including a win over Wyoming in the Poinsettia Bowl.
Mangum put himself in the spotlight during the offseason, when he spoke out on his battle with depression and anxiety, citing a need to eliminate the 'stigma' of mental illness. The reception he's received over his public bout has been positive, he said during BYU media day, but it won't have an affect on the field as he moves into his junior season.
"Football is an escape for me. It's been a way to cope," Mangum said. "People ask mental health has negatively affected my play, and I don't think it has. When it comes to football, that's an escape for me and I can just go play, have fun, relax and let loose."
Related:
Year 2 of Ty Detmer's offense
Yes, it's also the second year of Sitake's first head coaching job in the Football Bowl Subdivision. And while that will have plenty of storylines as the former BYU fullback transitions to running his own program, the biggest jump could come on the offensive side of the ball.
In theory, Detmer has a quarterback taylor-made to run his pro-style offense in Tanner Mangum — but he's also strongly supported requiring a running back who knows the system just as well. Whether that back turns out to be Squally Canada, KJ Hall, Ula Tolutau or any of the other tailbacks on the roster is yet to be seen.
"Overall, I think our focus was that we need more chunk players — we don't have to be in third-and-short all the time, but picking up more first downs on second, or trying on first down," Detmer said. "Then you get into a game, and we know the situation, take care of the ball, and let the game dictate what happens."
Who steps up at wide receiver?
BYU returns just two receivers with starting experience from a year ago after the graduation of Mitchell Juergens, Garrett Juergens, Colby Pearson and Nick Kurtz. Of the returning group, Jonah Trinnaman boasts the most experience after catching 321 yards and a touchdown on 28 catches in 2016.
"The leadership is there on the team," Trinnaman said. "I think people see the way I act, and they just follow. I'm not much of a rah-rah dude, but I like to lead by example."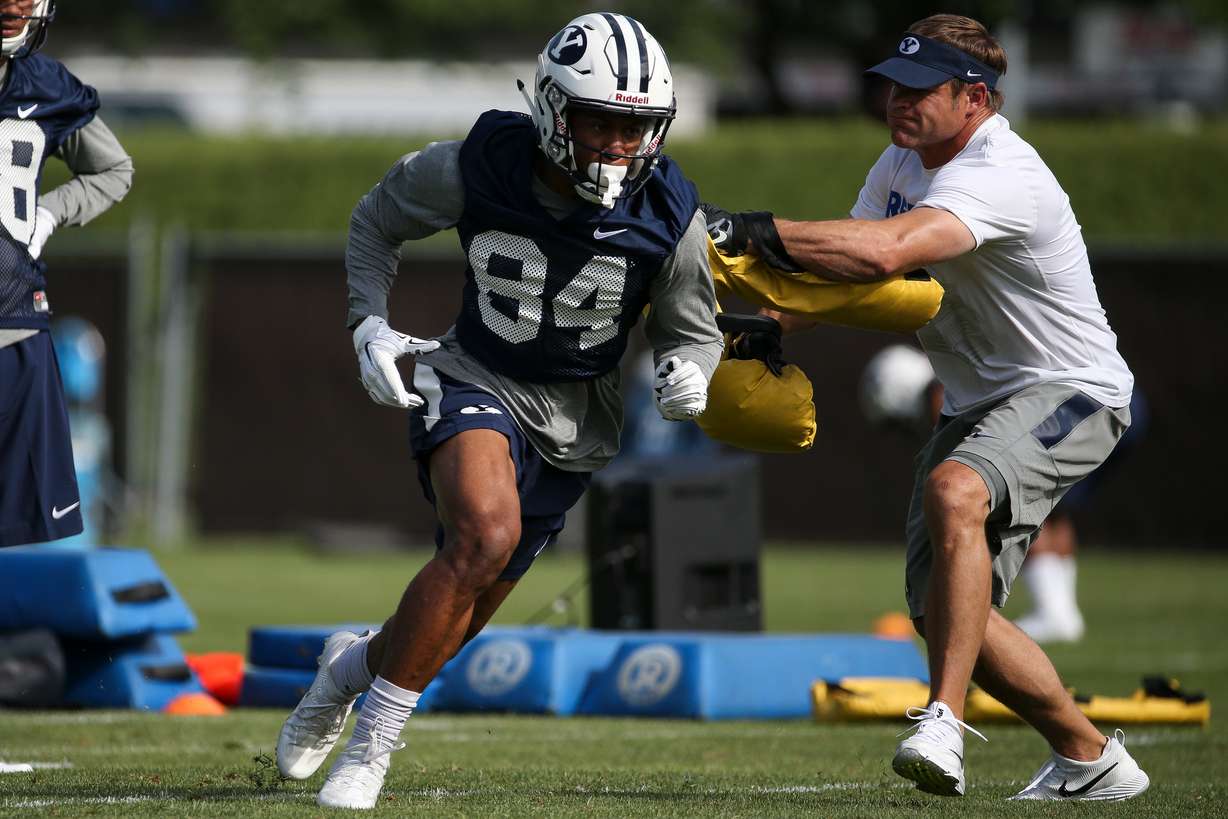 With so many newcomers comes plenty of chances to step up in the wide receiver room. Aleva Hifo looks to build on his freshman season where he caught 11 passes for 58 yards, and returners Talon Shumway, Rickey Shumway, Beau Tanner and Grant Jones could also be tabbed to pull in passes from Mangum.
Newcomers who could make an impact included redshirt freshman Mack Richards, and true freshman Neil Pau'u, the younger brother of linebacker Butch Pau'u.
BYU D: the tradition continues
The Cougars lost some standout defensive players a year ago, led by current Patriots linebacker Harvey Langi. Tomasi Laulile, Sae Tautu, Travis Tuiloma, Logan Taele and Moses Kaumatule all had explosive moments on the offensive line.
But there's still plenty of talent.
Kesni Tausinga, Handsome Tanielu and Corbin Kaufusi headline a defensive line unit that has been less about rebuilding as reloading in recent years. The 6-foot-9, 285-pound Kaufusi is an especially intriguing NFL prospect after leaving the BYU basketball team to focus exclusively on football.
Additionally, BYU's linebacker corp is as good as it's ever been in the modern era with the return of starters Fred Warner, Butch Pau'u, Francis Bernard and Adam Pulsipher. The only linebacker last from last year's group that anchored the No. 9 rush defense and No. 14 scoring defense nationally is Austin Heder.
Who is the quarterback of the secondary?
While there aren't many questions that stand out on the defensive side of the ball for BYU, one major question could be decided through fall camp: who replaces Kai Nacua?
The former high school quarterback is currently with the Cleveland Browns, after a senior season that ranked seventh nationally with six interceptions.
Nacua earned his reputation as a ballhawk with 14 career interceptions, and he also added 164 career tackles that included eight tackles for loss in a dynamic BYU career.
Former Lone Peak standout Micah Hannemann will lead the secondary at safety, and he could be joined by Matt Hadley, Tanner Jacobson, Utah transfer Austin Lee or true freshman Chaz Ah You. a four-star recruit from nearby Timpview High.
Impact newcomers
Every year at fall camp, Cougar fans look forward to seeing how much their favorite returning players got better in the offseason.
Perhaps just as important are the newcomers looking to make a name for themselves and earn playing time in their first season at BYU.
Tolutau is among the most intriguing newcomers to watch, as the former Wisconsin signee from East High will battle for a starting spot in the running back room. The same could be said of Ah You, the son of BYU staff member Jasen Ah You who could see immediate playing time.
Keep an eye on true freshman Motekiai Langi, the 6-foot-7, 410-pound true freshman who recently returned from a mission in Arizona and will slot into the defensive line. Langi, a cousin of former BYU star Harvey Langi, has never played competitive football — but his size alone made former BYU coach Bronco Mendenhall, as well as Sitake, take note of him simply as a "lineman."
"Uhhh, he's big," Detmer said during BYU media day. "He's a legend out there already, especially for the young guys. They see a 400-pound guy, and they've never heard of that before.
"He's here, he's working, and he's got a lot to learn, football-wise. As coaches, we're patient and we know there will be a lot of work to get on the field."
Freshmen quarterbacks Kody Wilstead and Joe Critchlow, tight ends Matt Bushman and Joe Tukuafu, and wide receivers Neil Pau'u and Tariq Buchanan are also newcomers to keep an eye on.
×
Related stories
Most recent Sports stories