Estimated read time: 6-7 minutes
This archived news story is available only for your personal, non-commercial use. Information in the story may be outdated or superseded by additional information. Reading or replaying the story in its archived form does not constitute a republication of the story.
PROVO — Tanner Mangum punched his thumb to his iPhone and opened the Instagram app on his phone.
He scrolled through a few photos, settling on a black-and-white headshot similar to ones he had used before in posts. He often uses the medium to make announcements, clarify something he may have said in an interview, or share his faith as the high-profile starting quarterback at BYU.
But this time, Mangum wasn't speaking of footballs, first downs or spring camp. On Monday, Mangum's message was much more personal.
"Not many people know that I suffer from mild depression and anxiety," Mangum wrote on the popular social network. "I take antidepressants every day to help with my condition, have visits with a counselor, and I am not ashamed; on the contrary, I am proud to embrace my own personal journey, accept and love myself — flaws and all."
Mangum finished the message Monday morning, pressed "send," and closed the app. He went on the rest of his day like most college athletes: attending lectures, exams, offseason workouts and plenty of homework.
He recently wrapped up spring football, where he cemented himself as the starting quarterback with two years of eligibility remaining and began working on the 2017 season. But Monday's announcement had nothing to do with football, and by Thursday, the post had garnered more than 5,000 "likes" and 200 comments.
Message received.
"It showed that when we speak out and share our stories, it strengthens us and makes us feel better," Mangum told KSL after making several rounds of interviews Thursday. "We know that we are not alone, and we can relate to others who struggle, as well.
"I'm glad that it's becoming more celebrated on campus."
Mangum wasn't the first to publicly post about his struggles with anxiety and depression. Hundreds of BYU students are doing the same as the school's Counseling and Psychological Services office promotes Mental Health Awareness Week, complete with activities, free movies and "de-stress recess" where students can take a break from the daily grind of college life.
But the Cougars' starting signal caller was among the early high-profile athletes to publicly acknowledge his bouts with mental illness. And, like he said in his post, he isn't ashamed. As many as 44 percent of college students report feeling symptoms of depression, according to the American College Student Report. And up to 13 percent are diagnosed with anxiety, according to the Anxiety and Depression Association of America.
Close to one in 10 college students have planned suicide in the past year, according to recent studies — one of the most dire consequences of mental illness.
So Mangum's public platform has the potential to promote a lot of good — and hopefully show others that everybody struggles, shattering the stigma that surrounds mental illness.
"I understand I am in the public spotlight, and I wanted to use that platform for good," he said. "By doing my part, I'm not looking to be a hero, but I wanted to express my feelings and let people know that I struggle too — and it's OK. It's a part of life."
Mangum's post is the latest in a line of in-state public figures speaking out on mental illness. In the April 2013 general conference of The Church of Jesus Christ of Latter-day Saints, Elder Jeffrey R. Holland of the church's Quorum of Twelve Apostles also addressed the subject.
BYU is the flagship educational institution of the LDS Church. (The church also owns KSL and its affiliates, such as KSL.com.)
"Whatever your struggle, my brothers and sisters — mental or emotional or physical or otherwise — do not vote against the preciousness of life by ending it," said Elder Holland, a BYU graduate who also served as president of the university. "Trust in God. Hold on in his love. Know that one day the dawn will break brightly and all shadows of mortality will flee.
"Broken minds can be healed just the way broken bones and broken hearts are healed. While God is at working making those repairs, the rest of us can help by being merciful, nonjudgmental and kind."
Tom Golightly, who works primarily with BYU athletes for the counseling and psychological services office, said the school's counselors don't need more work. BYU has one of the largest general student counseling populations on a college campus in the country.
But there is more to do.
"We are trying not to just treat kids walking through the door," Golightly said. "We want to make college healthier. College is a pressure cooker; there's a lot of stress every day, and for college athletes, a lot of their stresses play out in front of people."
Hearing from BYU football players like Mangum can help alleviate the stigma surrounding mental illness. It can also lead people to seek treatment for it, which can include medication, professional counseling or even simply talking about issues with friends and family.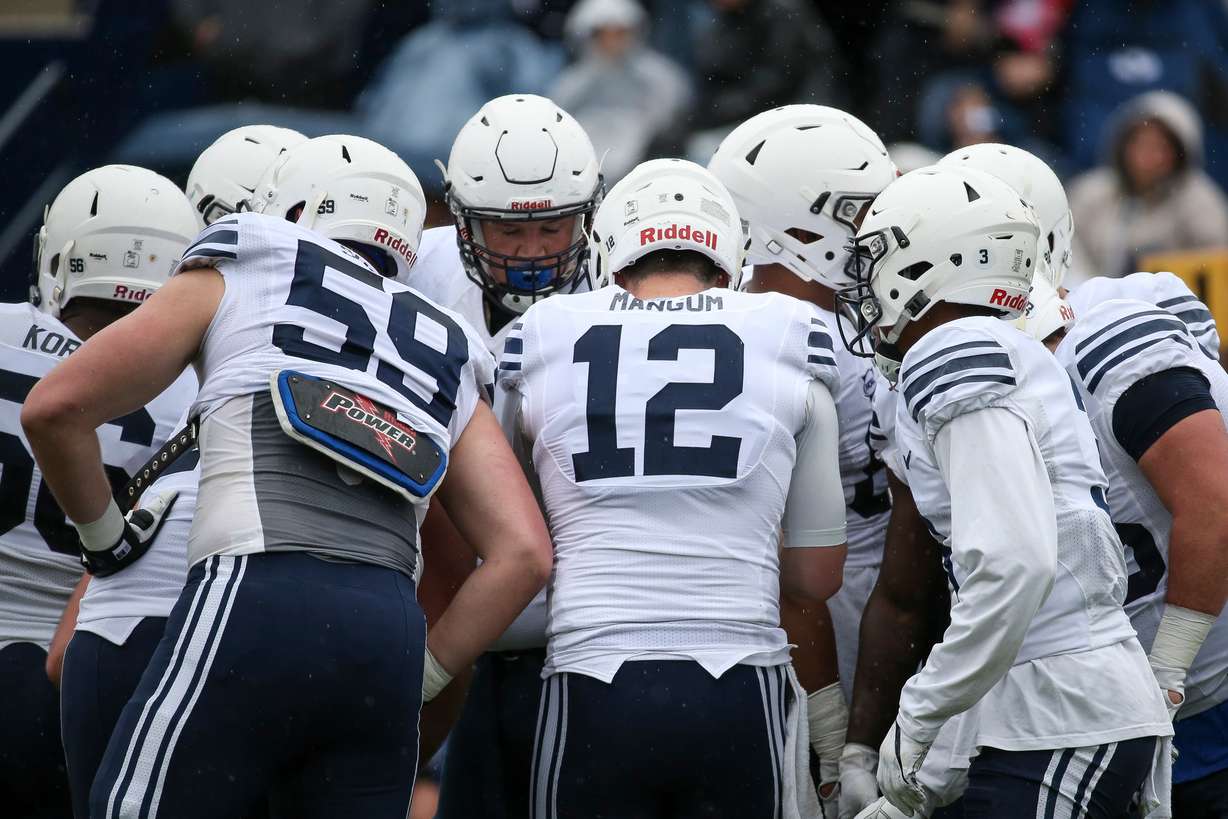 "We aren't just trying to create awareness (for mental health), but also creating a culture where it's OK to have these conversations out in the open," Golightly said. "Maybe a conversation with a friend might be as valuable as going in for counseling and feeling broken. When we talk about issues openly, we don't feel as broken, alone or isolated."
There are plenty of ways to help overcome mental illness. Golightly suggested several smartphone apps like Calm and Headspace, as well as taking 10-15 minutes minutes every day to "do something calm" and step away from work, school and digital screens playing endless loops of Netflix binges and Snapchat videos.
One of Mangum's best escapes has been football. The 6-foot-3 junior-to-be was the No.1-rated prospect in the state of Idaho, where he threw 3,377 yards and 23 touchdowns as a freshman en route to freshman of the year honors by the Touchdown Club of Columbus.
While the game itself has provided Mangum with an escape from anxiety and other issues, it's also given him a support system that he said every person afflicted by stress and mental illness needs.
"Having a support system and a family in your team and their friendship every day is huge," Mangum said. "They let me know that I am not alone, even when sometimes I might feel that way.
"It's important to know that there are ways to cope and to feel better, despite your struggles. One of these things is finding a support system, and for me, that's been sports teams. But other people have other things like family, friends, church members and other systems. Sports have been a great outlet."
In other words, we're all in this together, Mangum says.
"I just want to eradicate the stigma that surrounds mental health, to not be afraid to talk about it and to have conversations," he said. "Accept people for who they are; don't think someone is weak because they have a mental illness.
"We are all human. We all struggle in different ways."
Additional resources regarding depression, anxiety and mental illness are available at cap.byu.edu.
×
Photos
Related stories
Most recent Sports stories