Estimated read time: 4-5 minutes
This archived news story is available only for your personal, non-commercial use. Information in the story may be outdated or superseded by additional information. Reading or replaying the story in its archived form does not constitute a republication of the story.
SALT LAKE CITY — After two failed attempts, Ryan Tockstein shed a small tear or two when he reached Thaynes Canyon and completed the Millwood 100 on Saturday.
"Nothing too cathartic," Tockstein said with a chuckle, recalling the final steps. "It was a huge sense of accomplishment."
Tockstein, an Illinois native who moved to Sandy more than a year ago, became just the sixth person to complete a complex yet compact course that meanders through three Wasatch Front canyons since the unmarked course was created in 2010.
The Millwood 100 isn't a race; rather, it's what creator Jared Campbell calls an "objective" — a grueling course beginning at the Neffs Canyon trail head in Millcreek, zigzagging around the Wasatch Front with dozens of locations before concluding in Thaynes Canyon after 100 miles and 40,000 feet of ascent.
"It does look like a big spaghetti bowl of a course, but the reality is it's a pretty compact way to make a 100-mile course right in Millcreek, Big and Little Cottonwood (canyons)," Campbell said. "If you look at it compared to other normal 100-mile races, this is pretty compact and right in those three canyons. The intent initially was to make a really hard alternative to the kind of normal races that sort of exist here in the Wasatch."
Campbell likened the Millwood 100 to the Wasatch 100 — which is a 100-mile marathon that has about 28,700 feet within the northern portion of the Wasatch Front — or the Hardrock 100 in Silverton, Colorado, which also is 100 miles and has a course with about 33,000 in elevation.
However, instead of being an organized race, it's more of a challenge that few have completed since it quietly began in 2010.
Tockstein became the latest runner to tame the course, finishing the 100-mile run in 35 hours and 20 minutes on Saturday. He and Greg Norrander, of Salt Lake City, each have finished the course this month.
Tockstein and Norrander are the fifth and sixth runners to complete the course since it was created. Other runners who have completed the course are Campbell, who completed it in 2012, Erik Storheim (2012), Matt Van Horn (2013) and Jennilyn Eaton (2016). A few others have attempted to complete it but were unable to finish.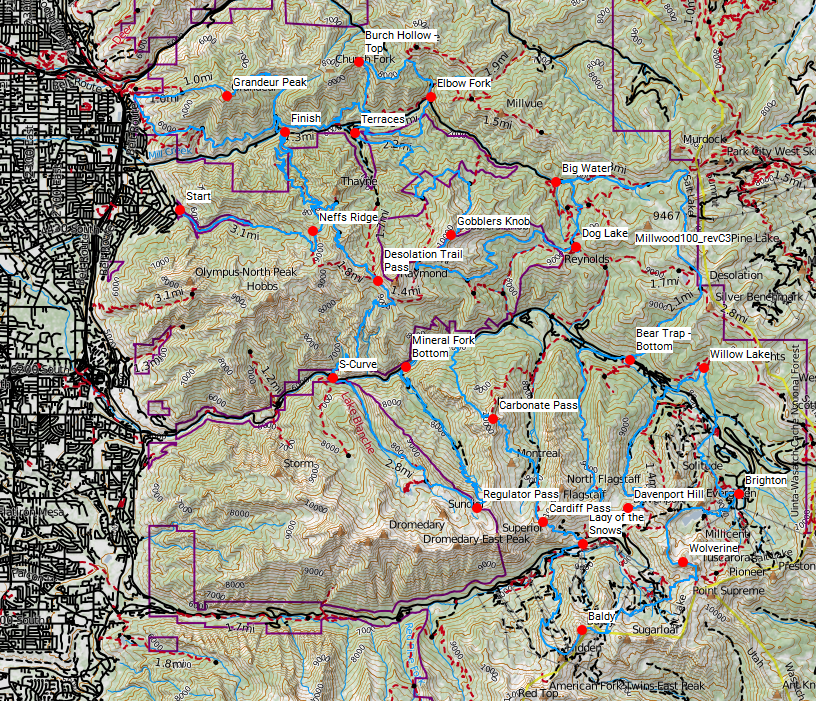 Campbell is no stranger to difficult races, which helped inspire the idea for making his own course. He was the only person to complete the 2016 Barkley Marathon in Tennessee. That race is known for its difficult course. Runners must complete five 20-mile loops with 65,000 feet of elevation gain while navigating using just a paper map. They must complete each loop within 12 hours.
In all, he has more than 15 years of ultra running experience.
However, when designing the Millwood 100 back in 2010, Campbell didn't want it to be a race. He wanted it to showcase the serene Wasatch Front trails and give runners a challenge.
"The goal was to make it cover lots of different terrain," he said. "It has a lot of unique trails that aren't traveled very much, even old mining trails that don't show up on current maps. It was fun to weave those into it so there's a bit of history. … It's really like the ultimate tour of the central Wasatch mountains."
The nature aspect and the challenge of running a 100-mile course is what drew Tockstein to the course.
"Not really being an actual race, but still one of the actual hardest 100-mile routes in the country that a person can do, kind of makes it pretty alluring in that respect," he said.
---
"It has a lot of unique trails that aren't traveled very much, even old mining trails that don't show up on current maps. It was fun to weave those into it so there's a bit of history. … It's really like the ultimate tour of the central Wasatch mountains." — Jared Campbell
---
Tockstein tried to complete the course twice in 2016. In one instance, he got tired and stopped after running 85 miles. He tried again in September and found it too risky to run the steep snowy slopes alone at night, so he stopped halfway into the course. This time, he said, he was determined to finish the course no matter what.
The difference this time around, Tockstein said, was having friends helping him hydrate and refuel during his attempt. Though he once thought he never could run a marathon, he found himself able to complete the 100-mile objective.
"It gives me a pretty good sense of confidence to really be able to anything I want. As long as I keep at it then I'll be able to accomplish any goal," Tockstein said.
Campbell said the majority of those who have attempted the course are Utah natives or residents. However, runners across the country and the world have shown interest over the past few years.
"People are hearing about this," Campbell said. "They haven't been to the Wasatch mountains, and how neat is it for them to fly into Salt Lake and spend a weekend going through this amazing 100-mile route through the Wasatch? They'll see more in a day and a half or two days than a lot of locals here will have in their lifetime."
×
Most recent Utah stories