Estimated read time: 4-5 minutes
This archived news story is available only for your personal, non-commercial use. Information in the story may be outdated or superseded by additional information. Reading or replaying the story in its archived form does not constitute a republication of the story.
PROMONTORY POINT, Box Elder County — An old controversy has come back to life in one of Utah's most remote places.
Construction crews have begun work on an enormous landfill at the tip of the Promontory peninsula that juts into the Great Salt Lake. The barren location may give a boost to the tax base of Box Elder County.
"We're going to increase revenues; we're going to increase jobs," said Brett Snelgrove, director of Utah Operations for Promontory Point Resources, which began construction work last month.
The landfill site is so remote that the easiest way to reach it is to drive along the railroad causeway running straight west from Ogden across the Great Salt Lake.
The causeway crosses the peninsula at its southern tip, known as Promontory Point. The peninsula itself is an uninhabited mountain range that extends southward into the lake.
"The permitted landfill is for 1,000 acres, and we have 1,000 acres of buffer zone around it," Snelgrove said as he walked across a stark landscape that's being excavated and graded by earth-moving equipment.
"It's like getting dropped off in the middle of Mars," Box Elder County Commissioner Stan Summers said after visiting the property.
Summers supports the project and said he believes the remote location is a plus.
"I would like to see economic growth with the least amount of impacts on residents," he said.
The Utah Department of Environmental Quality has issued the company a Class 1 permit allowing the landfill to accept waste only from government entities in Utah.
The project isn't exactly new. In fact, it's been controversial since it was first proposed in 2001. But Promontory Point Resources bought the project from its previous owners and claims to have solved some of the problems that led to controversy.
According to Snelgrove, it's partly a matter of clearing up some public misunderstanding.
"We've been trying to allow people to know the type of waste that we're hauling," he said. "We're not hauling hazardous waste."
But critics are watching closely. Lynn de Freitas, executive director of Friends of Great Salt Lake, worries that transporting waste by rail across the lake — or by truck on a gravel road that runs the length of the peninsula — will put dust and trash in the air around the northern margins of the lake.
"Landfills are notable for losing a lot of waste along the way," de Freitas said. "Inevitably there will be evidence of the trail of where this transport is happening."
Snelgrove argues that the company will keep its trash under control.
"There will be semitrucks that have trailers that are fully covered and fully sealed," he said. "It will be dumped and then immediately covered, and so it won't be sitting open for anything to blow around. We'll have 35-foot fences. They're big wind fences, and they will stop the trash."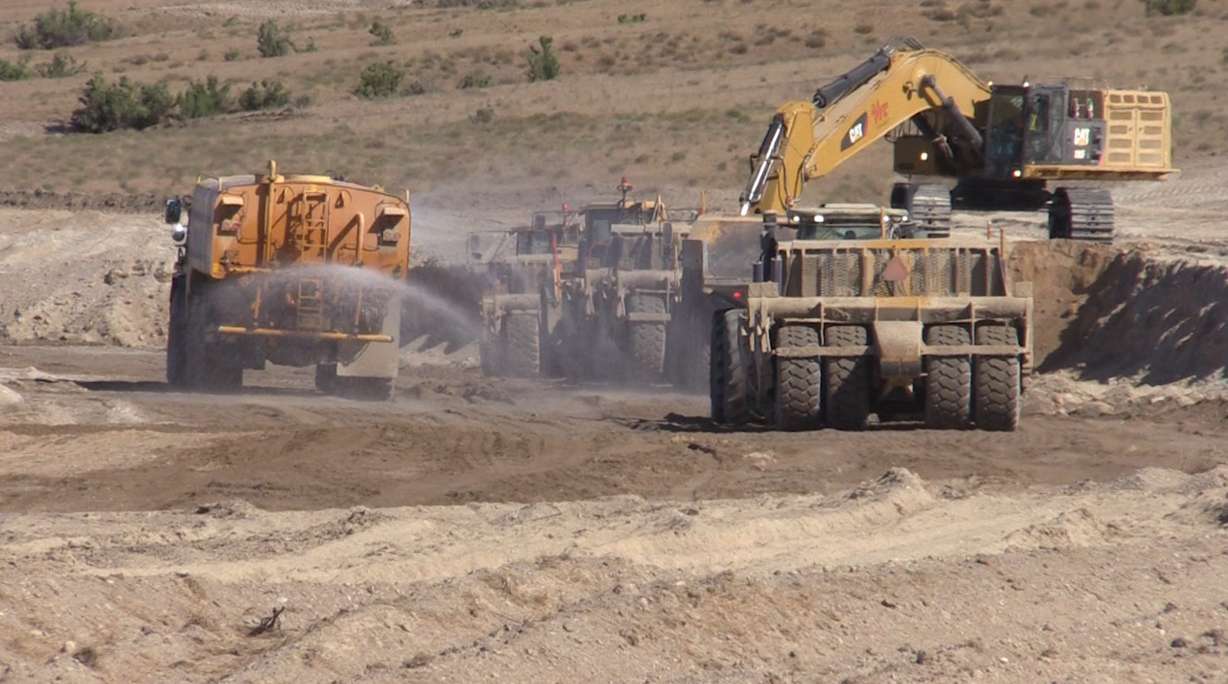 The company hopes to transport some of the waste by rail. An arrangement is under negotiation with Union Pacific, according to Snelgrove, but so far the railroad has not formally agreed to the plan.
A big concern of critics is that the company has applied to the state for a Class 5 permit, which would allow disposal of commercial waste originating at Utah companies, as well as waste from companies outside the state.
"We already have six Class 5 permit landfills in the state," de Freitas said. "Do we need another?"
The alleged need for the commercial disposal is one of the things the company is required to document before the Department of Environmental Quality will issue a Class 5 permit. The law requires a showing of need within the state.
So far, Promontory Point Resources hasn't firmly signed up a single customer. However, Snelgrove says negotiations are moving right along.
"We have people that are lined up and ready to go," he said. "They ask how soon can we have our Class 5 (permit) and how soon can we have the operation ready to go."
Critics worry that if the state issues the permit, the company will import waste chemicals like PCBs or fly ash from smokestacks.
"It's toxic and it has high metal content in it," de Freitas said.
Snelgrove said his company has no current plans to import that kind of waste, but it hasn't been ruled out either.
"Anything that we haul in here, any industrial waste — anything like that — will meet the stringent requirements of Utah," he said.
Promontory Point Resources expects to open the landfill in September, with or without a Class 5 permit.
×
Photos
Most recent Utah stories