Estimated read time: 2-3 minutes
This archived news story is available only for your personal, non-commercial use. Information in the story may be outdated or superseded by additional information. Reading or replaying the story in its archived form does not constitute a republication of the story.
In this election year, one of the tightest races in the Utah Legislature also involves one of its leaders.
Republican House Speaker Greg Curtis is facing a challenge from Democrat Jay Seegmiller for the second time in a row. Two years ago, Curtis won by only 20 votes.
Curtis and Seegmiller appeared together at KBYU's television studio. In the half-hour discussion, the two touched on taxes, education, budget cuts and ethics.
Curtis calls the current ethics hearings a result of manipulation at the Capitol. "An ethics complaint that the complainants were aware of five months ago is now filed five weeks before the election? It's very difficult for me to believe there isn't negative electioneering in that process," he said.
"Do we have an ethics problem? I do not believe that we do. I believe that people have done some things that are inappropriate. They need to be investigated, but the process right now is being abused for political purposes," he said.
Seegmiller touched on the topic only briefly, instead focusing on wider ethics reform. "We need to put restrictions on how much special interests can contribute to campaigns, and an independent ethics commission would be a wise idea as well," he said.
"Special interests have way too much influence on our Legislature. There's tremendous sums of money being tossed around. I think that we need to put restrictions on how much special interests can contribute to campaigns. I'd like to see a complete ban on gifts to legislators," he said.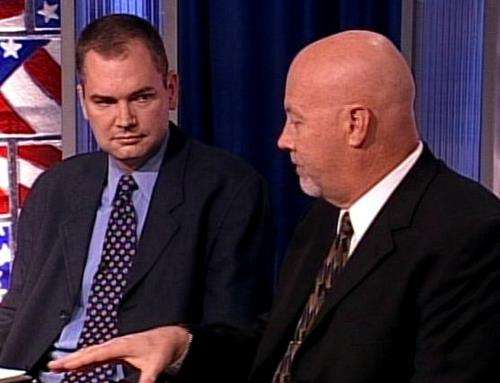 The sharpest disagreement between the two was over the tax system. Seegmiller is critical of the state's new "flatter" tax system, but Curtis points out taxpayers had a choice between the new system or the old deductions this year.
"I'm not going to raise taxes to deal with this budget shortfall. We know we're going into a session where the revenues are down, so we're going to have to make some difficult decisions," Curtis said.
Seegmiller said, "I would argue that more people are paying more taxes because of this flat tax thing. There are more people paying higher taxes because of this flat tax thing."
At the debate, Curtis also repeated that, if elected, this would be his last term in the Legislature. He's planning to run for higher office later.
Seegmiller is hoping to accelerate Curtis' departure from the Legislature on Nov. 4.
KBYU sponsored this debate, and the station plans to air the full version on Wednesday, Oct. 15, at 9 p.m.
E-mail: rpiatt@ksl.com
×
Most recent Utah stories