This archived news story is available only for your personal, non-commercial use. Information in the story may be outdated or superseded by additional information. Reading or replaying the story in its archived form does not constitute a republication of the story.
PROVO — Since Andy Reid left Provo as a BYU offensive lineman (and later, graduate assistant), his football coaching career has taken him to San Francisco, Arizona, Texas, Missouri, Wisconsin, Pennsylvania and his current stop with the Kansas City Chiefs.
But he maintains he never strayed far from his principled origins — because of the man who instilled them, BYU coach LaVell Edwards, who died last December at age 86.
When the chance to honor his former coach and mentor came Friday during BYU media day, he jumped at it. It's rare that Reid can make it to Utah (being a football coach requires enough time to "build rockets," he jokes), but he wouldn't miss a chance to see Patti Edwards or his old teammates.
In coaching, it's the relationships that matter — another principle his old coach taught him.
"It's an emotional game, and the people that you are lucky enough to get close to, you end up loving," Reid said. "They affect your life, especially when you start off really young and get to be really old. You have emotions and experiences, but what's neat is that you get to share them."
BYU football players will pay homage to Edwards and the program he built every game during the 2017 season with a commemorative patch on the front of their jerseys — the same spot that the NCAA logo has appeared since launching into FBS independence in 2011.
But for Reid and others who worked under Edwards, they pay tribute to the man everyone simply calls "coach" every time they take the field and put together a game plan.
After graduating from BYU in 1981, Reid spent one season as a graduate assistant before embarking on a nine-year journey as an offensive line coach with four different teams.
He moved on to the NFL and the Green Bay Packers in 1992, and took his first head coaching job in Philadelphia from 1999-2013.
Reid almost didn't embark on the coaching journey, but then got some prodding from Edwards. Seeing an active member of The Church of Jesus Christ of Latter-day Saints who found success in college football without screams of profanity signalled that he could do the same in the NFL.
"Anybody can learn the schemes, given enough time. But not everybody can be a great teacher," Reid said. "The ability to communicate, to know people and to have people skills are important."
Edwards' legacy lives on through his former players and assistant coaches, like Reid, BYU's Kalani Sitake, Utah's Kyle Whittingham, Washington State's Mike Leach, Mike Holmgren, Brian Billick and Norm Chow — among many others.
"A lot of people realize what LaVell did locally. But his influence is not just on the Wasatch Front or within the LDS church; it spreads across the country," said BYU athletic director Tom Holmoe, a former Cougar defensive back who went on to coach at Stanford, Cal and the San Francisco 49ers. "The people that coached with him take his method and personality, and pollinate the whole country.
"His tree has players that have the influence of LaVell with them."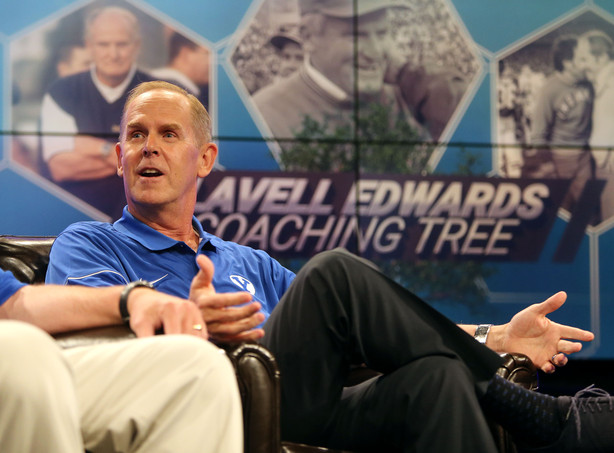 Even those who didn't stray far from Provo like Reid, agreed that each coach and player impacted by Edwards took a little piece of the legendary scowl-faced BYU brass with them.
"He is one of the great people in this world. To associate with him as a player, as a coach and as a friend means the world," former BYU quarterback Robbie Bosco said. "He's meant so much to me, both he and Patti, and they've represented what BYU exemplifies.
"Even though LaVell passed away, he will always be in our hearts."
And more than his accomplishments, championships or national coach of the year awards, that is what Edwards would've remembered about his legacy.
"He'll be looking at all of us from above and keeping an eye on everything," Reid said. "He's proud of all these guys and, mostly, this university."
Related Story
×
Related Stories