Estimated read time: 4-5 minutes
This archived news story is available only for your personal, non-commercial use. Information in the story may be outdated or superseded by additional information. Reading or replaying the story in its archived form does not constitute a republication of the story.
PROVO — Officially, 19 players have worn the No. 6 jersey for the BYU football team over the years.
Few have been more impactful than quarterbacks Marc Wilson and Robbie Bosco and running back Luke Staley.
The trio will send off the number one last time this fall.
BYU announced Friday as part of its annual media day at the BYU broadcasting building that the program will retire the No. 6 jersey at the Sept. 16 home game against Wisconsin. It will be just the sixth jersey in school history to be retired, joining Eldon Fortie's No. 40, Marion Probert's No. 81, Steve Young's No. 8, Gifford Nielsen and Ty Detmer's No. 14 and Jim McMahon's No. 9.
"Any time you have that number, and you see that success of all these guys, you want people to be successful with that number," Bosco said. "Even now, I've always looked for No. 6 first and that the boy better play — he can't just be a bench guy. It means something, and I think everyone has that pride."
Besides the trio of honorees, the list of No. 6-bearers includes running back Curtis Brown, receiver/returner James Dye, receiver McKay Jacobson and current running back Trey Dye.
"We decided to honor these Cougar greats, and a bunch of them were lined up," athletic director Tom Holmoe confirmed during his "State of the Program" address. "Marc, Robbie and Luke were tremendous athletes who were instrumental in establishing and adding to the great tradition of BYU football. They have also been true ambassadors of the university."
For Bosco, the number came by happenstance; then-BYU equipment manager Floyd Johnson threw him a jersey with the No. 6, and the signal caller for the 1984 national championship squad inherited Wilson's spot on the roster.
In some ways, the number means little. But in others, it means so much.
"I think it's bigger than a number," Staley said. "You're representing the Y., the school, your teammates. A number is so minute compared to everything else."
Staley's impact on the field was immense. The Doak Walker Award winner was the 1999 Mountain West freshman of the year, and racked up a school-record 1,561 rushing yards in 2001, and left school early to be drafted in the seventh round by the Detroit Lions in the 2002 NFL draft.
"A lot of it has to do with luck — being in the right place at the right time, and taking advantage of the opportunity," said Staley, who considered transferring before Gary Crowton replaced LaVell Edwards in 2001. "I thought I could contribute a little more if I had stayed healthy. But Gary did a phenomenal job of putting people in position to succeed. The pieces were in place; it was all LaVell's guys, and he just had to put them in the right position to succeed."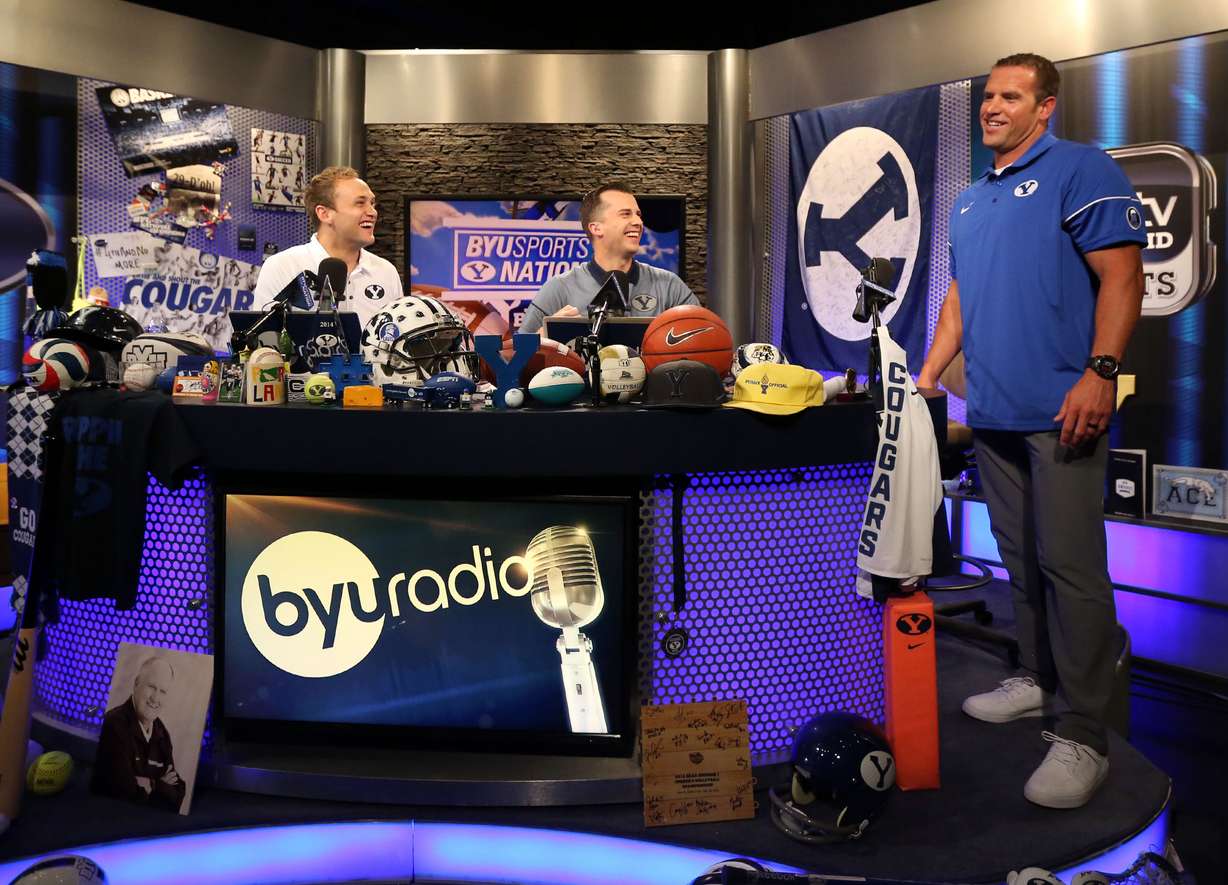 LaVell's legacy
Part of Friday's media day was dedicated to legendary coach LaVell Edwards, who died at the end of last year at his home in Provo.
The Cougars will honor the BYU legend with a patch worn all season on the front of the jersey. Coaches at media day also wore matching polo shirts with a "LaVell" patch that will likely be brought out of the closet throughout the year.
"He is one of the great people in this world," Bosco said of Edwards. "To associate with him as a player, as a coach and as a friend means the world. He's meant so much to me, both he and Patti, and they're represented what BYU exemplifies.
"Even though LaVell passed away, he will always be in our hearts."
Bowl free agents
For the first time since becoming an FBS independent, BYU will play the 2017 season without a contracted bowl agreement.
The Cougars do not have a contract to appear in the Poinsettia Bowl, Las Vegas Bowl, Hawaii Bowl or any of the other myriad possibilities they've appeared in since 2011.
But Holmoe assured the Cougars won't be left out of the postseason if they make the requisite six-game benchmark — thanks in large part to broadcaster ESPN, which purchased an option to renew its broadcasts through the 2019 season.
"They assured us contractually that they would get us a game," Holmoe said. "If we get bowl eligible, we will be taken care of with ESPN."
×
Photos
Most recent Sports stories