This archived news story is available only for your personal, non-commercial use. Information in the story may be outdated or superseded by additional information. Reading or replaying the story in its archived form does not constitute a republication of the story.
SALT LAKE CITY — The final day of the Major League Baseball first-year player draft wrapped up Wednesday with a handful of locals taken off the board after a second day that featured four local prospects.
Utah's Andre Jackson was selected in the 12th round (No. 370 overall) by the Los Angeles Dodgers, which also drafted Ute teammate Riley Otteson with the No. 160 pick in the fifth round Tuesday.
Jackson, though, did not play the 2017 season with the Utes. The junior right-hander and outfielder from Tucson, Arizona, redshirted this past season after Tommy John surgery and 12 career appearances on the mound. Jackson made 11 appearances in 2016 with a 6.41 ERA and 22 strikeouts in 2016. He also hit .299 with six extra-base hits and a .391 slugging percentage.
The Utes also had a high school signee drafted in the 28th round. Brett Brocoff, a right-handed pitcher from Desert Oasis High School in Las Vegas, was taken in with the No. 830 overall pick by the Atlanta Braves.
Dixie State junior right-hander Dylan File went No. 624 to the Milwaukee Brewers, becoming the fifth MLB draft pick from the Trailblazers since joining the NCAA 11 years ago. The Trailblazers have had 46 players selected in the MLB draft since 1976.
File, who prepped at Desert Hills High School, was the 2017 Pacific West co-pitcher of the year after an 8-2 season that saw him throw four complete games, two shutouts and 75 strikeouts in 93 innings. He went 6-1 in conference play, and finished with a 3.58 ERA and a .221 opponents' batting average.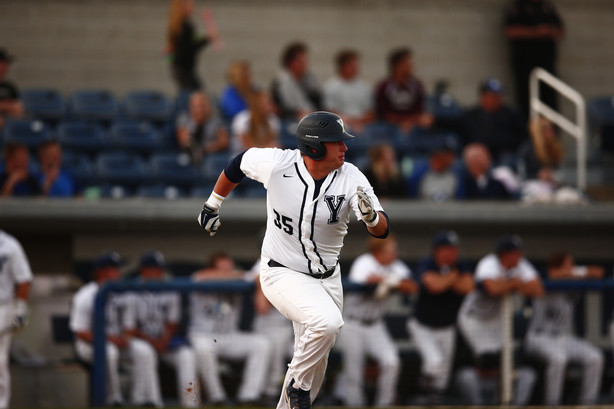 BYU pitcher Maverik Buffo was a 34th-round pick. The 6-foot-2 junior from Spanish Fork High went No. 1,029 to Toronto after going 7-7 as a starter in 2017 with a 6.01 ERA and 73 strikeouts in 88 1/3 innings.
Former Deseret News Mr. Baseball honoree Colton Shaver was a 39th-round pick, going at No. 1171 overall to the Houston Astros. The 6-foot-1, 225-pound slugger from Jordan High was an all-West Coast Conference first-team selection for BYU in 2017, when he hit .269 with a .486 slugging percentage and 13 home runs while leading the Cougars to their first NCAA regional appearance since 2002.
Players have until July 15 to sign a professional contract, or enroll in college.
×
Photos