Estimated read time: 2-3 minutes
This archived news story is available only for your personal, non-commercial use. Information in the story may be outdated or superseded by additional information. Reading or replaying the story in its archived form does not constitute a republication of the story.
Shortages are looming as we approach what promises to be the busiest Election Day ever. Salt Lake County is significantly short on voting machines and poll workers. With the election just four weeks away, no one's predicting a meltdown at the polls. But the phenomenal level of interest could lead to long lines on Election Day.
The county clerk's office is leasing 500 more voting machines and trying to hire more poll workers. But a major effort right now is to get people to realize they can avoid long lines if they vote by mail or vote early.
The election is already underway at the clerk's office. Early voting will later be expanded to 15 locations in Salt Lake County.
They're training new temporary workers to help. The goal is to shorten waiting lines on Election Day.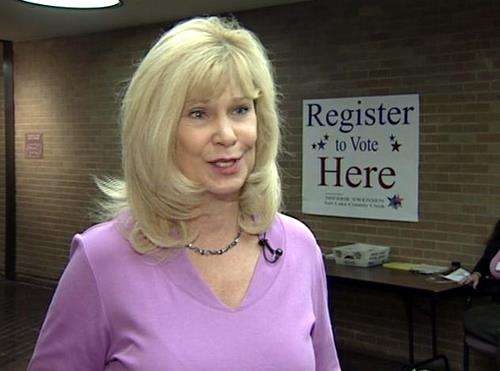 Salt Lake County Clerk Sherrie Swensen says, "Absolutely. I think it will be a larger number of people voting than we've ever seen before."
But here's the rub. In spite of a heavy recruiting effort, the county doesn't have enough people to fully staff 437 polling places on Election Day. They need 700 more election workers. Swensen says, "It's always difficult to recruit poll workers, but we've never been this many short at this point in time,"
Swensen says being a poll worker is a great community service. She says, "We call it 'a long day for little pay,' but people do it because they're dedicated to the process."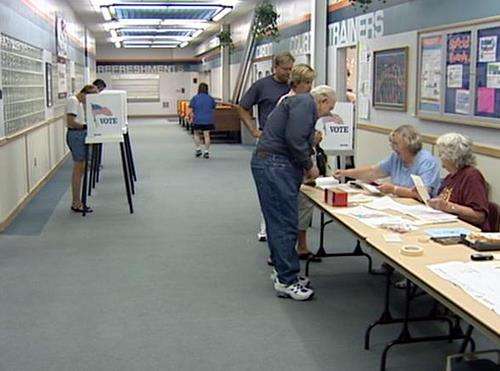 There also are not enough voting machines in Utah's first all-electronic presidential election. The county made an emergency rental of 500 machines. But they're still 1500 short compared with the 5000 paper-ballot machines used in 2004.
To reduce the threat of long, discouraging lines, the Democratic Party has launched an aggressive campaign to persuade voters to beat the rush. State Democratic Chair Wayne Holland says, "We just don't have enough machines, so encouraging people to vote by mail and vote early will just raise the turnout for everybody. And that should benefit the democracy, but we think it will benefit Democratic candidates proportionally more."
Republicans also support early voting, disputing the theory a heavy turnout helps Democrats. Todd Weiler, state Republican vice-chair, says, "That is absolute not true. We want people to vote, whether it's by mail, absentee ballot, the day of. It doesn't matter. But I just think that's political posturing."
The election laws have been substantially loosened up in recent years. Now, any registered voter can vote early, either in person or by mail.
For more information on the upcoming elections, click on the related links.
×
Related links
Most recent Utah stories