This archived news story is available only for your personal, non-commercial use. Information in the story may be outdated or superseded by additional information. Reading or replaying the story in its archived form does not constitute a republication of the story.
SALT LAKE CITY — A 51-win season, a playoff series win over the Clippers and plenty of hope for the future.
The sky is the limit for the Utah Jazz — and Gail Miller feels it, too.
"We are working towards a championship," said Miller, who until recently held the title of majority owner of the franchise. "We always wanted a championship and we've always known that is was out there and hoped that we could get it. But I think right now in this era we are saying that is not beyond our grasp."
Miller has enjoyed watching a young Jazz team develop into a competitor in the Western Conference. For her, it's not just winning that is fun — it's watching what success does for the community.
There was plenty of reasons to cheer. This past season the Jazz had an all-star on their roster in Gordon Hayward and a potential NBA Defensive player of the Year in Rudy Gobert. But Miller believes there's always room for improvement.
"I think this team was especially good because we battled injury all year long," she said. But that the thing that came out of that we were able to play players who normally wouldn't get playing time and were able to increase their ability and their talent."
Hayward is the most talked about piece of the puzzle moving forward. He has a player option that he can take to become an unrestricted free agent.
It's no secret the Jazz want to keep him in Utah.
"Hayward is a free agent this year and that means the only thing we can do is make our offer and hope he will accept it, because it is up to him," Miller said. "I hire good people and allow them to do their job. But I also have input and they know what I want and what I like to see happen. But then I have to allow them to make the decisions I of course can veto anything they do but I am smart enough to know that they have the expertise not me."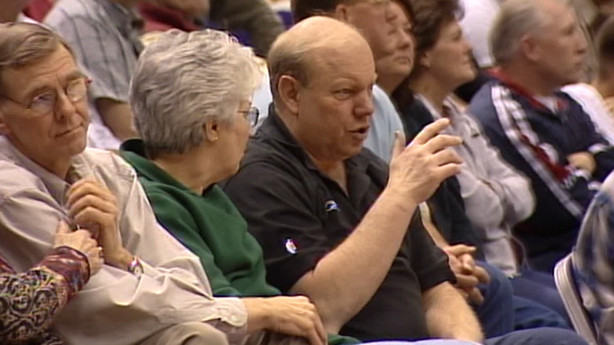 The key to attracting free agents and keeping players in any organization a lot of the time is winning and facilities. The Jazz is addressing that this offseason.
Management is making a $125 million upgrade at the arena, which is expected to be done in time for the 2017-2018 season.
"That is almost twice what it cost to build it granted the prices have gone up. But it will look like a new arena when we are done," Miller said. "It will have greater capacity for socializing, brighter colors, open spaces, good food. We are bringing in different vendors and increasing that attraction. Creating different suites and new access. It will be really really neat."
The creation of a legacy trust a few months ago guarantees the Jazz will get to enjoy an upgraded arena for years to come in Salt Lake City.
"Everyone loves the Jazz and we want them to feel like it is their team. Now that we put it in a legacy trust, it will be here forever," said Miller, who sees herself as the steward over the trust. "That is my way of saying this stewardship is secure. We are here to stay and that was Larry's goal — so I am carrying on his tradition and legacy and so I hope it is all good I hope he is happy."
×
Photos