Estimated read time: 2-3 minutes
This archived news story is available only for your personal, non-commercial use. Information in the story may be outdated or superseded by additional information. Reading or replaying the story in its archived form does not constitute a republication of the story.
Cabin owners in Lamb's Canyon just east of Salt Lake City have become alarmed in the last couple of weeks by a sudden phenomenon. Lots of trees appear to be dying, but experts aren't sure if that's what's going on.
Whether the trees in Lamb's Canyon are dying or not, they appear to be victims of a major dose of trouble that's hitting forests throughout the West. There's been too much drought and not enough wildfire to keep forests healthy.
People love to see the fall colors, but no one wants to see fir needles turning reddish-brown. Cabin owner Gordon Smith says it started a couple of weeks ago. He said, "All these needles were turning red and falling off. And it was kind of just all of a sudden."
Subalpine Fir is one of the most common trees in Lamb's Canyon. Nearly all seem affected. "It appears to be quite extensive through the whole area here," Smith said.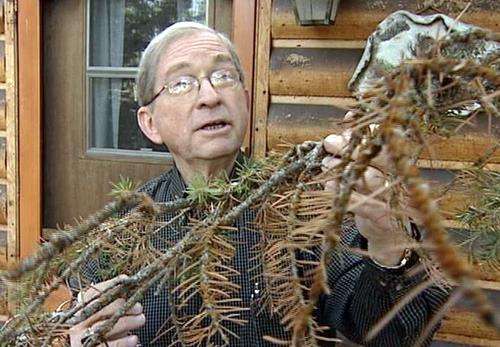 Forest entomologist Colleen Keyes isn't sure what's going on but thinks multiple factors are at work. In some trees she's found evidence of the twig beetle, which doesn't kill the tree. "It gets in these little tiny twigs and causes them to turn brown," she said.
In other firs there's the tell-tale tunneling of bark beetles, which do kill trees. Otherwise, she thinks trees may be suffering from old age or entering a periodic phase called senescence, in which pieces of the tree die off.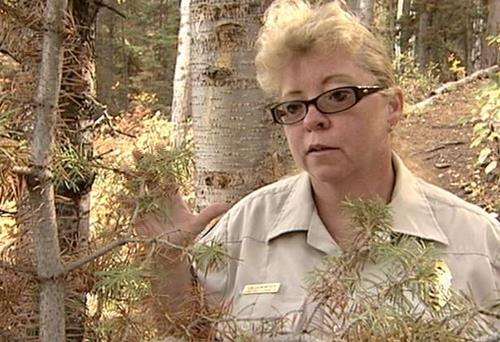 "They are definitely stressed. This is more extensive browning than I have seen in previous years and more sudden. It's hard to say whether they're dying, but they're certainly not healthy," Keyes said.
The fundamental causes, she believes, are the same ones that have killed tens of thousands of trees throughout the west -- six or seven years of drought and a fire suppression policy that allows forests to get overgrown.
"There's too many trees statewide. And they're fighting each other for nutrients and water, mostly water. And it makes them stressed and more susceptible to insects and outbreaks," Keyes said.
She believes more study is needed to better understand what's going on in Lambs Canyon, but she says people need to understand a basic reality of nature, that if wildfire doesn't kill off trees, something else will.
E-mail: hollenhorst@ksl.com
×
Most recent Utah stories