Estimated read time: 3-4 minutes
This archived news story is available only for your personal, non-commercial use. Information in the story may be outdated or superseded by additional information. Reading or replaying the story in its archived form does not constitute a republication of the story.
Team coverageEthics reforms on Utah's Capitol Hill have gone nowhere for years. Rep. Roz McGee, D-Salt Lake City, says, "A pattern seems to have developed. It's kind of the attitude, 'Well, everybody does it, so what is the problem?" She also says, "I've been in the Utah legislature six years. I've seen things happening that should not be happening. It's not in the interests of the people."
Now, serious allegations regarding alleged bribery are being made and formal ethics complaints being filed. Three Democratic lawmakers have filed a formal ethics complaint against Draper Rep. Greg Hughes today, and Hughes fired back with an ethics complaint of his own against the legislator he claims leaked the letter to KSL.
Among other things, the complaint is expected to include an allegation he attempted to bribe another legislator to change positions on the much-disputed issue of school vouchers.
As we first reported last night, the complaint involving the bribery allegation involved conversations Hughes had with former GOP lawmaker Susan Lawrence.
By phone, Lawrence spoke today on KSL's Doug Wright show.
Lawrence says in spring of 2008, Draper Rep. Greg Hughes twice offered her $50,000 in campaign money to change positions on vouchers and vote for it. She says "absolutely no way."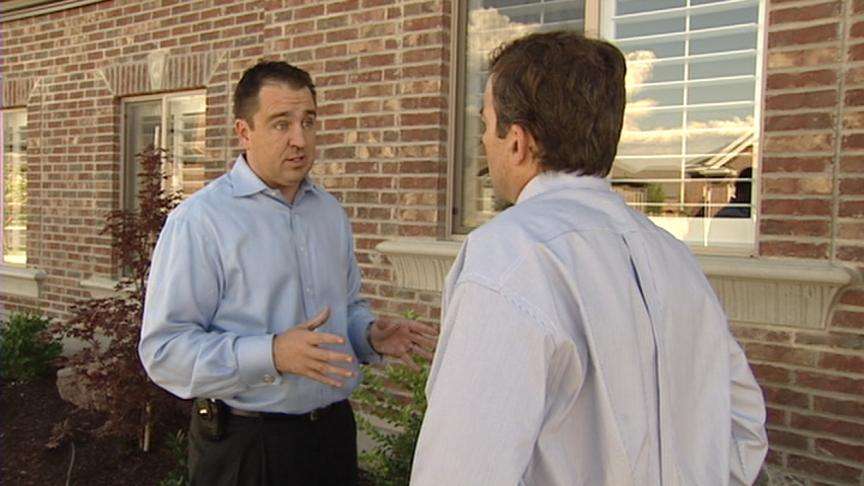 Hughes vehemently denies it, saying he spoke with her about campaign fundraising in general, but that there was never anything specific.
Hughes says, "I have asked for an ethics hearing. I feel that I have been blindsided by this. I believe it is politically motivated. I believe the free flow of information will carry the day."
Lawrence says she wrote the letter to underscore the need for change regarding the damaging influence of money on legislative politics.
Lawrence says, "The reason that I made the statement was because I'm seriously concerned about some ethics violations that are happening in the Legislature, and that the possibility that we could motivate leadership on both sides to seriously consider this complaint and take appropriate action to put together an objective ethics committee and deal with these things in a public way, I think that is good for all of the people in the state of Utah."
This afternoon a formal ethics complaint was filed against Hughes by three House Democrats: Neil Hansen, Phil Riesen and Roz McGee. "There's six charges in the 10-page complaint," McGee says. "And the No. 1 charge deals with the statement that Susan Lawrence has now come forward and made, that she was offered money in exchange for a vote."
She also says, "The others are related to that kind of behavior, intimidation of office holders, intimidation of lobbyists, intimidation about whether or not they would file to run for office."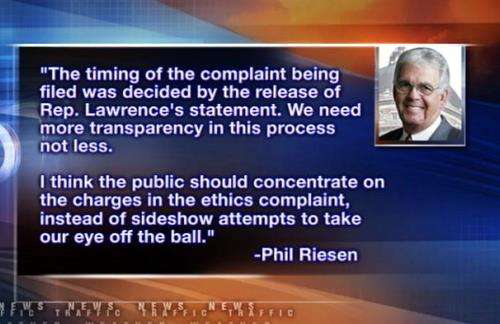 Hughes today also filed a complaint against Phil Riesen, accusing him of leaking the documents about this case to the media. Riesen says Lawrence's letter was addressed "to whom it may concern." He says, "I honestly believe the allegations of bribery and corruption by a member of the Utah House is or should be of concern to the people of the state of Utah, not just the speaker of the House." Riesen says he only revealed the information after the speaker of the House saw the letter.
Hughes says Riesen also has donation issues. Riesen says that's a lie. He believes Hughes is trying to divert attention from the initial bribery allegation.
Riesen says, "The timing of the complaint being filed was decided by the release of Rep. Lawrence's statement. We need more transparency in this process not less. I think the public should concentrate on the charges in the ethics complaint instead of sideshow attempts to take our eye off the ball."
E-mail: jdaley@ksl.com
E-mail: tcallan@ksl.com
E-mail: cwall@ksl.com
×
Related links
Most recent Utah stories