PROVO — Two private collections of LDS scripture were brought together Monday in a rare display. Each of the books has a unique connection to one of the 16 presidents of The Church of Jesus Christ of Latter-day Saints.
"We've put together a collection of scriptures that either belong to or were inscribed by every Mormon prophet from Joseph Smith to Thomas S. Monson, and that's the first time that's ever been done," said Reid Moon, a collector who focuses on rare LDS books.
The collection on display at Heirloom Art & Co., 4801 N. University Ave., was compiled of books Moon owns and those belonging to longtime collector Brent Ashworth. Two of the most valuable scriptures in the collection — a Bible and a Book of Mormon that belonged to church founder Joseph Smith — are owned by Ashworth.
"Joseph Smith has written on the family record his parents' names — Joseph Smith Sr., Lucy Smith; and then his big brother, Alvin, and Hyrum (his older brother)," Ashworth said, gesturing to a page inside a large family Bible.
Moon said care was taken to ensure the books on display are authentic.
"Fortunately, most of these items came directly from the families or their ancestors," he said. "These men had well-known signatures, which you will see in most of these copies, or handwriting; and it's been a consensus among experts who have seen these (books) that these are authentic copies."
Moon recently acquired a New Testament with the signature of the LDS Church's current president in a very surprising way.
"A couple of months ago I got a call from a friend of mine (who) said, 'Guess what I found at (Deseret Industries) for $2? A New Testament that belonged to President Monson!'" Moon recalled. "And so he made a very good investment on his $2 at D.I."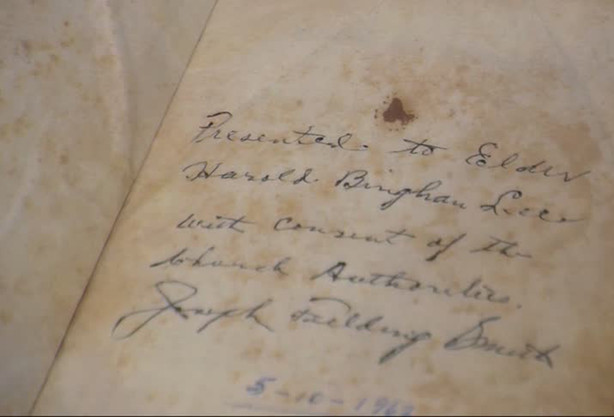 For Moon, seeing what was meaningful to these men as they studied these books of scripture has been inspiring.
"I've had the chance to go through (former LDS Church President) Heber J. Grant's 1898 copy of The Doctrine and Covenants, and he marked 545 verses in this copy and he has notes out in the margin," Moon said.
Moon's and Ashworth's books were only on display for one day, but you can learn more about the men's collections by visiting their websites: moonsrarebooks.com and bashworths.com.


Contributing: Jordan Ormond
×
Photos