Estimated read time: 2-3 minutes
This archived news story is available only for your personal, non-commercial use. Information in the story may be outdated or superseded by additional information. Reading or replaying the story in its archived form does not constitute a republication of the story.
As the Utah Attorney General's Office investigates a deadly SWAT standoff that happened in Farmington last week, we decided to take a closer look at how officers become members of the SWAT team.
SWAT teams operate in the interest of public safety. In Salt Lake City, police say more than 95 percent of their SWAT situations end with a peaceful resolution, and it starts with intense training.
They come from agencies across the valley -- officers or firefighters from Salt Lake, South Jordan, Davis County and more.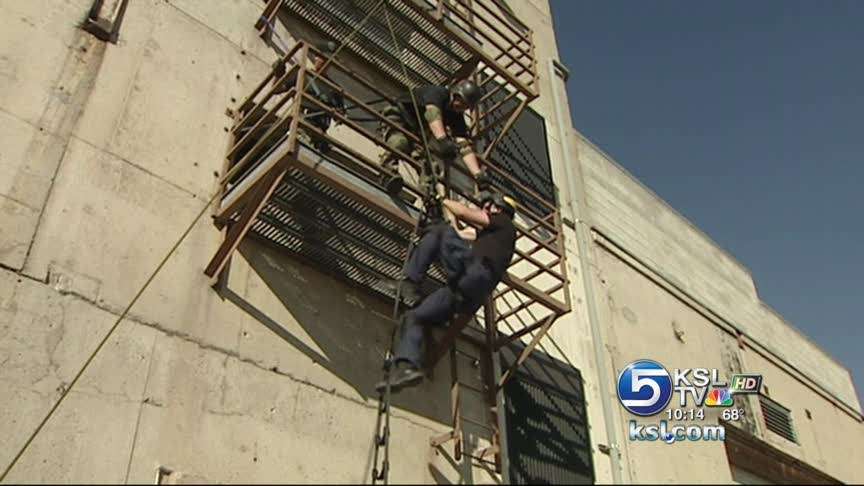 Justin Lancaster, with the Salt Lake City Police Department, said, "I think pretty much everybody is here because they want to be the best. As far as training goes, this is the toughest training that our department has to offer."
About 20 men are attending the Salt Lake City Police Department's annual SWAT (Special Weapons and Tactics) school with high hopes of someday becoming a SWAT team member.
Will Clark, from the South Jordan City Police Department, said, "[I'm] a little nervous, pretty excited. I really don't know what to expect."
Training is a week long, and is complete with tactical exercises. Lt. Isaac Atencio, the tactical commander of the Salt Lake City SWAT team, said, "We test these individuals physically and mentally."
Those in attendance will also learn the importance of negotiations and less lethal weapons, all in preparation for what officers call high-hazard situations.
"Anytime, obviously, that we deploy a SWAT team, the main goal there is a peaceful resolution," Atencio said.
Today's emphasis is on climbing and rappelling. They're competing not only with themselves but with each other, too. Their performances will ultimately determine how quickly they join a SWAT team.
Andrew Thompson, from the South Jordan City Police Department, said, "The way a lot of people look at it is we're just out there, and we're guys that tote guns and want to kill people. But that's not the truth; there are many things we do to try and help save lives."
The officers that complete this training will be put on a list, then they will be selected based on their performance and availability. Sometimes officers will attend SWAT school several times before they're selected.
E-mail: wjohnson@ksl.com
×
Related links
Most recent Utah stories