Estimated read time: 5-6 minutes
This archived news story is available only for your personal, non-commercial use. Information in the story may be outdated or superseded by additional information. Reading or replaying the story in its archived form does not constitute a republication of the story.
PROVO — Even on a rainy night, there's no shortage of activity under the dome.
"We watch the weather forecast really close," said Dr. Denise Stephens, an Associate Professor at Brigham Young University. "I can usually tell you the weather forecast within the next two to three days."
On this night, the dome stays closed. With clouds blanketing the sky over the Orson Pratt Observatory, there isn't anything for Dr. Stephens' telescope to see.
Nevertheless, she's still at work. In between teaching classes and running her kids to dental appointments or soccer games, she makes the time to stop in to examine some data. To her, it's not just work--like many astronomers, her stellar obsession began when she was a child.
"My dad had a telescope he bought when I was about eight," she said, while sitting in the dim light of the observatory, speaking loudly over the noise of rain pelting the observatory's dome. "I do remember being five or six and getting a picture book of the moons of Jupiter, with Io and all these volcanos, and being like, 'This is really fascinating.'"
Jupiter beckoned. As a young girl, she didn't even know astronomy was a potential career path. But as she grew, she learned she had an affinity for physics. That didn't just open up a world--it opened up an entire universe of possibilities.
"You have to really love physics and math," said Stephens. "I spent four years as a physics major, and my PhD is in astronomy. Almost every astronomer has a graduate degree in astronomy."
Despite the lure of numbers and equations, operating a telescope is still where she feels at home.
"It's almost like an adventure," Stephens said. "I still get a big grin on my face when I do this."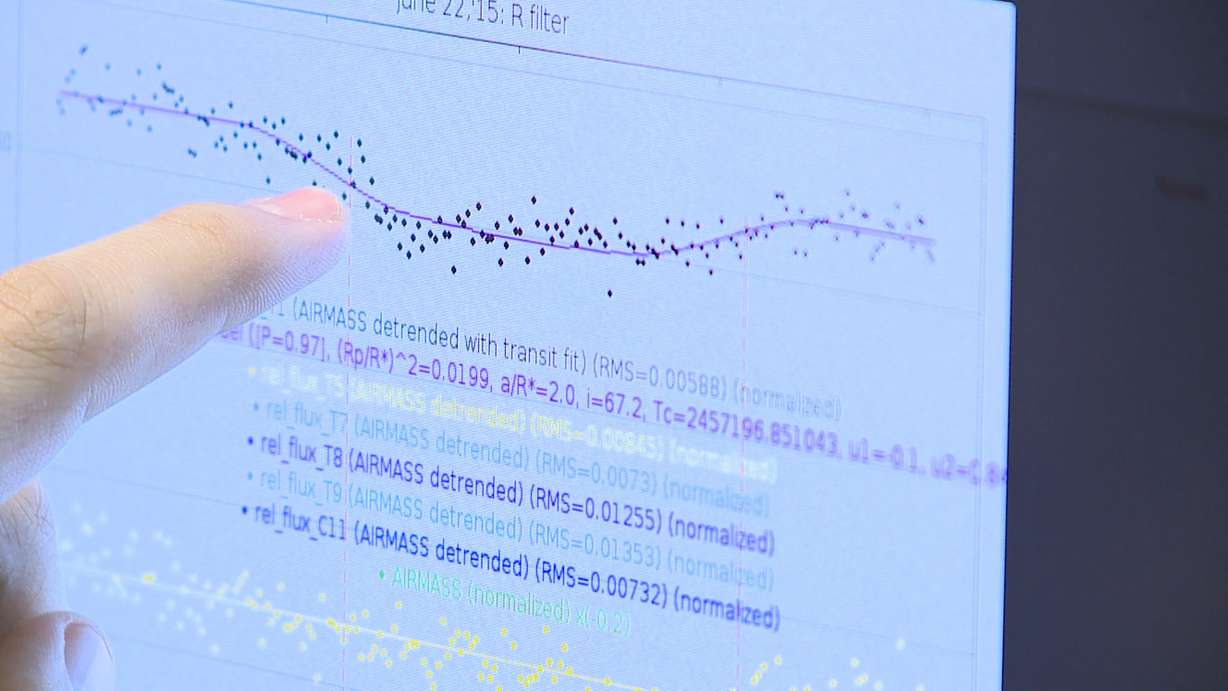 But the conditions here aren't ideal. In nearly every populated area, light pollution is a major issue. On the campus of BYU, the lights of Provo blot many of the dimmer stars, meaning the main purpose of the school's telescope was simply teaching students how to use one.
Despite the challenges of her location, Dr. Stephens decided to see how far she could push that telescope.
"We weren't sure when we first started if this was even going to work," she said. "We teamed up with KELT, and we've worked with them ever since, helping them confirm extrasolar planets."
"KELT" stands for "Kilodegree Extremely Little Telescope." It's a project run by a number of universities and astronomical groups, with the goal of finding planets around other stars.
"We discovered a planet about the size of Jupiter," Stephens said. "A little larger than Jupiter."
About 1300 light years away, Dr. Stephens and her team unearthed what's known as a "hot Jupiter," a massive planet orbiting extremely close to its star.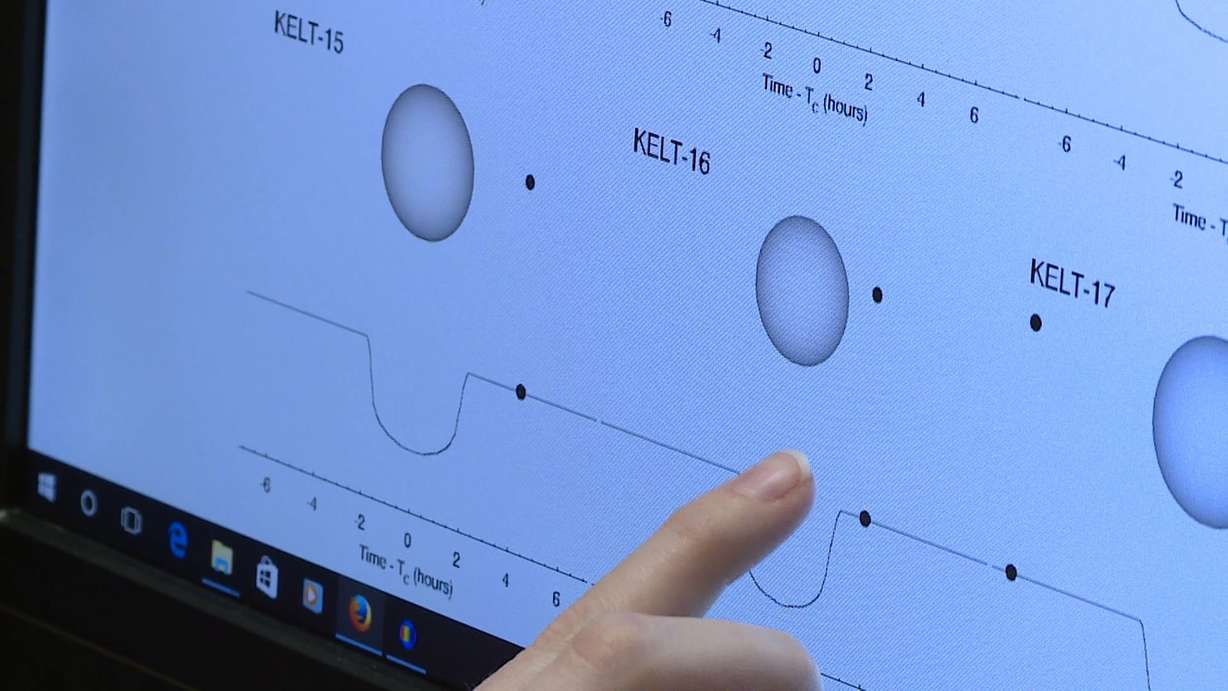 "The planet Jupiter in our solar system takes 12 years to orbit the sun once," she said. "This planet is so close to its star that it's orbiting its star in .97 days."
Meaning the planet, now called KELT-16b, was big enough and orbiting close enough that despite the light pollution from Provo, Dr. Stephens and her team could detect it.
And her team members are BYU students.
"Here we have a plot of KELT 16, the star that we're talking about," said BYU senior Kyle Matt, while pointing to a graph on a computer screen. "So what happens is the planet passes in front of the star, so it blocks some of the light."
By comparing the data from other stars in the same photographs, the team was able to determine that the dip in light intensity wasn't from a cloud or other atmospheric phenomena, but from what could only be a planet.
"Honestly, they're kind of the first line," said Stephens, speaking of her students. "They take the data, they reduce the data, and then when we have something, I'll take a look at it to confirm."
The team's data was sent to other groups in the KELT project, with different instruments and bigger telescopes—until finally, their BYU team's names were published in The Astronomical Journal.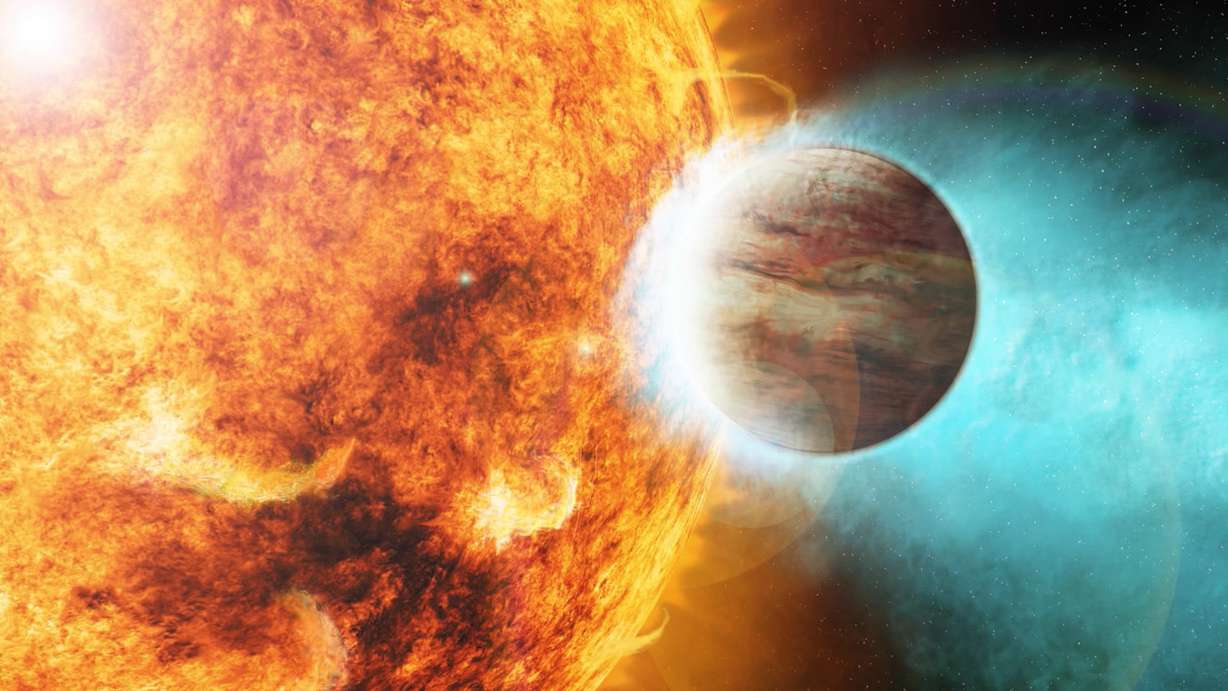 "All my students can go back to their parents and say 'Hey, I found an extrasolar planet,'" Stephens said.
For BYU senior Leanne Farnbach, her inclusion in the publication was a welcome surprise. She'd spent 48 hours at a time every week working alone at a bigger telescope at BYU's West Mountain Observatory, where she'd collected data for a number of projects. She's excited by the questions the discovery of KELT-16b poses.
"The fact that we're finding these Jupiter-sized planets super close to their stars, what does that mean about our planet Jupiter?" she asked. "Does that mean someday it's going to get closer to the sun? I just love exploring and understanding the universe and helping others to understand that too."
Although KELT-16b is a gas giant and wouldn't be capable of supporting any life as we know it, Dr. Stephens is fascinated by the planet's limited life span.
"They don't last," she said. "This one, in the next few hundred thousand years, should decay in its orbit even more than it already has, and fall into its star."
And so, despite the challenges of light pollution and rainy weather, Stephens is now passing on her love of the stars to a younger generation. In fact, by the end of this year, she and her students will have made observations on 70 to 80 different stars, continuing their search for extrasolar planets.
Most of this work happens in between classes, dental appointments, and soccer games--because after all these years, Jupiter still beckons.
"I didn't know what I was going to do as a kid," Stephens said. "I probably thought I was going to be a mom, honestly. And I am a mom--but I'm also finding planets."
×
Photos
Most recent Utah stories