Estimated read time: 2-3 minutes
This archived news story is available only for your personal, non-commercial use. Information in the story may be outdated or superseded by additional information. Reading or replaying the story in its archived form does not constitute a republication of the story.
Resuscitating pets pulled from house fires is rapidly evolving into a major life-safety philosophy for Salt Lake City firefighters. Second only to humans, saving household pets is a priority.
While responding to a house fire, Salt Lake City firefighters surrounded two victims of a house fire. Unconscious from smoke inhalation, they were given oxygen, and paramedics were prepared to administer IVs or advanced cardiac drugs if necessary. Were they the owners or perhaps children? No, they were the dogs!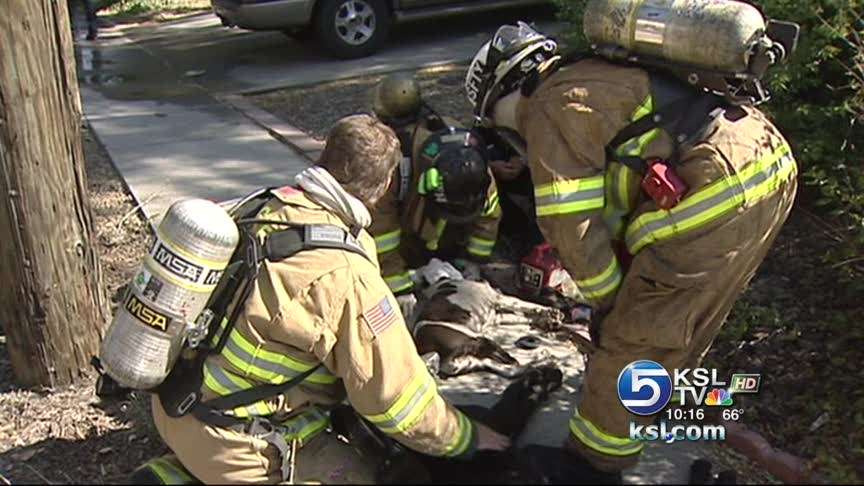 Justin Poarch, a paramedic and firefighter with the Salt Lake City Fire Department, said, "I think maybe in the past, if we can rescue an animal out of a house, we would set 'em off to the side and hope that they could make it, whereas now we are aggressively starting to take care of these animals and resuscitating them."
In the example fire, firefighters quickly put out the flames. The owners, who would have been the first priority, were not home. But in the smoke that was heavy enough to kill a human, they found the dogs.
Firefighters across the board are now being trained, using programs developed by veterinary hospitals. "At Texas A & M, they have a program, which is advanced cardiac life support for canines, and that has now even evolved into cats."
This program is evolving very rapidly now. On every single engine with the Salt Lake City Fire Department you'll find resuscitating equipment specifically designed for pets. Three different masks fit large or small animals.
Poarch says firefighters routinely experience residents, often in a panic, trying to get back into a burning house. "We can't let them go back in for the safety issues, but they're trying to get back in there, and we're trying to calm them down enough to ask them, 'Where's your child in the house?' And they're saying, 'No, it's my dog or it's my cat,'" Poarch said.
Members of the family? You bet! Worth saving? "As we're in there searching, a life is a life," Poarch says.
Like doctors on standby for humans, the Salt Lake City Fire Department also has an on-call veterinarian ready to guide paramedics, if needed, for more complicated pet resuscitation.
E-mail: eyeates@ksl.com
×
Most recent Utah stories