Estimated read time: 4-5 minutes
This archived news story is available only for your personal, non-commercial use. Information in the story may be outdated or superseded by additional information. Reading or replaying the story in its archived form does not constitute a republication of the story.
SALT LAKE CITY — In the deepest recesses of our brains lie the mechanisms controlling behavior, emotion and memories — areas of particular interest to neuroscientists who specialize in studying how and why we do and say the things that we do.
Now, a technique for taking photographs of cells and cell activity in those very hard to reach places has been developed by a group of researchers at the University of Utah.
A team led by associate professor Rajesh Menon of the U.'s College of Engineering joined forces with Nobel laureate Dr. Mario Capecchi and neurobiology professor Jason Sheperd in discovering a process using an inexpensive, micro-thin surgical glass needle, laser light and a standard camera to create images of interior brain cells.
The captured images, which start as recordings of scattered light waves, are later processed by a sophisticated algorithm developed by Menon and his team into a 2-D or potentially 3-D picture.
"Other researchers have attempted to accomplish this same thing, only by trying to shrink microscopes down to very minute sizes," said Menon. "We took a different approach, and our solution was actually quite simple."
Menon explained that the glass tube both illuminates the cells and captures reflected light from them. The picture created by that reflected light is an abstract, swirling image that doesn't look like much of anything. But the real "magic" of the research, Menon said, is a mathematical formula that distills a clear picture of the cells from that abstraction of light.
"Getting to the point of creating the image was fairly straightforward," he said. "But the real discovery was finding a way to take that jumbled collection of reflected light waves and render a very clear, high-resolution image of the cells under investigation."
Menon's technique is also minimally invasive (the glass needle is about the same width as a human hair), allowing researchers to make the images while subjects, in this case mice, are exhibiting or engaged in a behavior related to the research. Mice are particularly well-suited for this type of research due to the high level of similarity between human and mice brains. Also, mice used in Menon's research were genetically modified with a targeted, luminescent cell that helped create enough light to take a "picture."
While engineering human genes is not an option for adapting the method, Menon said he can see his technique eventually evolving toward the goal of becoming feasible for human research.
"Of course, we cannot genetically modify humans for research, so we need to develop a way of introducing something that can be tagged (to help identify and illuminate areas to be studied)," Menon said. "Something like what we do to prepare patients for PET scans is a possible solution."
There is also a robust regulatory process in place to vet any techniques before they're approved for use on human patients. Menon said that could represent a five- to 10-year wait before the first pictures of human brain cells become a viable tool for researchers.
Menon's engineering team collaborating with U. neuroscientists on this project is an example of the kind of research cross-pollination that is increasingly prevalent at the school. Richard Brown, dean of the U.'s College of Engineering, said it's become a unique and distinguishing characteristic at the state's largest research university.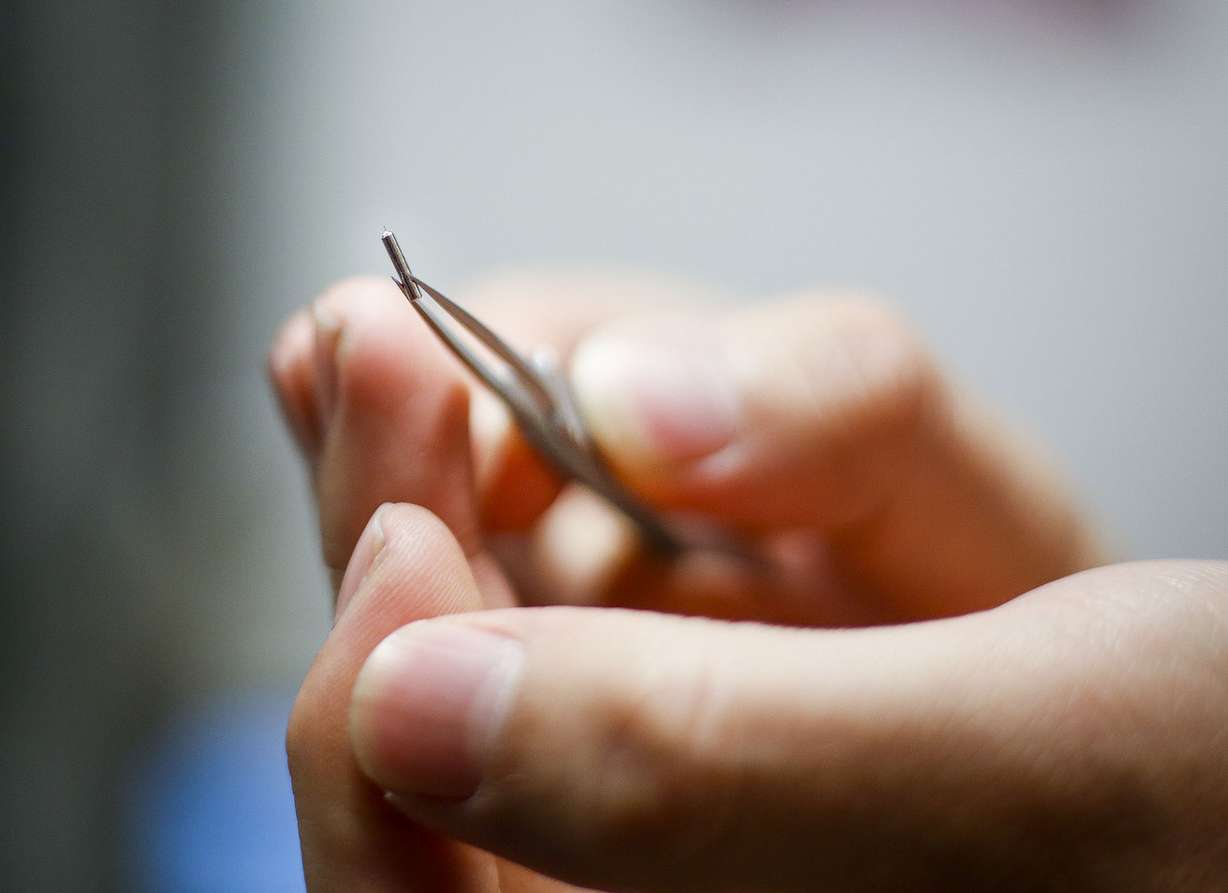 "The fascinating work of Dr. Menon and his Ph.D. student, Ganghun Kim, on imaging cells within the brain is an excellent example of the kind of interdisciplinary research that is done at the University of Utah," Brown said. "The research environment at the U. is unusually collaborative and there are particularly strong interactions between engineering and medicine."
Menon's work was funded in part through a National Science Foundation grant as part of its BRAIN Initiative. Before joining the U.'s engineering faculty, he worked as a research engineer and postdoctoral scientist at MIT's Research Laboratory of Electronics.
Menon was recruited as part of the efforts of the Utah Science Technology and Research Initiative, which also funded the building where his brain cell photography innovation was developed, the James L. Sorenson Molecular Biotechnology Building.
USTAR has recruited dozens of field-leading researchers, including Menon, to bolster its mission of expanding the state's economy through technological advancements and tech-related entrepreneurship.
USTAR executive director Ivy Estabrooke noted Menon's research success as representing exactly the type of results the organization works to cultivate.
"This invention reflects the promise of USTAR, an interdisciplinary team leveraging the intellectual capability of USTAR-recruited researchers to create new tools that may change the way health care can be delivered more effectively," Estabrooke said.
×
Photos
Most recent Utah stories