This archived news story is available only for your personal, non-commercial use. Information in the story may be outdated or superseded by additional information. Reading or replaying the story in its archived form does not constitute a republication of the story.
SALT LAKE CITY — Here are 10 stories you may have missed this weekend. As always, click on the headline to read the full story.
1. Police seek driver who hit, injured teen on Bangerter Highway
Police are looking for the driver of a car involved in what they are calling an unusual auto-pedestrian accident Tuesday morning. It happened at the intersection of 9000 South and Bangerter Highway, and the 17-year-old girl who was hit didn't even know she was injured until hours later.
2. Drag-racing car hits small airplane at Spanish Fork airport
A drag-racing Corvette crashed into a small plane at the Spanish Fork-Springville Airport. According to Sgt. Cade Harding with Spanish Fork Public Safety, a Corvette and a Porsche were drag racing on the taxiway of the airport on Friday when the Corvette struck a single-engine plane that had stopped on the taxiway for a mechanical issue.
3. Human remains found in Deaf Smith Fork Canyon
Human skeletal remains, including a skull that police described as "well-intact," were found by hikers in Deaf Smith Fork Canyon on Sunday. The discovery was made about 2:30 p.m. near 3700 East and 8800 South, said Unified Police Lt. Brian Lohrke, near the trailhead to the canyon off King's Hill Drive. A skull and a couple of other bones were discovered, he said.
4. Actress Brooke Mueller takes plea deal in Heber City reckless driving case
Actress Brooke Mueller has entered a plea in abeyance for driving 20 mph over the speed limit and not pulling over for police for 6 miles, according to charging documents. Mueller, 39, of Park City, was charged in January with failing to stop at the command of an officer, a third-degree felony; reckless driving, a class B misdemeanor; and never obtaining a Utah driver's license, an infraction.
5. Ogden City releases video of fatal officer-involved shooting
Ogden city administrators released police body camera and surveillance videos Friday of an officer-involved shooting that left a man dead. Police say two officers patrolling a parking structure at The Junction on Feb. 21 saw two men "prowling around unoccupied vehicles." Surveillance video shows the man running from the officers, then turning and raising what appears to be a gun at the officers as they approach. The officers fired on the man, killing him.
Sports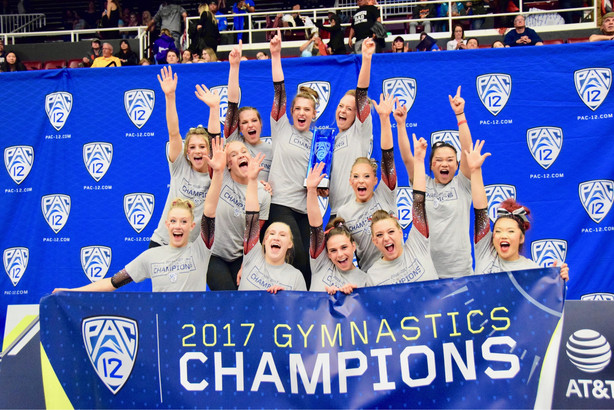 1. Skinner leads Utah gymnastics to win Pac-12 title
The fifth-ranked Red Rocks annihilated the Pac-12 Gymnastics Championship, scoring a season-high 197.925, to win their third conference title in four years.
2. Zags ride star point guard, backup center to third-straight Sweet 16 bids
Nigel Williams-Goss had 14 of his team-high 20 points in the first half, and Zach Collins scored 12 of his 14 points after the break to help the top-seeded Bulldogs to a 79-73 win over Northwestern Saturday afternoon at Vivint Arena for their third-straight Sweet 16 berth.
3. Arizona overcomes slow start, moves on to Sweet 16 after win over Saint Mary's
The Wildcats took the lead in the second half and pushed past a late effort by Saint Mary's to advance to the Sweet 16 with a 69-60 win Saturday night at Vivint Arena.
4. 'We made history:' Northwestern's dream season comes to an end in 2nd round
In a sense, Northwestern was the Cinderella darling of the Salt Lake region site — and perhaps the entire tournament to this point.
5. Langlois steps up to lead No. 3 BYU men's volleyball by No. 4 Hawaii in straight sets
Jake Langlois put down 13 kills, and Brenden Sander had a team-high 14 as BYU swept the island visitors 28-26, 25-18, 25-20 in a crucial league match to improve to 12-1 in Mountain Pacific Sports Federation play.
×