This archived news story is available only for your personal, non-commercial use. Information in the story may be outdated or superseded by additional information. Reading or replaying the story in its archived form does not constitute a republication of the story.
SOUTH SALT LAKE — Seven people escaped an early morning house fire that did so much damage firefighters were forced to tear the house down before they could safely extinguish hot spots.
The house at 69 W. 2700 South was engulfed in flames when firefighters arrived about 5 a.m., according to Battalion Chief Shane Conrad with the South Salt Lake Fire Department. The seven people who live in the house were all outside, Conrad said.
"All of them were safe; no injuries with them," he said. "We did have one firefighter with a minor injury."
Firefighters were able to prevent the flames from spreading to other homes, but radiant heat from the fire melted the siding on one neighboring home.
Due to the extensive damage to the home that caught fire and the condition of the roof, Conrad said the decision was made to tear the house down immediately rather than put firefighters at risk.
"We felt that it was just safer to bring it down at this point and finish up the overhaul of it on the ground," said Conrad, as a trackhoe demolished the house and firefighters continued to spray water on the growing pile of smoldering debris.
Firefighters were able to recover some of the occupants' personal items from inside the house, but the majority of the home's contents were destroyed, the battalion chief said. He did not have an estimated dollar amount for the loss.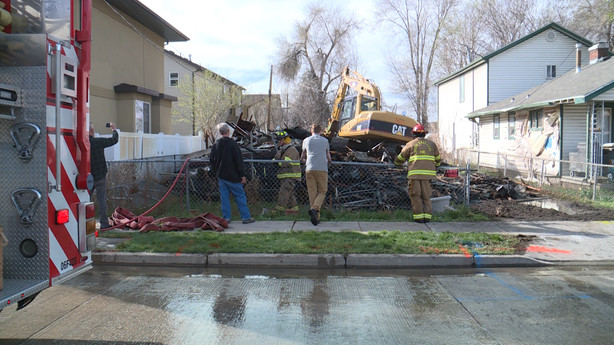 "They're in a really bad way," said Red Cross communications director Rich Woodruff, referring to the people who lived in the house.
"We're going to take care of them and help them get through this emergency situation," Woodruff said. "We may direct them to other resources, for example, to help them find other housing options. We don't just come and get them through the weekend. We basically come and set them on the road to full recovery."
With that recovery effort already underway, Conrad said fire investigators are still working to get information from those who lived in the home to try to figure out how the fire started.
"We've got a bit of a language barrier there right now," he said. "Through an interpreter, we're trying to get some information from them at this time."
×
Photos