Estimated read time: 5-6 minutes
This archived news story is available only for your personal, non-commercial use. Information in the story may be outdated or superseded by additional information. Reading or replaying the story in its archived form does not constitute a republication of the story.
PROVO — The BYU men's basketball team fell short of expectations in 2016-17.
That's not a referendum on any fan's motivation, or a call that the Cougars were potential national championship contenders in a season when only two seniors started on the active roster and none finished on it.
But the goal of any college program — BYU included — is to make the NCAA Tournament, and the Cougars fell well short of that expectation with Wednesday night's loss to UT Arlington in the first round of the National Invitation Tournament.
It wasn't just the loss that stung BYU's players and coaches the most; it was how they lost. The Cougars gave up 62 points in the first half, and allowed more than 100 points for the first time since a 114-101 loss to Utah Valley last November.
Defensively, it was, to quote a popular meme based on the television series Mad Men: "Not great, Bob."
The Cougars scored 80.6 points per game. But they also held opponents to just 74.3, with career-high scoring nights given up throughout the season.
"They made some tough shots, but they also got exactly what they wanted to get," BYU coach Dave Rose said. "That's us being a step slow."
First, the obvious: BYU was playing without three starters, with seniors Kyle Davis and L.J. Rose joined on the bench in street clothes by rising sophomore Elijah Bryant, who has struggled with knee injuries for most of the season.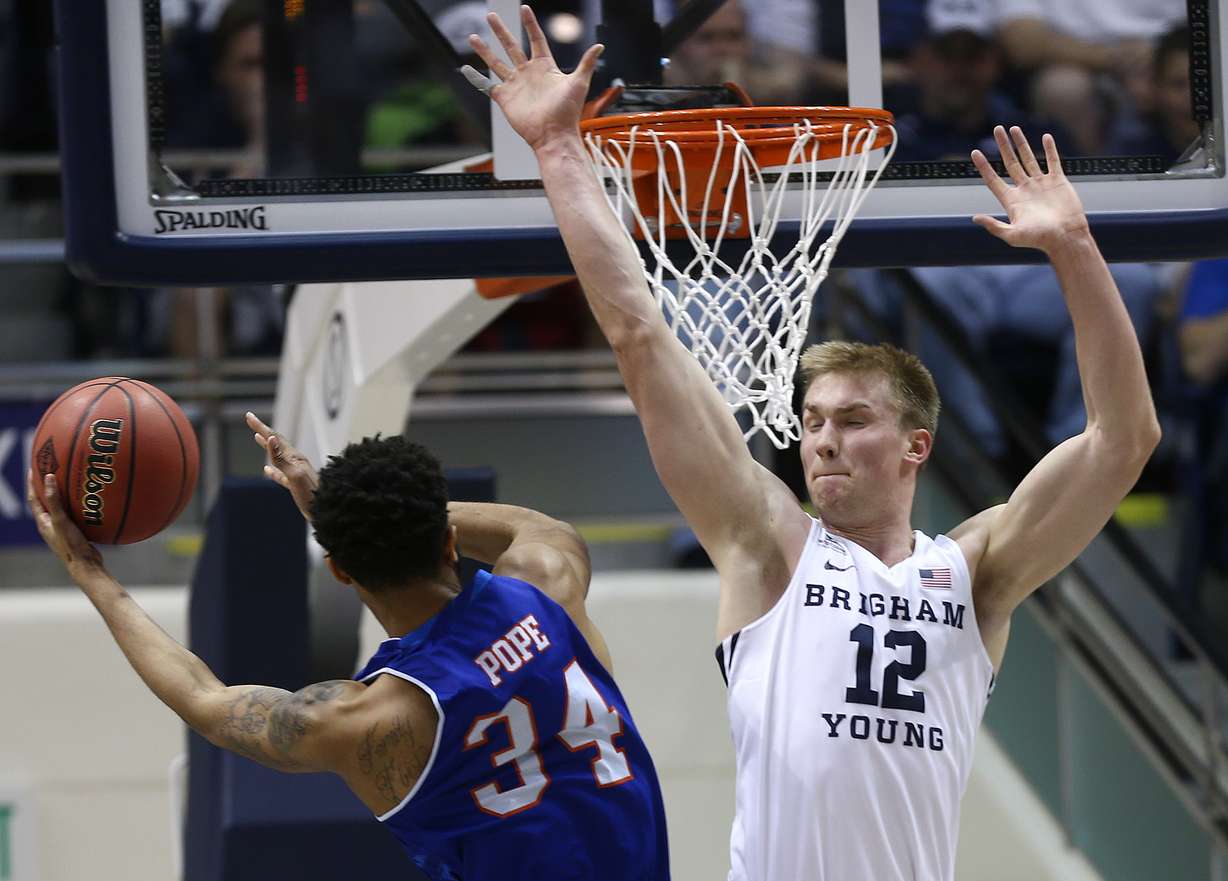 Playing a makeshift lineup all year (at least since Davis' injury prior to the start of West Coast Conference play) is never ideal for any team. Take out Bryant and replace him with Davin Guinn, who made his first career start in the Marriott Center, in a postseason game, and the troubles are compounded.
More so, TJ Haws played the game with flu-like systems. And even though he finished with 11 points and three assists, he wasn't his usual quick-firing self.
"I thought we could overcome Elijah's miss," Rose said. "Guys were trying hard, and we just weren't good enough. Take nothing away from Arlington; they looked really good."
What's next for BYU? A lot of work.
For the first time in Rose's 12-year tenure as head coach, the Cougars finished the regular season at home. No trip to the NCAA Tournament. No NIT run or smaller postseason accomplishment. BYU hasn't even won a conference championship since 2001.
But also for the first time in Rose's tenure, the vast majority of his team will return to him next year. Davis and L.J. Rose will move on to graduation, and maybe even attempt to play overseas. But every other player sans Colby Leifson, who will depart to serve a two-year mission for The Church of Jesus Christ of Latter-day Saints, should be back.
Should. Officially, any of BYU's players could declare for the NBA draft. The most realistic target for such a path is Eric Mika, who had 29 points and seven rebounds in the Cougars' season finale.
Even that seems unlikely at this stage, and Mika (for obvious reasons) wouldn't commit to anything about next season in the wake of a season-ending loss.
His main focus was on what the season became.
---
It was challenging; every college basketball season will be challenging. Every one will be unique. Ours was tough.
–BYU forward Eric Mika
---
"It was definitely a growing experience for all of us, coaches and players," Mika said. "It was challenging; every college basketball season will be challenging. Everyone will be unique. Ours was tough."
Youth is an excuse, and no BYU player or coach wanted to make excuses after Wednesday night. The Mavericks were just better, coming in as Sun Belt regular season champions with the conference's player of the year in Kevin Hervey, who had 22 points, eight rebounds and four assists for a UTA squad that shot 63 percent from the field in the first half. NIT games are regularly primed by motivation, and the Mavericks (26-8) were more motivated than BYU for a late-night tipoff in Provo.
Coach Rose admitted that injuries and illnesses have plagued his team all season; Yoeli Childs was just getting over an illness that struck him around the time of the WCC tournament in Las Vegas — a bug that affected nearly every member of the squad and assistant coaches Terry Nashif and Tim LaComb. But he didn't want to dwell on that excuse.
"The only thing I can see right now is that we need to work," Rose said. "Our players need to work, our coaches need to work, and we need to find a group of guys who can get together and overcome a lot of the issues that we couldn't overcome this year."
Related Story
BYU had a young team last year, and looked primed to return a host of promising talent, along with Mika and Haws, who were fresh off LDS missions themselves. But the team lost several key roster players to transfers in the spring, including Jordan Chatman to Boston College, and Jake Toolson and Cory Calvert to Utah Valley.
Suddenly, returning sophomore Nick Emery, who had 24 points and five assists against the Mavericks, was the team's elder statesman — and voted a team captain because of such.
It's unlikely that any of those players would have started for BYU in 2016-17, which probably helps explain their transfer. But they would've certainly been key contributors, and a team needs more than five players in the modern college basketball era — especially when injuries and illness strike.
For that reason, Rose wouldn't commit to the future. You never know who will return in an era of one-and-done prospects and free-agency transfers across Division I.
"Every spring is different," Rose said. "We'll just take it a day at a time and see where we go."
All BYU can do is get back to work. There aren't any more games to prepare, and they can only watch as WCC rivals Gonzaga and Saint Mary's open the NCAA Tournament in Salt Lake City.
"It's something that we have to remember going into next year; it's a process, and it doesn't just happen overnight," Emery said.
"We're willing to learn from that process."
×
Photos
Related stories
Most recent Sports stories