This archived news story is available only for your personal, non-commercial use. Information in the story may be outdated or superseded by additional information. Reading or replaying the story in its archived form does not constitute a republication of the story.
LAS VEGAS — Any intentions of the BYU men's basketball team to hang with No. 19 Saint Mary's in the semifinals of the West Coast Conference tournament Monday night were dashed within the first few minutes of the game.
The Gaels opened on a 12-2 run with three-straight possessions to standout center Jock Landale, followed by back-to-back 3-pointers by Emmett Naar, and the Cougars never recovered.
Landale finished with 22 points and 10 rebounds, and Naar added 12 points and 11 assists to help No. 19 Saint Mary's overwhelm BYU 81-50 and advance to the WCC championship game Tuesday night against No. 4 Gonzaga.
"We were a couple of steps slow in everything we did," BYU coach Dave Rose said. "We got them turned on, and Jock's a load down there in the low post. He did a really good job getting the game started. We had a hard time making a basket, and it's tough."
Calvin Hermanson added 14 points and six rebounds for Saint Mary's (27-3), which handed the Cougars their first 30-point loss since 2008. Hermanson drained four 3-pointers en route to 14 points and six rebounds, and Tanner Krebs came off the bench to score 11, including 3 of 4 from the 3-point line.
"It was a great win. We played well, and it's nice to play well in that game," Saint Mary's coach Randy Bennett said. "We played both ends of the court well. We shot well offensively, and I thought we defended well; good things happen when you do that."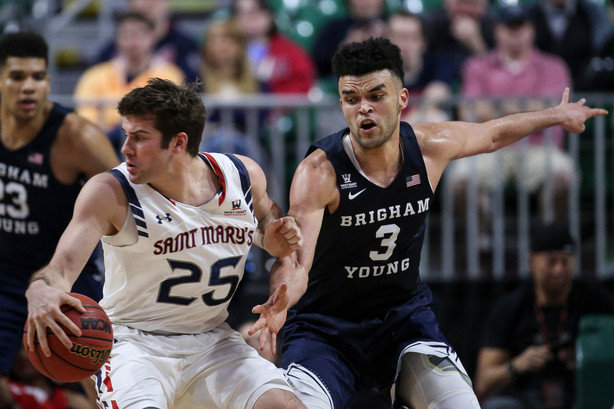 TJ Haws led BYU (22-11) with 13 points, and Eric Mika supplied 10 points and seven rebounds. Elijah Bryant added 11 points, two rebounds and a block for a BYU team that was outrebounded 35-32 and had just five assists.
"I think moving forward, we have to just let it sting and learn and grow from this," Bryant said. "We're still a young team, but we have to let this sting so we can learn and grow for the next team."
Saint Mary's went inside to Landale on three straight possessions to start. When the Cougars brought Corbin Kaufusi off the bench to defend the post, the Gaels kicked it out to Emmett Naar, who knocked down back-to-back threes to give Saint Mary's a 12-2 lead with 12:57 left in the first half.
Once the game got away, BYU could never catch up. The Cougars pulled within eight on consecutive threes by Haws with 4:10 left in the half. But Saint Mary's bridged the two halves on a 14-2 run, took a 51-24 lead when Hermanson and Naar drained back-to-back triples five minutes into the second half, and the rout was on.
Saint Mary's played the game at a slightly quicker pace than their average, but still held the Cougars below 32 percent shooting while scoring at their own efficient 56 percent clip — including 13 of 25 from 3-point range. Hermanson hit a game-high four 3-pointers for Saint Mary's, and Naar and Krebs each added three.
🎥: One final look at @BYUbasketball's 81-50 loss to Saint Mary's in the @WCChoops Tournament semifinals pic.twitter.com/00QymAIjhr

— Brandon Judd (@brandonljudd) March 7, 2017
Haws and Davin Guinn, who had two 3-pointers apiece, accounted for all of BYU's scoring from deep.
"I think it's just two different styles going against each other," said Guinn, who finished with six points and four rebounds. "We're not satisfied with the outcome of the past few games. We need to do a better job adjusting to how they play, but we need to be able to do what we do at the same time."
Related Story
×
Photos
Related Stories