Estimated read time: 3-4 minutes
This archived news story is available only for your personal, non-commercial use. Information in the story may be outdated or superseded by additional information. Reading or replaying the story in its archived form does not constitute a republication of the story.
SALT LAKE CITY — Saint Mary's has visited the Wasatch Front plenty, with annual games at BYU in West Coast Conference play.
But not like this.
The Gaels (28-4) will mark their first trip to the NCAA Tournament since 2013 when they face 10th-seeded Virginia Commonwealth at 5:20 p.m. MT Thursday at Vivint Arena in the opening round of the NCAA men's basketball tournament.
"We've been in the NIT for three years, and that's a great tournament as well,' said Emmett Naar, one of five returning starters in 2016-17. "But at the start of the year, you always make the goal to make the NCAA Tournament. To achieve that, it feels incredible. But we're trying not to be too satisfied with just being in the tournament.
"We'd like to be able to make a run and win at least a few games."
The Gaels were ranked as high as No. 15 in the season and take a No. 22 national ranking into their meeting with the Rams (26-8). But after a 74-56 loss to Gonzaga in the WCC tournament final, they still sweated out a Selection Sunday and felt the nerves of the tournament until hearing their name called in the final region announced by CBS' Greg Gumbel.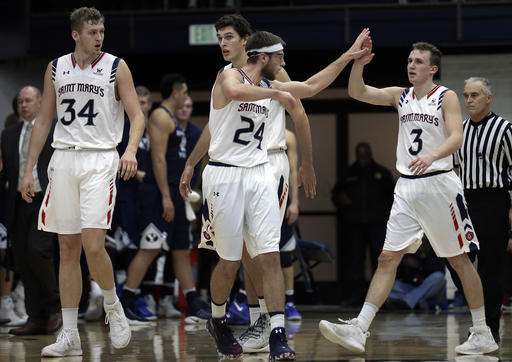 "We had a pretty good feeling that we were in," said sophomore Evan Fitzner, who started all 67 games for Saint Mary's. "But at the end of the day, especially after what we went through last year, you never really know.
"It was crazy. It got down to the last bracket, and we were waiting for our name to be called, but it wasn't until the very end. When it finally was called, it was an incredible moment."
The Gaels returned all five starters from last year's NIT team, and the team's top six individuals for a uniquely deep squad that rolled to a 16-2 record in WCC play, only losing twice to Gonzaga — the No. 1 seed in the West region.
"I think we're a pretty cohesive team, and that shows on the court," Naar said. "It has definitely made a difference."
The Gaels have never faced VCU, but Saint Mary's 28 wins include a 61-57 win at Atlantic 10 regular-season champion Dayton that gives the Gaels a possible advantage based on the transitive property against an unfamiliar opponent.
Saint Mary's Australian connection (the Gaels have seven players who hail from Down Under) has brought a little more familiarity to various Salt Lake City figures, as well. Naar and Dane Pineau, who hails from Sydney, both attended the Australian Institute of Sport with Jazz guard Dante Exum.
They won't see Exum during their visit because of the Jazz's four-game road trip that begins Thursday night in Detroit. But Pineau has plenty of experience in the Utah altitude.
Even if not after an emotional Selection Sunday.
"It's been a long time; I've been here for four years, and it's nice to finally have your name called on Selection Sunday," Pineau said. "It's an unbelievable feeling to be a part of it, and hopefully we can be a part of it for as long as we can."
×
Most recent Sports stories