Estimated read time: 4-5 minutes
This archived news story is available only for your personal, non-commercial use. Information in the story may be outdated or superseded by additional information. Reading or replaying the story in its archived form does not constitute a republication of the story.
KEARNS — A Unified police officer was not legally justified when he shot a man in the shoulder as he was trying to scale a fence in order to get away, the Salt Lake County District Attorney's Office announced Monday.
However, District Attorney Sim Gill said criminal charges will not be filed against Unified police detective Cordell Whitmore. Investigators believe the shooting was accidental.
The shooting
On Oct. 5, 2016, Damian Scott Huth, 20, of Kearns, and his wife, Kelli Huth, were in a car that was pulled over near 5800 West and 6200 South. Damian Huth had several outstanding warrants for his arrest.
Huth resisted arrest and started fighting with the officer who had pulled him over. Huth's wife then jumped on the officer's back to give her husband time to run, according to charging documents.
Whitmore, an eight-year veteran with the department who previously worked for the Davis County Sheriff's Office, had just arrived on scene and ran after Huth. Because he saw the other officer on the ground, he drew his gun as he chased after Huth.
When Huth reached a fence with barbed wire on top, he started to climb over it. Whitmore, while still holding his gun, attempted to pull Huth down.
"Detective Whitmore said he grabbed the suspect's waist with his left hand and tried to pull the suspect off the fence. Detective Whitmore said at the time, (he) had his gun in his right hand. Detective Whitmore said he used his foot for leverage against the fence. Detective Whitmore said he slipped off the fence and fell to the ground. Detective Whitmore stated he 'doesn't recall' what happened next as he has been unable to recall it from his memory," the district attorney's report states.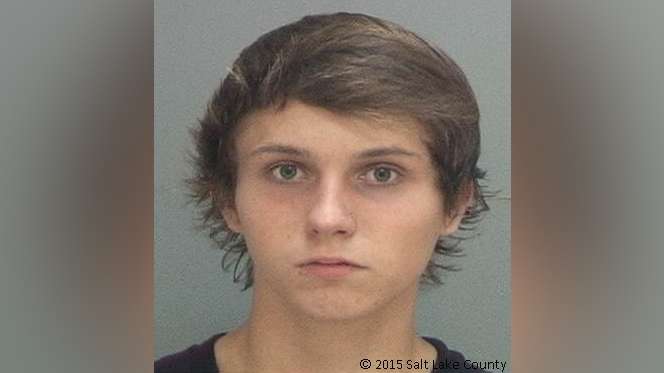 Whitmore told investigators that he "lost time," meaning something happened that he cannot remember.
"Detective Whitmore said he was on the ground next to the fence with his gun now in his left hand with the weapon pointed toward the suspect on the fence," the report states. "Whitmore said he heard a 'pop' and didn't know what it was, but then he looked up and saw his weapon pointing upward and realized it was his gun. Detective Whitmore said he knew he had just accidentally discharged his weapon. Detective Whitmore said his memory doesn't quite make sense because he knows he is right handed."
Huth continued to climb the fence and ran off. He was captured a short time later by backup officers. Until Whitmore saw the injury, he said he didn't realize that Huth had been shot, according to the report.
"Detective Whitmore said he 'just kind of lost (his) ability to function' at that point and he was sequestered by other officers," the report states. "During his interview with protocol investigators, detective Whitmore expressed that he was baffled that he could have hit the suspect."
DA's findings
Although the shooting was determined to be legally unjustified, Gill said it does not rise to the level of criminal charges.
"Specifically, we don't believe detective Whitmore had a criminal mental state at the time he used deadly force against Mr. Huth. We believe detective Whitmore accidentally discharged his weapon, and unfortunately, the weapon happened to be pointing at Mr. Huth when it fired," according to the report. "We're not aware of any evidence to prove that detective Whitmore meant or intended to fire his weapon at all, let alone at Mr. Huth."
Gill said Whitmore's actions were not intentional nor do they rise to the level of being reckless. Furthermore, the district attorney said a charge of criminal negligence would also not fit in this case.
Related:
"There are no statutes that apply to detective Whitmore's conduct for which we could charge him. The statutes which proscribe 'criminally negligent' conduct do not apply to the facts of the (officer-involved shooting)," Gill wrote.
Huth survived his injuries and was charged in 3rd District Court with escape, a third-degree felony. His wife, Kelli Rachelle Huth, 18, is listed as a co-defendant. She was also charged separately with obstructing justice, a third-degree felony, and assaulting a police officer, a class A misdemeanor.
Whitmore remained on administrative leave Monday pending the outcome of a separate internal investigation.
"An internal investigation includes a review of policy violation(s) that may or may not have occurred during an (officer-involved shooting). Due to the ongoing internal investigation, Sheriff (Jim) Winder will comment on this matter at a later time," the sheriff's office said in a prepared statement.
×
Related stories
Most recent Utah stories