Estimated read time: 5-6 minutes
This archived news story is available only for your personal, non-commercial use. Information in the story may be outdated or superseded by additional information. Reading or replaying the story in its archived form does not constitute a republication of the story.
LAS VEGAS — Jalen Moore knew he wanted to attend Utah State since he was 8 years old.
The son of Jimmy Moore, a Utah State Hall of Famer who currently works as an assistant athletic director for special projects, was raised in North Logan, grew up going to the Dee Glen Smith Spectrum for Aggie hoops games, and decided on his college future even before he helped nearby Sky View High School break a two-decade championship drought.
Current Utah State head coach Tim Duryea was unofficially recruiting Moore before the NCAA would allow him, getting to know "Jimmy's boy" as an assistant coach through Aggie alumni events, practices with Jimmy and youth basketball camps.
"He has been the same kid, from a tremendous family, and he has been everything that you hope he would be when he came to your camp as an 8-year-old," Duryea said. "He has been a phenomenal representative of our program, not just on the court but in the airport, on the airplane, in a restaurant. People compliment us all the time regarding the kind of representative he is for Utah State — and that doesn't even say anything about scoring a basket or the kind of player he is."
After his final game — which Moore saved for his best night with a career-high 27 points against Nevada in the Mountain West Tournament — the 6-foot-9, 225-pound wing looked at freshman Koby McEwen, who was just beginning his own college career and posted his own 27 point outing the day before.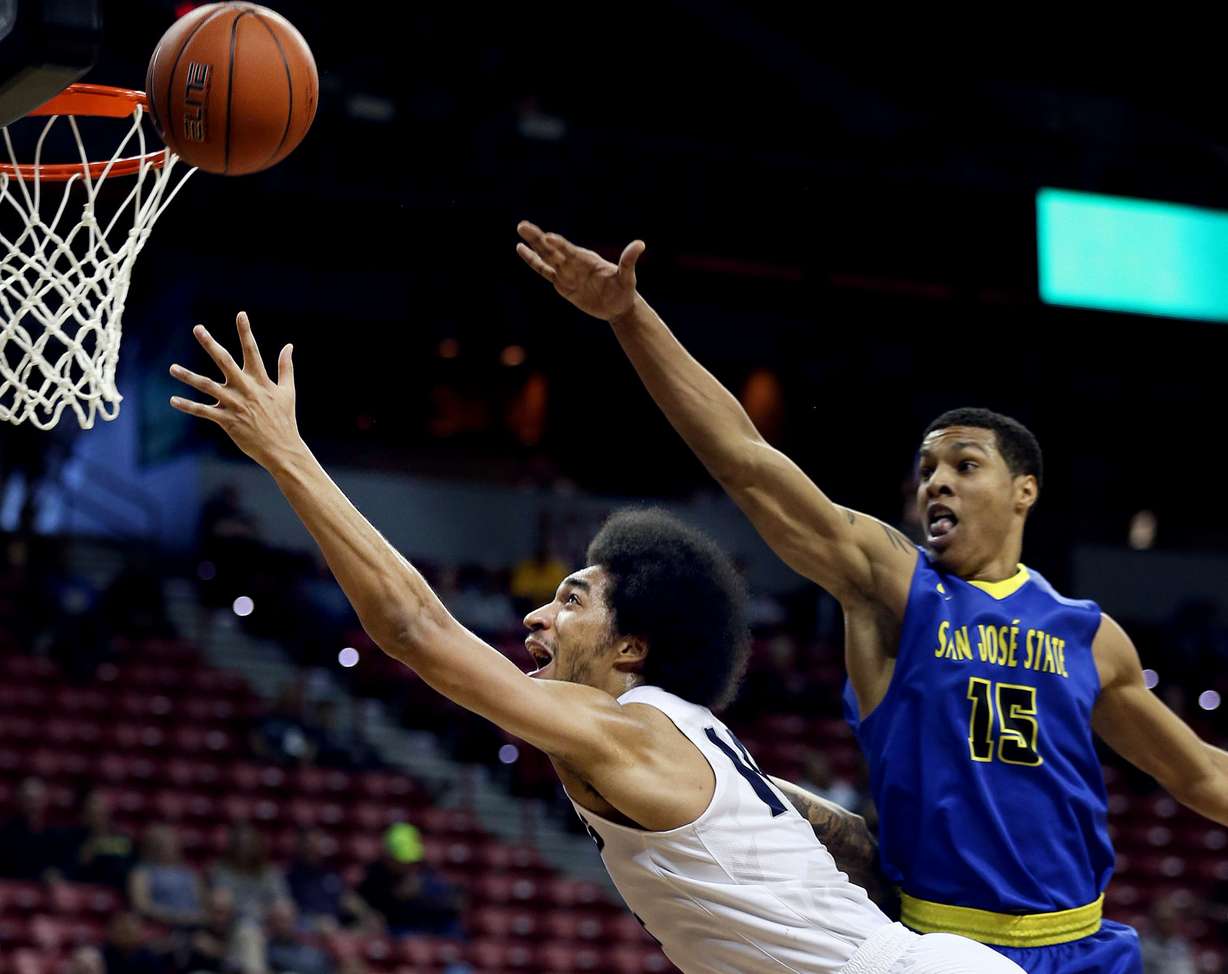 A pang of jealousy could be heard in Moore's voice as he answered reporters' questions at his final Utah State postgame news conference.
"It goes by really fast," he said. "I mean, Koby's going to look back on it and realize how fast it goes by. It's been a blessing to play with all the players I've played with, the coaches I've played for."
Four years after his first season at the Spectrum, Moore's career ended with an 83-69 loss to the top-seeded Wolf Pack in the quarterfinals of the league tournament in Las Vegas.
He finished with 1,645 career points, just enough to pass his father and finish No. 9 on the Aggies' all-time scoring list. He also collected 654 rebounds, just two more than his Hall of Fame father and the 16th most in program history.
The Aggie standout missed one vital opportunity: In four years in Utah State blue, he never got to play in an NCAA Tournament game.
Still, what Moore got out of his Utah State experience means more than a game against a Power 5 program like Ohio State such as the one the Aggies received in 2001. He stuck with Duryea in his first two seasons as a Division I head coach, even while several former teammates fled the program for higher-profile universities and more playing time.
"He really is what college basketball is supposed to be about," Duryea said of Moore, who will graduate with a degree in exercise science. "Great kid. Great student. Great player. You want to coach about 10 of those."
Moore could have passed on his senior season while electing to pursue a professional basketball career. The small forward who played power forward for most of his Aggie career shot 43 percent from the field as a junior while averaging a team-high 15.2 points and 6.0 rebounds per game in Duryea's first season as head coach following the retirement of legendary coach Stew Morrill.
In the offseason, Moore took advantage of more lenient NBA pre-draft rules that allowed players to work out for more teams for an extended period of time, and he tested the waters of a potential pro career. The feedback he received was invaluable, but it all pointed to one outcome: go back to college for one final season.
In the end, pro basketball could wait. You'll only be a senior in college once.
"It's just been a fun run, getting better every year, playing with different players, playing in this conference," Moore said. "It was fun to get in the weight room from high school and just get bigger, stronger every night out.
"Those are the things I enjoyed. I appreciate the coaches giving me the opportunity to play here, and just playing with all the different teammates has been fun."
Nevada coach Eric Musselman, who was named Mountain West Coach of the Year in 2017, has little doubt Moore will find a post-collegiate basketball career — whether that comes via the NBA, the D-League or an opportunity overseas.
"He's a hard cover at the collegiate level, playing the four and the three. His position at the next level will probably be at the three-spot," Musselman said. "He possesses a unique skill set because he can post up, shoot the three and take guys off the bounce.
"But at the collegiate level, he's a really tough cover. It's hard to play at the next level, but he certainly has the ability if things fall at the right time."
And yet, nothing will replace his four years in Logan.
"There's nothing like college basketball," Moore said. "It's been a really fun four years of my life."
×
Photos
Related stories
Most recent Sports stories