Estimated read time: 3-4 minutes
This archived news story is available only for your personal, non-commercial use. Information in the story may be outdated or superseded by additional information. Reading or replaying the story in its archived form does not constitute a republication of the story.
LAS VEGAS — Las Vegas seems to be the place where the BYU-Utah rivalry goes to be rekindled.
After BYU's blowout loss to Saint Mary's, and Utah's upsetting loss to Cal in the quarterfinals of the Pac-12 Tournament, the Cougars and Utes may be headed on a collision course in the second-tier National Invitation Tournament postseason event.
Noted NIT bracketologist John Templon of nycbuckets.com currently lists BYU as No. 3 seed and Utah as a No. 4 seed in the same region of the NIT, according to his latest projection published Friday morning. The Cougars would host Fresno State in the first round of the tournament, while Colorado State would travel to Salt Lake City to face the Utes.
Of course, Fresno State will face Nevada in the semifinals of the Mountain West Conference Tournament Friday night, so the Bulldogs are still in play for an NCAA Tournament bid and could shuffle the current projections before Sunday's NIT selection show on ESPN.
"We'll just see how that plays out. Conspiracy theorists already have it done," BYU athletic director Tom Holmoe told the media a week ago during his annual roundtable discussion.
"If it happens, let it happen," he said. "That happened with the (2016 Las Vegas Bowl), so somehow people want us to play. It will happen one way or another. It would be very ironic if it happened (in the NIT). But if it did, it would be a very good matchup."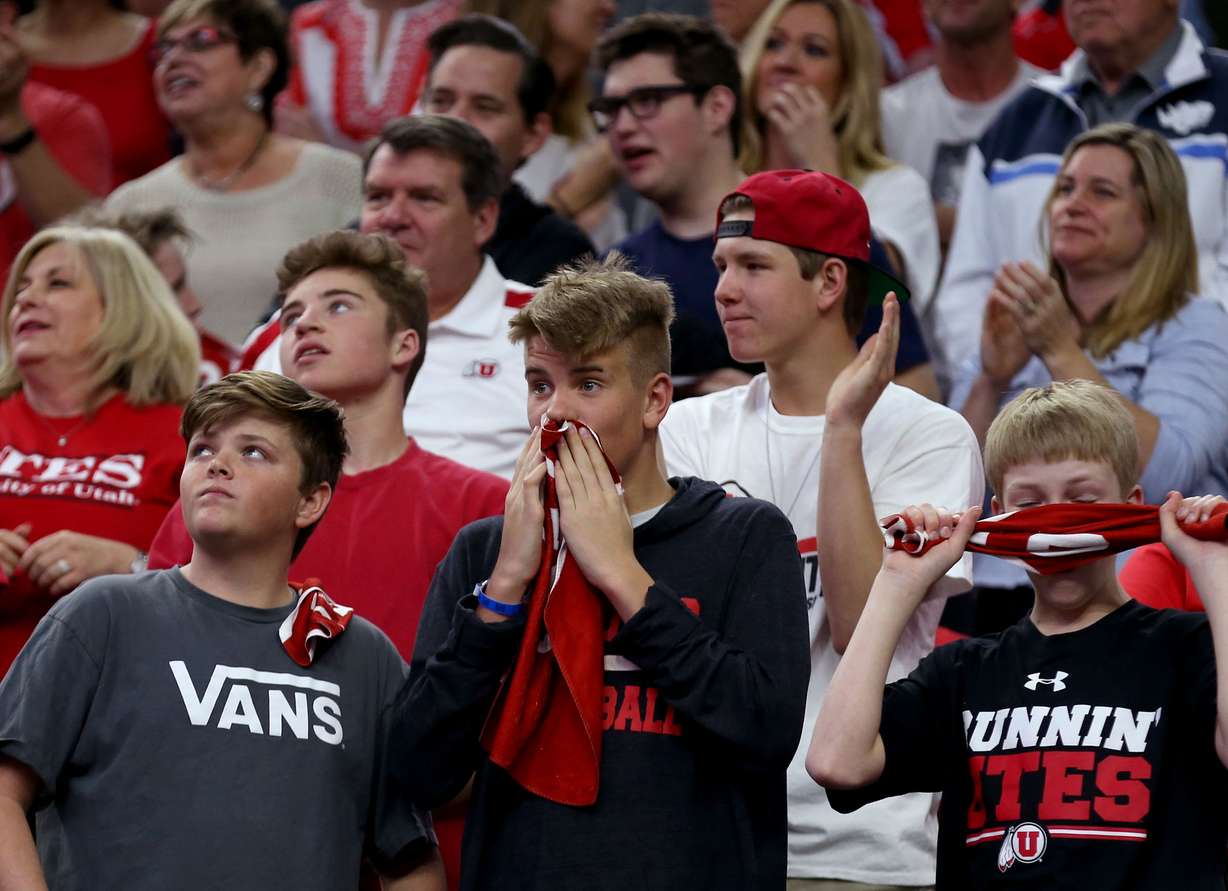 The two Holy War teams wouldn't be pitted for an NIT matchup, then, until the quarterfinals, which BYU would host if Utah knocks off presumed one-seed Illinois and BYU presumably gets by second-seeded Houston.
But it's the closest thing to a possible matchup since Utah coach Larry Krystkowiak offered to buy out the final year of a contracted series in 2016.
With Gonzaga clinching the autobid to NCAA Tournament, and Saint Mary's likely to receive an at-large invitation as the No. 19 team in the country, BYU is the highest-rated team from the West Coast Conference — a conference whose regular-season champion receives an automatic bid to the NIT.
That's not a guaranteed invitation — but it's a pretty safe bet.
"It's improvement, and hopefully we'll be able to continue to play," BYU coach Dave Rose said following his team's blowout loss to Saint Mary's in the WCC Tournament. "We've got to learn this whole process. You think you can avoid it, but it's usually the way you grow: You get challenged, and you forget out how to respond. I know guys want to play another game, and hopefully, we'll get the opportunity to do it."
The NIT is never a team's first objective for postseason play. But when it happens, it represents a chance to keep playing basketball in March — something not available to all 351 Division I schools in the nation.
And the Cougars still have plenty to prove.
"Honestly, we're not satisfied with how the outcome has been the past three games (against Saint Mary's)," BYU wing Davin Guinn said.
×
Photos
Related links
Related stories
Most recent Sports stories