Estimated read time: 4-5 minutes
This archived news story is available only for your personal, non-commercial use. Information in the story may be outdated or superseded by additional information. Reading or replaying the story in its archived form does not constitute a republication of the story.
SALT LAKE CITY — West High student Kathy Liu wants to change the world, and she thinks she's figured out how she'll do it — science.
Take, for example, the process Liu has developed to incorporate natural sugars into batteries, improving their performance and extending their lifetime to more than 1,000 charges — enough to charge a cellphone daily for almost three years.
"These are problems that I care about, that I can really go out and make a difference for everybody, really, who uses this technology," Liu said. "It's my way that I can give back to the communities that I care about."
Honored for her outstanding academic record and her passion for science, Liu was named the winner in the Science category in the 2017 Deseret News/KSL Sterling Scholar Awards Program, as well as the General Sterling Scholar among the 14 Wasatch Front winners announced Thursday.
Liu beamed as she stood on stage Thursday, honored to be recognized among a field of students she called "outstanding." And she grinned even wider as she realized that 12 of the 14 winners were young women.
"I was really excited to see that because we've come so far and I'm proud to see that women are excelling in so many fields," Liu said. "It just shows that it doesn't matter what your gender or what your background is, you can excel if you're passionate."
---
It doesn't matter what your gender or what your background is, you can excel if you're passionate.
–Kathy Liu
---
Working in STEM fields — science, technology, engineering and math — Liu is especially pleased to see young women advance, and she hopes there will be more female Sterling Scholars in the future.
A passionate student with a perfect GPA and insatiable curiosity, Liu enjoys spending her time before and after school "tinkering" in laboratories searching for sustainable energy solutions. In the future she doesn't know if she will stay in energy research, or if she will move to mental health, computer science or other fields.
No matter where she ends up, Liu says she will focus on "game-changing technologies" and how to get them into the hands of people who need them.
"In my future dream job, I'm not too sure what that is, I don't even know if it exists right now because times are changing so quickly, but I want to be able to use technology to make a difference in the world," she said.
"I thrive in problem-solving settings and strive to continuously explore the things I am curious about," Liu said in her biography submitted for the competition. "Scientific research is the most challenging pursuit I have undertaken so far."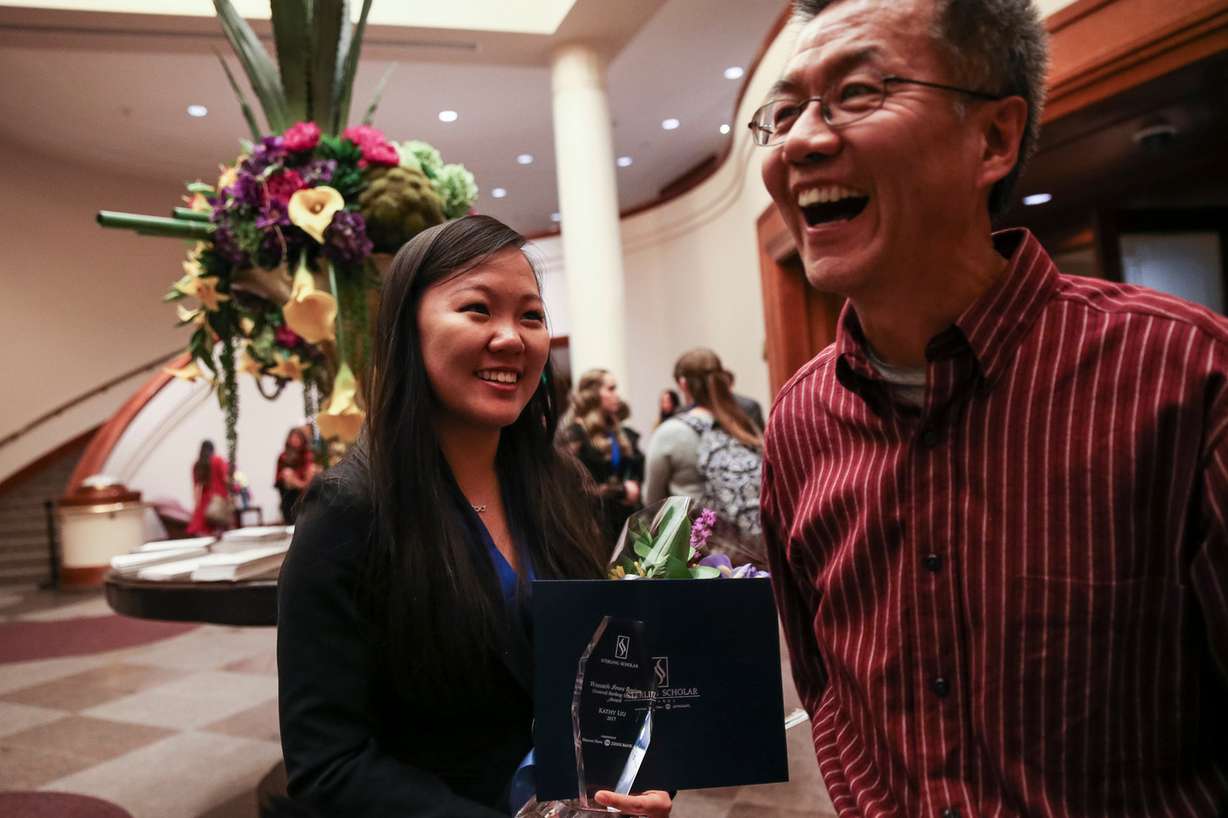 Liu has been honored with numerous science awards, including the 2016 Intel Foundation Young Scientist Award, the 2016 "Rickoid of the year" award from MIT's Research Science Institute, and the National Center for Women & Information Technology's award for Aspirations in Computing.
As the General Sterling Scholar winner, Liu was presented with a $5,000 scholarship during the annual awards program, held Thursday in Salt Lake City. She will put the money toward college, and with several acceptance letters back, she is waiting to hear from a few more schools before making her selection.
The Sterling Scholar program has recognized outstanding academic, leadership and service by Utah high school students for 56 years. The program began in its early stages in 1962 when Deseret News staff members sought to extend the same kind of recognition that student athletes received in the paper to those excelling academically.
Each of the 14 winners Thursday received a $2,500 scholarship, while the 28 finalists were awarded $1,000 each.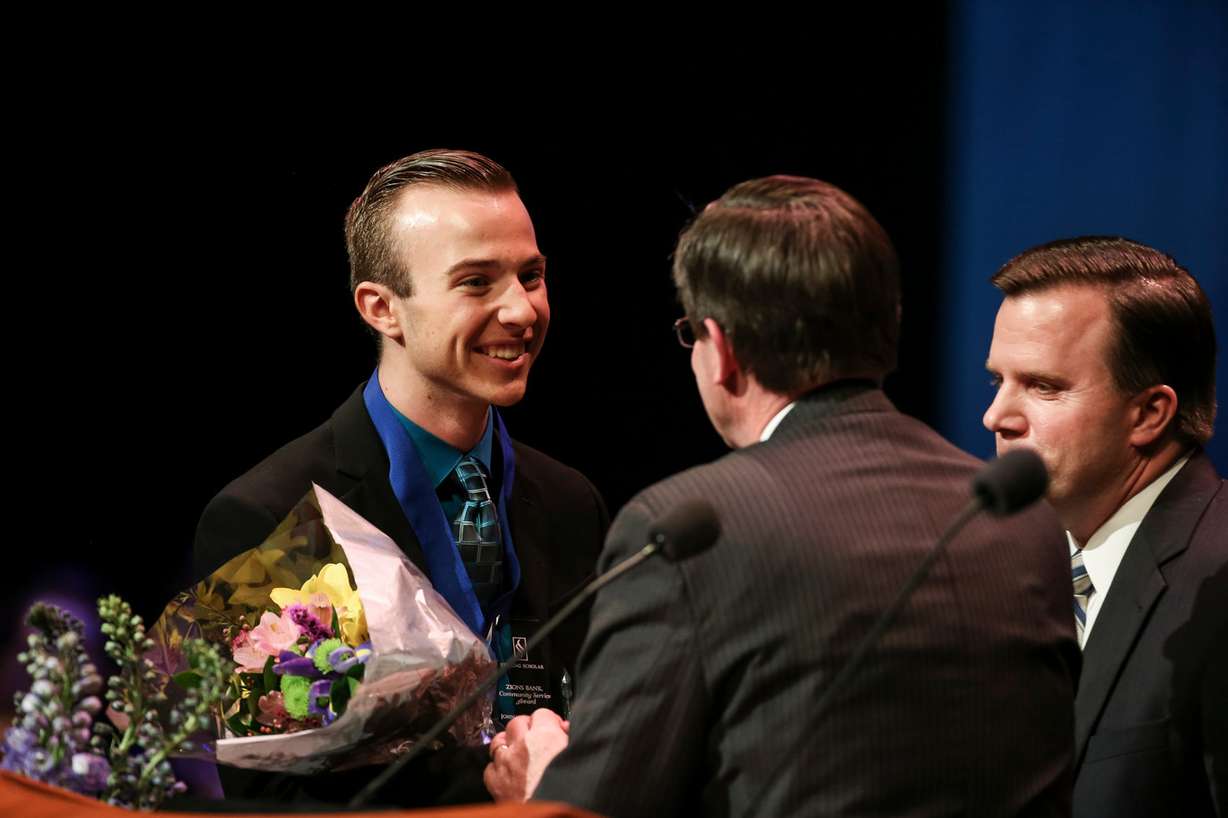 This year's Zions Bank Community Service Award, including a $2,000 scholarship, was presented to Johnathan Tanner, a student at the American Leadership Academy and a candidate in the Dance category. He credits his parents, teachers and coaches through the years for his commitment to serving others.
Tanner has provided more than 2,400 hours of community service through the years, assisting his hometown of American Fork, veterans, senior citizens and international groups. At his school, Tanner is the student body secretary and has led his classmates in food drives, blood drives and in activities that strengthen self-esteem and promote kindness.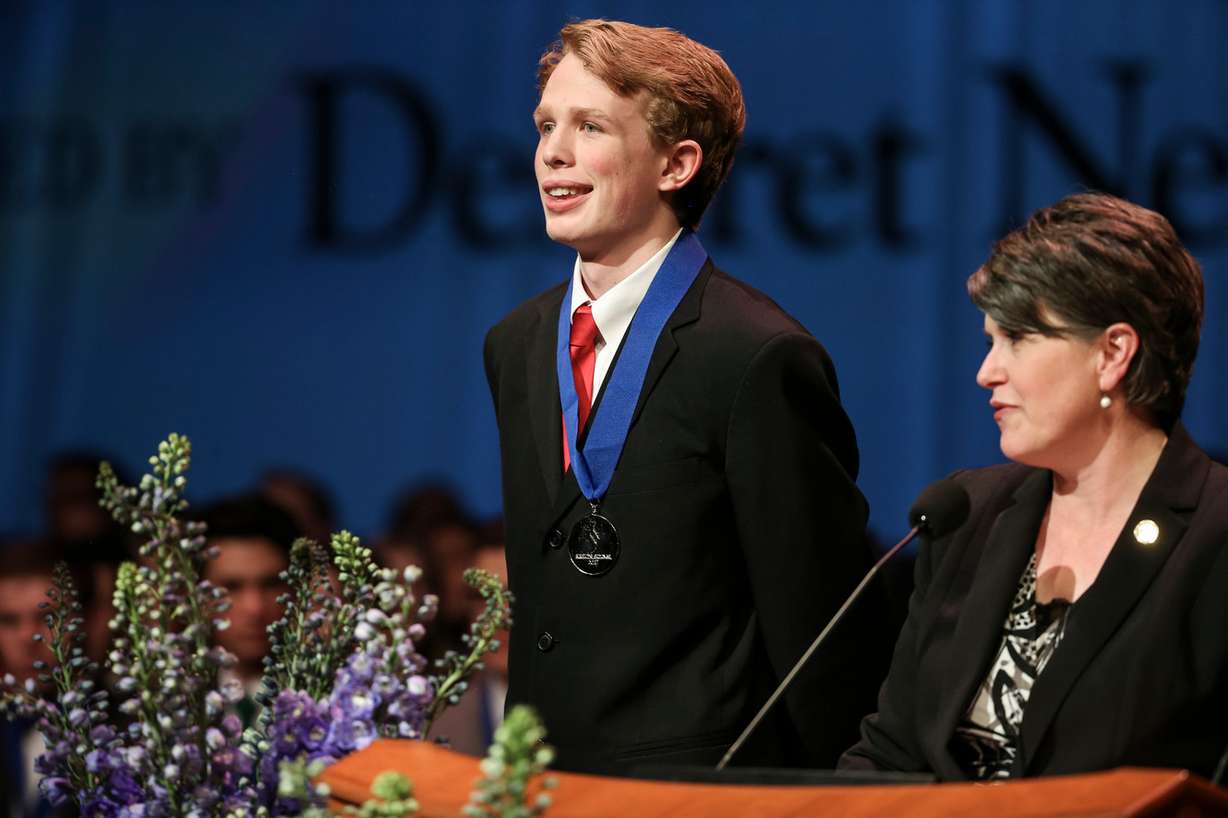 Andrew Meservy, a student at Herriman High School, received the Philo T. Farnsworth Governor's Award. A candidate in the Computer Technology category, Meservy is certified junior software engineer working in the health care industry alongside developers stationed in India, Russia and the U.S.
Meservy received a $1,000 scholarship with the award.
Musical numbers during the evening included past Sterling Scholars in musical categories. One of the past winners to perform Thursday was Michael Ballam, general director of the Utah Festival Opera and professor of music at Utah State University, who was named a Sterling Scholar in 1969.
Ballam spoke of choosing to become a professional opera singer back when he was told it wasn't an option for a young boy in Utah. He performed "The Impossible Dream" from the musical "The Man of la Mancha," urging students to relentlessly pursue whatever they aspire to.
"Are you willing to do the required work and develop the discipline in order to develop what others may think is an impossible dream?" Ballam asked.
×
Photos
Related stories
Most recent Utah stories