This archived news story is available only for your personal, non-commercial use. Information in the story may be outdated or superseded by additional information. Reading or replaying the story in its archived form does not constitute a republication of the story.
MOAB — About 150 students gathered on the football field of Grand County High School on Wednesday to mourn the deaths of two teenagers killed in a crash over the weekend.
Connor Denney, 16, and Taylor Bryant, 14, died after being ejected from a Subaru Impreza on La Sal Loop Road about 7:30 a.m. Sunday.
As they remembered their friends, students huddled together with lit candles and commiserated with each other Wednesday. Randy Martin, girls basketball coach at Grand County High who had Bryant as one of his players, remembered her as a determined person.
During a timeout in a game against Emery High School, Martin said, he told Bryant not to try shooting over one of the opposing players, who had blocked her shots multiple times so far in the game.
"She just looks at me with this look, and there's this sort of awkward look between the two of us," Martin recalled. "I finally say, you got this, don't you. And she said 'Yeah coach, I got this.'"
Her next time down the floor, Bryant "pulled up early" and swished a high arcing shot over the same defender, her coach remembers.
"She comes jogging down the court, she's got this big ol' smile on her face, she's just so happy and I'm just so happy for her," Martin said, his voice cracking slightly with emotion. "That's a memory of Taylor that I'll never forget."
Brooklin Hugentoboer, junior at Grand County High School, remembers Denney for his bright personality, she said.
"He was really outgoing," Hugentoboer said. "He was funny. He was fun to be around, great at making jokes."
Recent Grand County High graduate James Duberry, a friend of the Denney family, remembered Connor was someone who would "never ... do hurt to anybody."
"His family's good people and they deserve all the support they can get for sure," Duberry said. "It's a good community to be a part of. Everyone comes together in times of need and supports each other."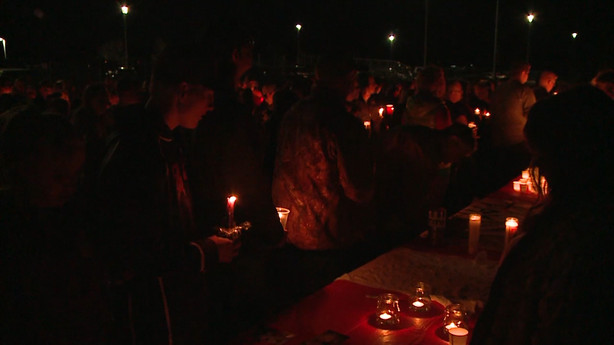 Students were also there to express their well wishes for three students injured in the same crash. Daniel McCrary, 17, was also ejected in the wreck and critically injured. Gage Moore, 17, and Tierney DeMille, 14, who were wearing seat belts, were not ejected but suffered serious injuries as well, police reported.
"Excessive speed and alcohol are believed to be contributing factors" to the crash, the San Juan County Sheriff's Office said Monday.
The crash occurred several hours after a prom dance at the high school, an activity that some of the students in the crash had attended, according to police.
The State Bureau of Investigation and San Juan County Sheriff's Office were working together to retrace the students' whereabouts and find out where they got alcohol, Department of Public Safety spokesman Todd Royce said Monday.
Grand County High School Principal Stephen Hren spoke at the vigil about students needing their parents, teachers and other adults to lean on while they cope with the sudden loss of their friends.
"If it takes a village to raise a child, we as the adults in the community need to be the role models for our children and our youth," he said. "Our actions definitely do speak louder than our words. And our kids are always watching."
×
Photos
Related Stories