This archived news story is available only for your personal, non-commercial use. Information in the story may be outdated or superseded by additional information. Reading or replaying the story in its archived form does not constitute a republication of the story.
SALT LAKE COUNTY — A Utah artist has made his name where few ever expected it: behind bars.
Jeffrey Grace's large-scale murals now adorn several rooms inside the Salt Lake County and Oxbow jails.
"You know, I've been in and out of (jail) a few times and anytime I've ever looked at (those) walls, I've always said to myself, 'I wish I could do something for the jail to where it would help others as well as myself," Grace said. "And it does — it does that."
Grace said he completed the roughly 20 murals over 4 to 5 months during his most recent stint in jail.
The larger works of art, which come close to taking up entire walls, took him as many as 50 hours apiece.
"Painting on block takes quite a while," Grace said. "It's a lot of buildup."
Some of the murals depict nature scenes with mountains, lakes, trees and wildlife, while others blend to their environment — such as sheriff's office insignias in hallways and imagery of various fruits inside a stuff lunchroom.
"That's how I was able to cope," Grace said. "You go into a place that smells bad, the color's bad, the food's bad and the people are bad, so you've got a lot of bad things happening. The only thing that kept me sane was to be able to go into my cell or go out and draw because it took me out of that place."
The Backstory
Grace's unexpected contribution to the jails' décor didn't come without some persuasion and unprecedented access granted by jail staff.
He said his offer to do his first mural was initially rejected by administrators before he convinced them he had real artistic ability. Grace also explained that he had done similar work while at the Central Utah Correctional Facility in Gunnison.
"After that first mural, then it started really blowing up after that," Grace said. "They really started wanting them everywhere. They wanted them in 'C Pod,' they wanted them upstairs, they wanted them in 'D Pod.'"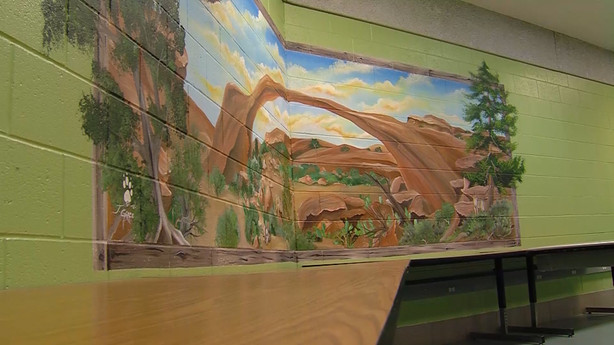 Interest in Art
Grace said he had been drawing for 35 years and subsequently learned the art of painting, but didn't take the craft seriously until he turned 30.
His talents are innate and his skills are self-taught.
"This is all generally from reading and studying," Grace said. "A lot of this stuff is trial and error – it's about getting in and doing it and what works best, different applications of different things."
Grace characterized his interest in art as something spiritual.
"I'd been drawing for all this time, and then I finally found out I had some Chippewa blood in me from back east, so it's kind of like, I don't know, a religious thing."
Art as Redemption
Grace said before he was released, he observed his fellow inmates spending a lot of time standing in front of the murals and appreciating them.
"I've even heard some of the officers say they wouldn't mind having something like that in their house," Grace said. "It not only helps inmates, but it helps (jail workers) do their job."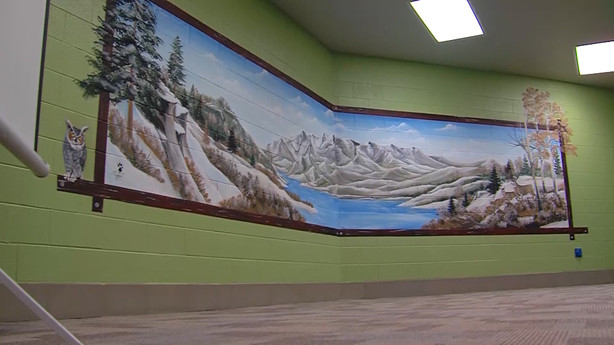 Grace said the project helped his self-esteem and helped give him direction in his life.
"It made me feel better inside about who I was as a person and who I am and what my purpose is," he said. "It gives us all self-worth, gives us reasons to be who we are and to do the best we can with what we have."
Art and the Future
Now a free man sharing a temporary home he has turned into a makeshift studio, Grace said he hopes to turn his talent into a business. He said he would like to bring his murals to hospitals, nursing homes, jails, businesses and whoever else would be interested in one.
"Yeah, it's what I want to do," Grace said smiling. "It's how I want to live my life, the rest of my life, and it's very important to me."
×
Photos