This archived news story is available only for your personal, non-commercial use. Information in the story may be outdated or superseded by additional information. Reading or replaying the story in its archived form does not constitute a republication of the story.
PROVO — Cornerback Dayan Lake didn't make it to the first week of spring football at BYU.
But the familiar No. 5 in the Cougars' defensive backfield was still making the same plays.
The former Northridge High standout wore "Ghanwoloku" on the back of his uniform Monday when the Cougars opened spring camp in the Indoor Practice Facility, and he intends to keep that name on the roster, his player profile and his game day jersey as a tribute to his father's family that immigrated to the United States from Liberia in 2002 during a civil war in the West African country.
"My uncle and that family's side is all Ghanwoloku, and my uncle just barely passed away last year," Ghanwoloku said after practice Wednesday. "Ghanwoloku is on my jersey to remember the family."
Ghanwoloku's family was on board with his name change. His mother tried to get him to play under the name in high school, but his father had already switched the family's surname to Lake (another family name), and it didn't make much sense for the family to undergo the expensive and time-consuming process of changing back.
If nothing else, he mused, it would be easier for broadcasters, public address announcers and fans to pronounce "Dayan Lake." But anybody who watched BYU football on ESPN in 2016 knows better; frequent mispronunciations of "Dayan LAH-kay" helped convince the then-sophomore that a change wouldn't be hard to undergo, at least on his jersey.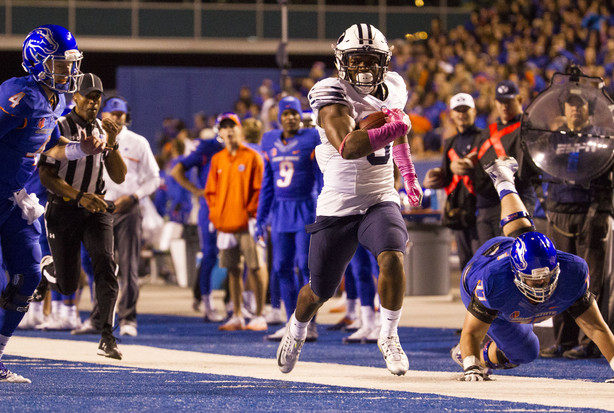 Besides, what better place to switch to Ghanwoloku than a school where names like Tolutau, Tapusoa, Kaumatule, Mo'unga, Taliauli and Tanoai-Sitake, among others, are already featured?
"It'll be hard to pronounce … Ghanwoloku has me worried," he said, before adding in jest, "Maybe it'll be just like another Polynesian name. We'll see."
His teammates didn't even notice the change — although some had trouble pronouncing "Ghanwoloku."
"'Ghanwoloku?' Is that it?," BYU senior linebacker Fred Warner said. "I noticed it yesterday after practice, but I didn't see it at practice."
One thing that won't change is the redshirt sophomore-to-be's defensive play. Ghanwoloku, who had 48 tackles and three interceptions including a pick-six against Boise State as a redshirt-freshman in 2016, wasn't always the fastest defensive back on the field for BYU. But he's lost nearly 10 pounds in the offseason, and he's listed at a shiftier 195 pounds during spring camp.
"Right now we're just a physical defense," said Ghanwoloku, before smiling. "We're playing a lot more man instead of zone, and it's more physical. I love that defense; it'll be fun."
×
Photos
Related Stories