This archived news story is available only for your personal, non-commercial use. Information in the story may be outdated or superseded by additional information. Reading or replaying the story in its archived form does not constitute a republication of the story.
PROVO — Dayan Lake thought he had a bunch of green grass and an empty end zone in front of him.
The redshirt freshman cornerback had just pulled down his first career interception, and his former Northridge High running back instincts took over as he tried to trot in for a touchdown.
Then, a flash of blue-and-yellow uniform struck him as the last man to beat. But it wasn't a speedy wide receiver or bulky offensive lineman who leveled him and prevented the score.
It was Toledo quarterback Logan Woodside, who passed for 505 yards in BYU's 55-53 win over the Rockets on Friday night.
"I wanted to take it to the house; I was disappointed I didn't, though," said Lake, who also had a team-high nine tackles. "I could've cut back and gone a little faster. But I looked slow, and the quarterback got to me, so it made it even worse. It didn't look good.
"The same thing happened last year with Fred (Warner) against Fresno State."
The play was a microcosm of BYU's defense against the Rockets: great plays with interceptions by Lake and leading ballhawk Kai Nacua — but ultimately disappointing in giving up 692 yards and 11 more points than Toledo's scoring average.
There will be a lot to correct as the Cougars (2-3) travel to face Michigan State (2-2) for a 1:30 p.m. MDT kickoff on ABC and KSL NewsRadio.
"I was really happy with the offense and the progress they made, especially when there were a lot of people questioning them a few weeks ago," head coach Kalani Sitake said. "We just need to play a complete game as a group."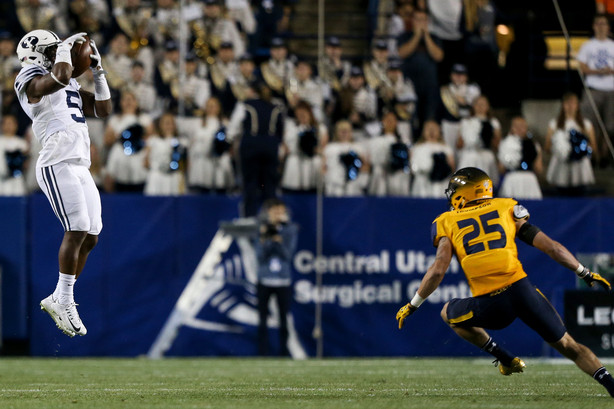 Sitake wasn't just being highly critical of a squad that snapped a three-game losing streak with the home win — even one that came against the Cougars' first non-Power-5 opponent courtesy of a last-minute scoring drive and Rhett Almond's short field goal.
But even if BYU fixes the issues against the Spartans, the first-year head coach will probably find something else to nitpick.
"If we do play a complete game, I'll find something else to complain about. I'm never going to show up and say 'my work here is done,'" Sitake said with a laugh. "Our job as coaches is to be jerks and find things to get better at. I appreciate the guys' effort and hard work … but it should be better than what we did this past week."
Lake had a smile on his face when reflecting on his first career interception. But even he knows there is plenty of improvement to be made in a short week where the team will leave a day early for its second trip to the Eastern time zone in three weeks.
"We weren't happy about it," Lake said of the defensive game against Toledo. "They put up too many points, and we feel like we could've done a lot better. We just need to execute, trust our speed, and not worry about technique as much. We can cover anyone in the country, we feel."
Sometimes it's easier to learn from mistakes after a win, though, and BYU jumped right into corrections with its first practice of the week Monday. Many of those mistakes revolved around the defensive backfield that lost a key contributor in cornerback Troy Warner.
Sitake said Warner (hamstring) and linebacker Butch Pau'u (knee) are still day-to-day with injuries, and additional lost time will further test BYU's depth that relied on players like true freshman Chris Wilcox and linebacker Adam Pulsipher, who made his first start in place of Pau'u.
Just like on each play, then, it's time to move on to the next game, Lake said.
"At cornerback, you have to have short-term memory loss," he said. "If you get beat, you have to come back and play on. Play like it's never happened; it's one-on-one again."
×
Photos