Estimated read time: 3-4 minutes
This archived news story is available only for your personal, non-commercial use. Information in the story may be outdated or superseded by additional information. Reading or replaying the story in its archived form does not constitute a republication of the story.
PROVO — The BYU men's basketball team had just handed top-ranked Gonzaga its first loss of the season, 79-71, at the McCarthey Athletic Center in Spokane.
When the Cougars flew into Provo Municipal Airport at 2 a.m. on Sunday, only one thing was on their minds: sleep.
But that would come later. The Cougars had, after all, beaten a top-ranked team — something never before done in school history.
"It kind of reminds me of when we beat Gonzaga in the NCAA tournament to go to the Sweet 16," BYU coach Dave Rose said.
When they found the throng of anxious fans awaiting the return of a BYU team that has had its share of ups and downs all year, all thoughts of sleep vanished. Eric Mika immediately began shaking hands and Corbin Kaufusi was handing out high-fives and fist-bumps like they were his third field goal of the season, which came in the dying moments at Gonzaga to seal the come-from-behind victory. The two posts even started a mini-flash mob at the edge of the airport's lone terminal with reserve Davin Guinn and other staff members.
When they got outside, fans serenaded the Cougars with the school's fight song — and Rose even joined in on the celebration.
It was a special night — except that BYU had won at Gonzaga for the past three years.
"It's definitely a fun place to play in," said TJ Haws, who had 17 points and three assists in the win. "We battled hard all night. They are a really great team. "It was super fun for everyone on the team to step up like that."
Saturday night's victory just meant a little bit more, for obvious reasons.
It may have been a chilly 16 degrees outside, and the wee hours of the morning were a lot to handle after the grueling 40-minute basketball game where the Cougars trailed 18-2 in early minutes of the first half and turned the ball over 15 times on the night.
"Everybody just battled back," said freshman forward Yoeli Childs, who contributed four points and three rebounds in 20 minutes off the bench after injuring his ankle a week prior. "They were calm and collected. It was awesome."
But no one was going home.
"It feels amazing right now," BYU guard Nick Emery said. "We just beat the No. 1 team in the nation, you know? It always feels good to do that."
Even head football coach Kalani Sitake joined in on the fun. He may have had to teach a Sunday School class at his local LDS ward the next morning, and spring football practices are set to commence on Monday morning. Even still, Sitake made the short drive to the west side of Provo with running backs coach Reno Mahe and a slew of other assistants and administrators. They joined fans in a homecoming that drew comparisons to the time the BYU football team knocked off Oklahoma in 2009.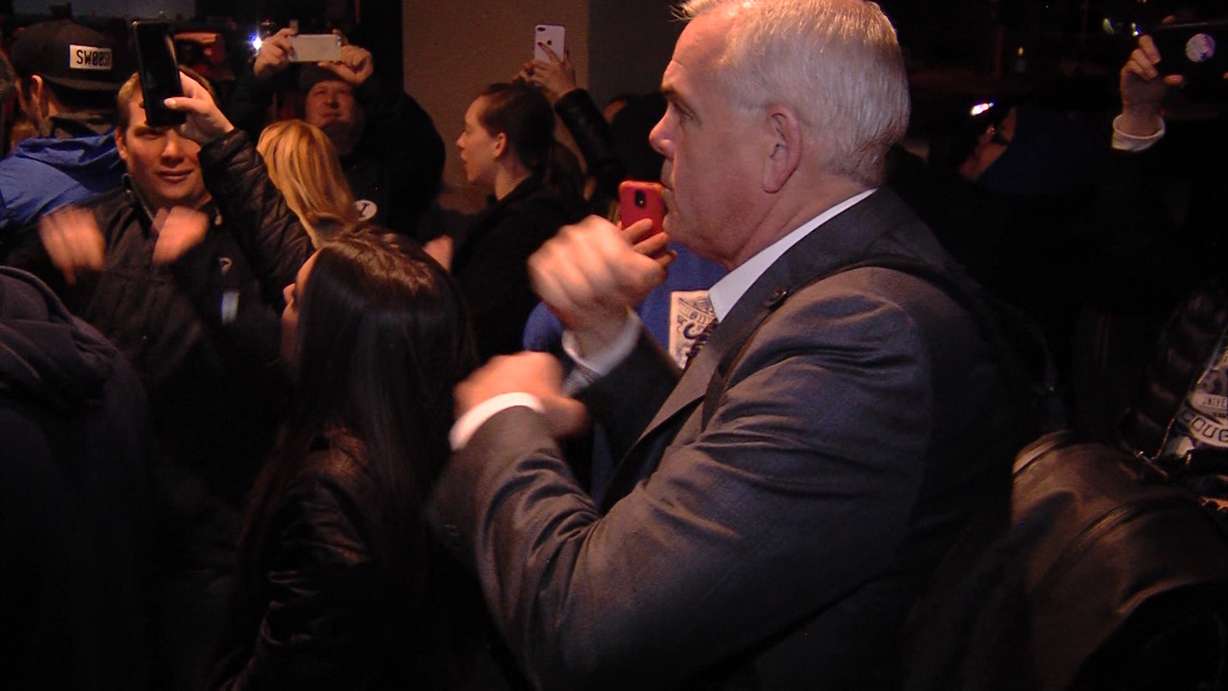 Ultimately, the win could prove inconsequential in some respects. Gonzaga should remain on track for a No. 1 seed in the NCAA tournament in March with a West Coast Conference Tournament championship. Gonzaga is the top seed in the conference tourney that starts Friday in Las Vegas. Both the Bulldogs and the Cougars have a first-round bye and will open tourney play Saturday. The Cougars will face sixth-seeded Loyola Marymount at 2 p.m. MT.
But for one night, BYU was the talk of the college basketball world. Interview requests began pouring in from ESPN, Fox and a host of other national media brands. Everybody wanted to know: How did the 21-10 Cougars pull off arguably the biggest upset of the season?
Sleep could wait, indeed.
"We're going to have some fun tonight," Mika said, before joking, "and by fun, I mean go home and sleep. Hopefully we get some more (wins) like it."
×
Photos
Related stories
Most recent Sports stories