This archived news story is available only for your personal, non-commercial use. Information in the story may be outdated or superseded by additional information. Reading or replaying the story in its archived form does not constitute a republication of the story.
WENDOVER — With its usefulness in a plethora of fields, there are plenty of needs for tungsten. However, much of the material is mined outside of North America.
That is, however, aside from one mine in Tooele County.
According to the Mineral Commodity Summaries 2017 report released by the U.S. Department of the Interior and U.S. Geological Survey, Scheelite Metals — based in Wendover with a mine located southwest of Dugway — was the only mine to produce tungsten concentrates in 2016.
The report stated that seven other companies processed the metal throughout the year.
"It's a very small world — the tungsten world is," said Jon Rush, part owner, chief mine manager and mining engineer of Scheelite Metals.
That's because the majority of tungsten mining is based in China. The Department of Interior and USGS report stated that "world tungsten supply was dominated by production in China and exports from China." Canada, Bolivia and Germany are also near the top of tungsten imports from 2012 through 2015, but Canada's lone tungsten mine closed down at the end of 2015.
With possible trading concerns with China that could pop up, Rush said it's important to have a domestic supplier of tungsten.
"What we're trying to do is try to get the tungsten up and to stay here in the United States and self-supporting," he said. "Tungsten is the hardest metal — it's hard to mine too. We bust bits right and left when we drill."
Tungsten is used for all sorts of carbide bit drills and cutting tools since it has a strong hardness and its ability to increase heat resistance. It's also used in energy-saving fluorescent light bulbs and all sorts of electronic products such as cellphones, television sets and microwaves, according to the International Tungsten Industry Association.
Tungsten even has uses in the medical industry, as also noted by the ITIA. Rush added that it has several military uses.
"Nearly 60 percent of the tungsten used in the United States was used in cemented carbide parts for cutting and wear-resistant applications, primarily in the construction, metalworking, mining, and oil and gas drilling industries," the joint Department of Interior and USGS report stated. "The remaining tungsten was used to make various alloys and specialty steels; electrodes, filaments, wires, and other components for electrical, electronic, heating, lighting, and welding applications; and chemicals for various applications. The estimated value of apparent consumption in 2016 was approximately $500 million."
So how did a mine in northwest Utah become the North America's tungsten production leader?
Scheelite Metals was founded in 2013. Rush, a Tooele native, made a career out of mining all sorts of minerals and metals. After a brief retirement, he set his eyes on Gold Hill mining gold.
When that didn't pan out, tungsten became the primary focus.
"Nobody mines tungsten … people don't get greedy over tungsten, so I thought this would be a good opportunity," Rush said, pointing out the rarity of mines.
That's when he went into prospecting for the metal in Nevada. After finding tungsten there, he went over to Kennametal location in Fallon, Nevada, to show the company there was tungsten to be mined in the Western region. With the help of Kennametal, Rush said he purchased a mine that began operation in 2014.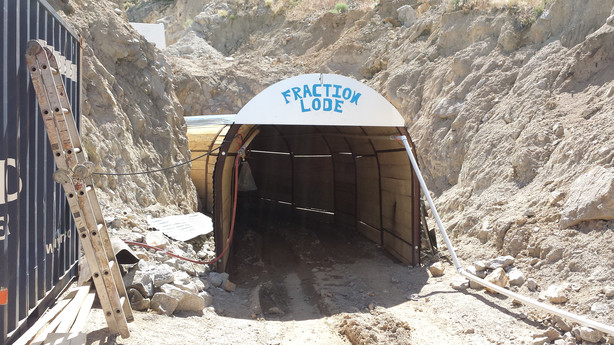 That survived through a tungsten market crash that claimed North American Tungsten Corporation based in Vancouver, British Columbia, in 2015. The mine was one of the other active tungsten mines in North America.
What was found in Utah gave new life to the industry in North America.
"This is a super-high grade vein. It's really high," Rush said, regarding the Tooele County mine. "The normal is .05 percent per ton and we're running anywhere from 37 percent to half a percent and an average of 5 percent."
Now Rush says the growth of the industry is giving Scheelite Metals an opportunity to boom.
What began as a six-man company, Rush said there are currently four people out at the mine, but a massive hiring growth is expected in the next few months.
"When we get going here, it's only going to get bigger and bigger," he said. "This is the biggest deposit I've run into other than Bishop (California), which I also have, and we have another mine in Wells, Nevada, that we're bringing on. Things are really hopping for me."
Of course, it all comes down to having a domestic supplier of such a valuable metal. It's an added bonus for Rush that it's coming out from an area near where he grew up.
"I think it's great for our economy in Utah to have a tungsten mine," he said.
×