This archived news story is available only for your personal, non-commercial use. Information in the story may be outdated or superseded by additional information. Reading or replaying the story in its archived form does not constitute a republication of the story.
Editor's note: This is the first part of a two-part series examining the 2015-16 finances of public Division I and II NCAA universities across Utah. - - - - - -
SALT LAKE CITY — As National Signing Day produced an excitement with four-star football recruits and a major hoops verbal commitment, several fans took to Twitter to express their appreciation with Utah's Pac-12 affiliation.
"#Pac12isWorking" became a popular hashtag for the day. Add the recruiting to growing success on the playing field, it's no question that Utah fans are happy with the Pac-12.
Aside from athletics, there's a belief within the institution that the conference connection yields benefits in the classroom too. The university is now aligned in the same region of some of the top institutions in the western U.S.
"Being part of a major, Power 5 conference like the Pac-12 is an important factor in recruiting some faculty, sometimes even ones who are not personally hugely invested in athletic competitions," University of Utah president David Pershing wrote in an email to KSL.com. "Faculty stars want to be associated with schools like Stanford, UCLA, USC, Washington, etc.
"The University's academic leaders (president, vice presidents, deans, academic senate president and student leaders) all collaborate with the leaders from the other Pac-12 schools on a regular basis. These interactions provide insight in the new ideas and practices at some of the best schools in the country."
There's another area where the Pac-12 is clearly working for the university: its wallet. University of Utah athletics generated $79.4 million in revenue during its 2015-16 fiscal year that concluded June 30, according to budget records obtained by KSL.com. It is a little more than a $17 million increase from the $62.4 million collected from the previous fiscal year and the sixth straight year in which the program concluded its fiscal year with a program-record revenue total.
The final audit on Utah's most recently recorded fiscal year was completed in January. Each fiscal year runs from July 1 to June 30.
Since joining the Pac-12 conference, Utah's revenues have skyrocketed. In fact, Utah has nearly doubled its $40.8 million revenue from the first season it participated in the conference during the 2011-12 year.
"It was a very pleasant surprise," said Steve Smith, Utah's associate athletic director for business and chief financial officer, regarding the final calculations of Utah's 2015-16 fiscal year. Utah had initially projected around $68 million as a conservative figure. "We did really well in ticket sales, conference (allotment) was pretty good, media rights — we had a little bump in our Pac-12 Network that we didn't expect, so those were some positives. … I'd say $79 (million) was definitely a surprise."
How Utah got its revenue
Utah received a major boost in ticket sales, TV deals and its conference affiliation to reach an all-time high once again in revenue during the 2015-16 fiscal year.
The department gained $16.98 million from ticket sales during the 2015-16 season — an increase of nearly $3.9 million from the previous year. Football accounted for roughly $12.6 million of the generated ticket revenue, while men's basketball tallied $2.9 million and women's gymnastics brought in another $440,677.
The program also received nearly $8.5 million in contributions, which is about $591,000 more from last season. It's worth noting that Utah does not mark contribution money in its revenue until the money is spent, so some of those dollars may have been donated during previous fiscal years and money donated in 2015-16 may not show up until future reports.
"Based on the guidance of the NCAA, you don't recognize those revenues until you've actually spent them," Smith said. "We have some reserves that have come in and we've built a couple of accounts up, but we don't recognize those donations until they've transferred into our operating budget."
However, the biggest chunk of Utah's revenue once again came from conference affiliation. Utah received a little more than $23.9 million altogether from the Pac-12 during the 2015-16 fiscal year, Smith said.
Utah received $19.94 million in media rights, $2.9 million in NCAA distributions, roughly $8.3 million in conference distributions, $1.8 million in concession sales, $1.6 million for its Las Vegas Bowl appearance and another $5.4 million in royalties and licensing deals, according to the finance report.
About $10.2 million came from student fees and direct support from the university. The amount is a little less than the 2014-15 fiscal year and accounts for about 12.8 percent of Utah's revenue. The total amount collected from student fees increased $158,757 to a little less than $6.1 million.
The program also received an additional $1.7 million from indirect institutional support.
However, the rising revenues come with a greater rise in spending, especially in a fiscal year in which Utah gave raises to football head coach Kyle Whittingham and basketball head coach Larry Krystkowiak, the department completed its brand new basketball facility and other expenses around the program popped up.
A rise in costs
While Utah's revenues soared an extra $17 million, its spending jumped $19.3 million to roughly $78.1 million.
Utah's expenses have steadily risen each year since joining the Pac-12 and have increased roughly $46.3 million since the end of the 2009-10 fiscal year.
Among the expenses from the recent report, $15.43 million went to coaching salaries and benefits; $11.6 million went to staff and administrative compensation and benefits; $10.68 million went toward student aid; nearly $6.47 million went to debt services; $5.5 million went toward travel costs; roughly $3.87 million went to equipment and uniforms; $2.89 million went to game expenses; and another $2.19 million went to marketing and promotion.
Overhead and administrative expenses, bowl expenses, indirect institutional support and student meal plans also contributed more than $1 million. Another $8.7 million went into an "other" category.
Utah gave raises to many of its coaches and staff, including the high-profile extensions to Whittingham and Krystkowiak, that helped in the rising expenses. Those were made to keep Utah's staff paid at a similar rate as other coaches around the Pac-12.
"We had a pretty big jump in salaries and a lot of that was due to football and basketball — a significant amount of that was," Smith said, who added others received raises across various staff positions. "We had some jumps in other sports too. Baseball obviously based off the last part of the year and softball — some bonuses."
A new scoreboard was installed at Rice-Eccles Stadium that Smith said will cost roughly $800,000 per year until it is paid off in the 2022-23 fiscal year.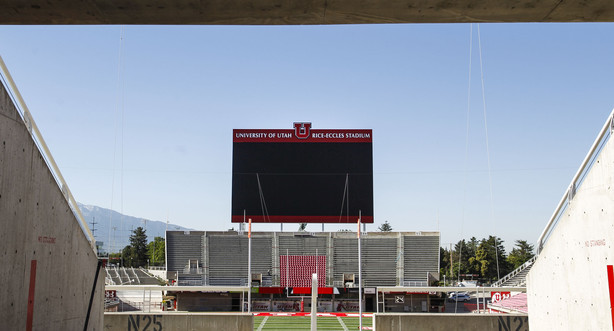 Cost of attendance stipends for student-athletes was also added into the fiscal year.
Team travel rose as Smith said a growing trend in college athletics is for teams to charter flights to combat missed class time for men's and women's basketball teams, which often could be left with scheduled games anywhere from Wednesday through Sunday on any given week.
Smith said the program also invested about $400,000 in replacing deteriorating equipment.
Then there's the cost of playing big games, such as paying Michigan $1 million to play a football game in Salt Lake City. Of course, Michigan paid Utah the same amount to play in Ann Arbor, Michigan, the previous year.
The department dodged another major expense in having to replace the turf at Rice-Eccles Stadium halfway through the 2015 football season because the program had a good enough warranty on the previously installed turf to avoid a steep cost.
"There's a lot of little things that can add up," Smith said.
"Inevitably, there's going to be expenses that occur that you don't plan for — and significant ones too — $100,000 here, a couple $100,000 there. It just depends on what's going on."
Looking into the future
It's clear that financially the Utes are in a much better position than prior to joining the Pac-12. However, the department is left each year trying to remain competitive in an athletic spending arms race with other Power 5 schools, including those within the Pac-12, while also remaining fiscally savvy. That's why it has made sure to spend wisely, build up emergency reserves and "rainy day" funds in case of emergency.
In addition to improvements to the program with new football and basketball facilities, Utah has added a new track, tennis courts, a softball field and has a new ski building over the past few years. There are also maintenance costs to each new facility and making sure if something were to happen, Utah could afford the repair fees.
What's in store for the future?
There are some set expenses the program knows it will have for the next several years. In addition to the new scoreboard that will be paid off in 2023, Utah's football and basketball facilities will not be paid off anytime soon.
Utah will pay $2 million yearly toward the Spence and Cleone Eccles Football Facility through the 2031-32 year and another $1.8 million per year for the Jon M. and Karen Huntsman Basketball Facility until the 2025-26 year. That amount then slowly drops per year until a final payment of $792,000 in the 2040-41 fiscal year.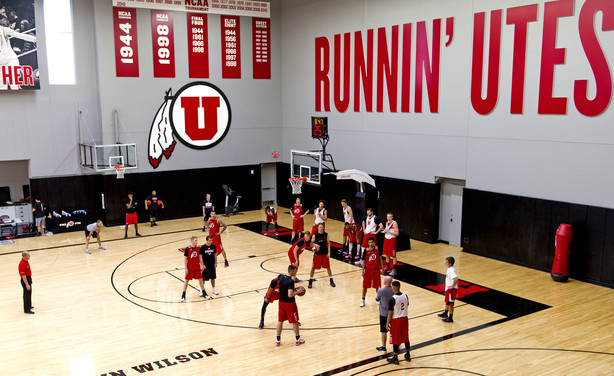 Smith added that paying back the debt the athletics program took out with the institution when it first joined the Pac-12 is a bit more fluid. Pushing money back to the university is decided on a year-to-year basis with money otherwise going into a reserve fund for future projects.
In an interview with ESPN 700 Monday, Utah athletic director Dr. Chris Hill said the program will take a thorough look at its facilities in the next few months to see what projects it will work on next.
He also went on to say that much of the work for Utah to catch up with its Pac-12 counterparts in both facilities and coaching salaries has been completed.
"The point is, there's always more to do," Hill said. "It's good, as we look back at the last five years, it's been a real challenge and we wanted to get our place in a position where people come here to play now complain about the altitude and how hard it is to get here, so we're like a regular member of the league now."
For the most part, future projects will need the support of donor funds before the projects begin, Smith said.
"There's always things you can control and can't control," he said, regarding future budgets and projects. "We always prepare ourselves for things we can control. I don't think we'd ever recklessly spend or construct something where we knew we couldn't fund it. … We'd need the support of the university before any of those types of projects happen."
Hill said last year that a new baseball stadium was in the works for the future to help fill a need with the program. Also in 2016, Utah announced it was adding beach volleyball, which meant the installment of beach courts in Einar Nielsen Fieldhouse, according to Smith.
As for revenue, Smith said Utah projects to make $72.4 million this current fiscal year. That comes with a caveat with postseason play such as bowl games and NCAA tournaments, Pac-12 allotment revenue numbers and contribution dollars not fully certain in that projection because each are difficult to exactly budget. And with another strong ticket sales year, Smith said it's more than likely that number will exceed the current projection.
There are elements out of Utah's control in relation to revenue growth, though. The Mercury News in San Jose, California, reported last week that the SEC Network led to $40 million for each of the conference's programs during the 2015-16 fiscal year — an $8 million increase from the previous year.
The Big Ten Network, the newspaper reported, was expected to reel in $35 million per school, while it estimated around $27 million per Pac-12 program.
There is the threat that a divide is being created in revenues between Power 5 schools with these massive television contracts.
"It's crazy to see the kinds of dollars coming up with the SEC Network and Big Ten Network and those kinds of things. You hope at some point the Pac-12 will produce those kinds of revenues, and I know there's been a lot of discussion in how to get them there," Smith said. "They're trying to be as creative as possible to get there."
The Pac-12 has partnered with Twitter and Sling TV as ways to bolster revenue numbers. Overall, Smith said there is hope that even with a possible divide of Power 5 affiliation revenues that the Pac-12 schools can remain competitive.
In the end, however, the primary focus isn't on what other schools are doing or even what the conference is doing; rather, it's on how can Utah use its rapid growth for its athletes.
"What we've tried to do is take that money and reinvest it into our program and to the student-athletes," Smith said. "That's been our goal from Day One. We wanted to compete from Day One so the first couple of years in the Pac-12, we weren't receiving those huge influxes of money.
"With the money coming in, we've been able to do some really neat things," he added. "We've been able to build a beautiful football facility and basketball facility for our student-athletes — not just for football and basketball, but for all of them. We have fueling stations where we spend upwards of $1 million to $2 million just feeding our athletes and making sure they have the nutrition they need."
In that sense, the Pac-12 is certainly working.
×