This archived news story is available only for your personal, non-commercial use. Information in the story may be outdated or superseded by additional information. Reading or replaying the story in its archived form does not constitute a republication of the story.
CACHE COUNTY — Snow and cold temperatures are threatening wildlife this winter in more ways than one. Division of Wildlife biologists are trying to help by feeding the deer and increasing patrols for poachers.
The emergency feeding program is underway for the first time in nine years in Cache, Weber, Summit and Rich counties. People who live near the mountains can often see the impact the snow has on wildlife.
"It's brutal," said Bruce Johnson, a resident of Blacksmith Fork Canyon in Cache County. "I hope the DWR is smart enough to try and drop some food."
On Wednesday, the DWR sent truckloads of deer pellets into the Cache Valley and three other counties in northern Utah.
"What we're trying to do is supplement their diet," said Darren DeBloois, game mammals coordinator for the DWR.
DeBloois said this winter has not been ideal. "If you get two things in combination, like really deep snow and really cold temperatures, it makes it really difficult for them to get around, and we start to see high mortalities," he said.
Volunteers help monitor the wildlife and will ultimately do most of the feeding in the coming weeks. "We have a lot of guys out there today packing snow and making sure there's a good packed surface to feed on. So, it's a big effort," DeBloois said.
Feeding areas like one near Hardware Ranch are prepared, and specially formulated pellets are laid down.
"We'll feed near the bottom of the foothills, where it starts to get steep," DeBloois said.
But he said food is not the only problem wildlife face. As more deer come down the mountains, the DWR also increases patrols for poachers.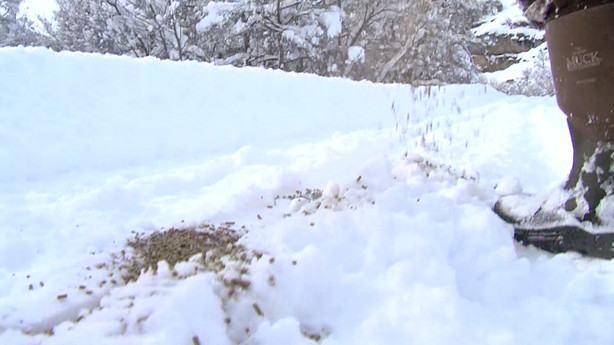 "Whenever you concentrate animals and push animals into areas that are close to where people can access them, they definitely want to keep an eye out for that," DeBloois said.
With that combined effort, DeBloois hopes more of the animals will make it through this rough winter.
"The snow depths are just really high, and we're concerned about survival," he said.
The DWR warns people not to try to feed the deer. The animals have very sensitive digestive systems and the wrong food can actually do more damage than good.
×
Photos
Related Stories