Estimated read time: 2-3 minutes
This archived news story is available only for your personal, non-commercial use. Information in the story may be outdated or superseded by additional information. Reading or replaying the story in its archived form does not constitute a republication of the story.
PROVO — Beef. Pork. Chicken. Fish. And now … crickets?
Brigham Young University researchers are studying how cricket protein may become a more palatable and regular part of Western cuisine.
"I don't think that the United States market is familiar with eating crickets," said Laura Jefferies, an associate professor of food science. "A whole cricket, I think, seems like just a little too much for a lot of people."
Grounding crickets down into a powder, though, seems to make a difference.
"Then people are far more willing to give it a try," she said.
Jefferies and her students have been conducting taste-testing research on bars and protein powder made by Salt Lake City-based Chapul, weighing how factors like consistency and nutritional value make a difference with consumer preferences.
"We work with companies as they're producing brand new products or changing formulations and then we bring consumers in to taste those products and give feedback that helps to drive the next direction those companies will go," Jefferies said.
Jefferies said almost every food product has undergone some type of market research, and she has previously conducted studies on products like mashed potatoes.
Crickets provided a new avenue of study.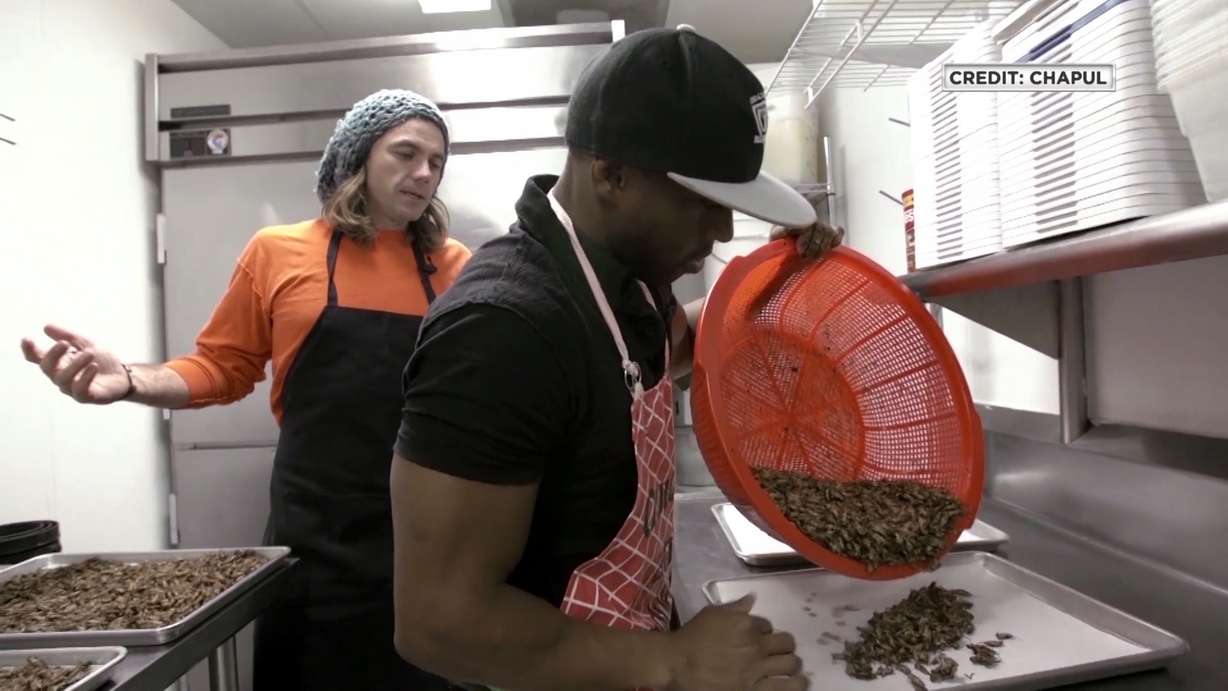 "We recognize there are a lot of opportunities for research here," she said. "It really is sustainable — it only takes about 8 percent of the resources to grow the same amount of protein, pound-for-pound, that it would for cattle."
Chapul founder Pat Crowley said the research has been helpful as his company develops a new round of products.
Chapul not only manufactures protein bars but also protein powder and flour. It's experimenting with a peanut butter cup-type product as well.
"In our next product launches, we want a finer powder to be able to be water-soluble," Crowley said.
Crowley said his products are finding an increasing number of buyers, and are now distributed across the United States and Canada through Sprouts, Natural Grocers, Good Earth and Natural Foods, and will be for sale at Harmon's locations within the next couple months.
"Alternative proteins are the fastest-(growing) category in the proteins right now," Crowley said. "Now pea protein, hemp protein, chia, flax and insects are really rapidly growing as people are more focused on the quality of protein as well."
Jefferies and Crowley acknowledged crickets may continue to become an essential protein source as the world's population climbs and strains resources.
"These crickets are raised up with far fewer resources and yet provide an equal amount of protein," Jefferies said.
Jefferies said cricket protein makes for an intriguing subject.
"It's very satisfying as a food scientist to catch on to some kind of thing that's new and innovative and unique," she said.
×
Photos
Most recent Utah stories