Estimated read time: 3-4 minutes
This archived news story is available only for your personal, non-commercial use. Information in the story may be outdated or superseded by additional information. Reading or replaying the story in its archived form does not constitute a republication of the story.
MONTICELLO — There's a new saying in San Juan County that is being echoed loudly around the state by critics of a move that President Barack Obama made on Wednesday: Trump the Monument.
Opponents of the new Bears Ears National Monument covering 1.35 million acres in southeast Utah are pinning their hopes on President-elect Donald J. Trump to undo Obama's designation he made under a 113-year-old law.
"I've played enough Rook in my life to know what a trump is," said Sen. Royce Van Tassell, R-Vernal. "Let's play it."
Van Tassell was among a parade of speakers who endured the chill of late December in front of the Monticello Courthouse Thursday to blast Obama's decision.
"I can't feel my toes, I can't feel my fingers and I can't feel my face, but my heart is on fire because of this crowd," said Utah Lt. Gov. Spencer Cox.
Critics believe that one way or another, the monument designation will not be lasting — and whatever environmental legacy Obama wanted to leave will be lost.
"His name and signature will perish in the wind and set with the sun forever," said Suzie Johnson, a Native American.
Several Native American speakers said Obama's action stole their land, and tribal colleagues — and leaders — who bought into the monument designation had betrayed them.
"To our tribal government, you have failed us," said another Native American woman, adding that Navajo Chapter leaders had failed local Navajo and the people of San Juan County.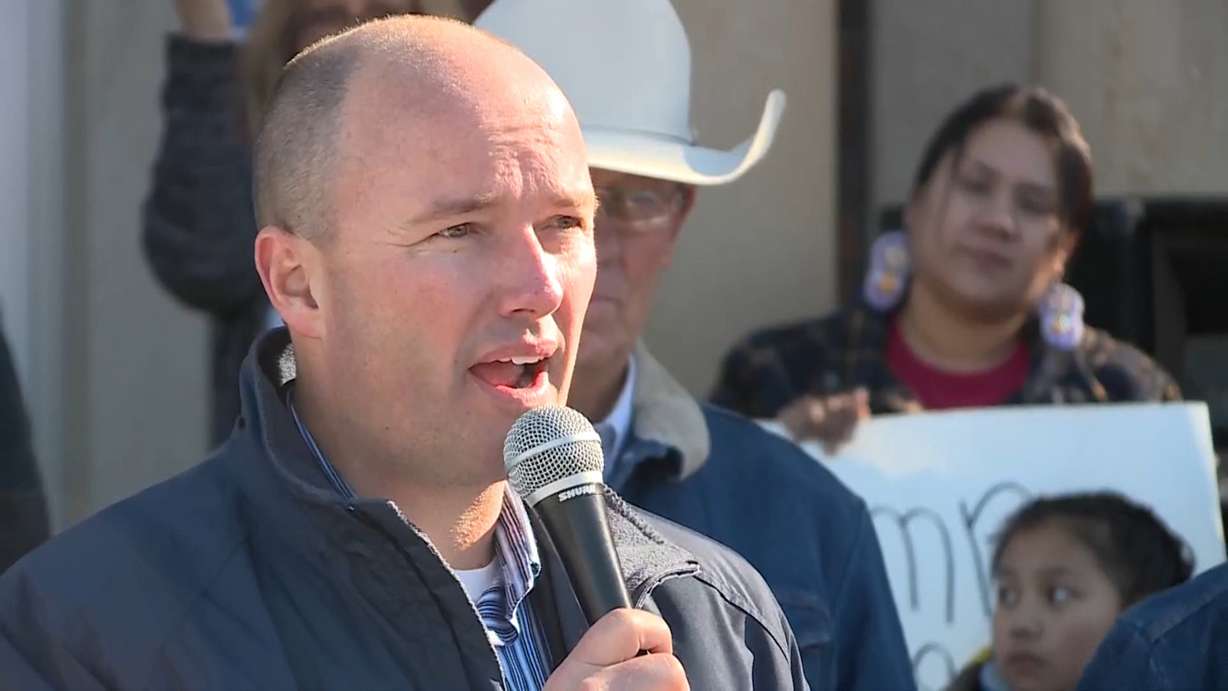 Both camps in the Native American population surrounding the Bears Ears Monument debate have similar accusations.
The locals who spoke Thursday said they represent the majority of San Juan County Native Americans, and they are opposed to a monument. They say monument supporters were lied to by the federal government and environmental groups about how the land will be managed.
Tribal leaders and advocacy groups say the majority of Native Americans in Utah and elsewhere support the designation and those few Native Americans who didn't want a monument were lied to by politicians about access being cut off.
The actual proclamation states that nothing in the document will be construed to "enlarge or diminish the rights or jurisdiction of any Indian tribe."
The proclamation establishes a Bears Ears Commission that includes a representative from the five Native American tribes who sought the monument designation, but that commission, according to the proclamation, operates to provide guidance and recommendations on the development and implementation of management plans.
Rep. Rob Bishop, R-Utah, said Thursday that it is a "gigantic lie" that Native Americans will be able to manage the Bears Ears monument.
In a subpoena letter to Interior Secretary Sally Jewell issued Thursday by Rep. Jason Chaffetz, R-Utah, the congressman said co-management of public lands requires the approval of Congress.
"Advocacy organizations, federal agencies, and the White House have all put out differing opinions on co-management, and it is important to clarify the bounds of the president's authority," Chaffetz wrote.
He said he will use everything in his power, including a subpoena, to get at the truth behind the "egregious" land grab.
The successful push for a monument designation is viewed much differently by a wide array of environmental, conservation and other special-interest groups, however.
The Native American tribal leaders who formed the Bears Ears Inter-Tribal Coalition lauded Obama's designation as a historic first that acknowledges how five tribes unified to protect a sacred area.
Whatever the view, the divisiveness, praise and condemnation shows no sign of letting up and is likely to grow even more fervent as the crowd of voices jockey for Trump's attention.
"This is going to be a great battle," predicted Rep. Mike Noel, R-Kanab.
×
Photos
Related stories
Most recent Utah stories