Estimated read time: 2-3 minutes
This archived news story is available only for your personal, non-commercial use. Information in the story may be outdated or superseded by additional information. Reading or replaying the story in its archived form does not constitute a republication of the story.
SALT LAKE CITY — After months of contract negotiations, KSL TV and DISH Network have failed to reach an agreement and DISH has removed KSL TV from its lineup indefinitely.
KSL will remain in negotiations with DISH until a final decision has been made.
"We have offered the same fair market rates that DISH already pays other local stations in the Salt Lake market and DISH has refused our repeated offers. Our goal was to reach an agreement and we worked diligently to do so before a blackout occurred. We are still hopeful we will reach an agreement soon," Tayna Vea, vice president and general manager of KSL 5 TV, said in a statement.
DISH removed KSL TV from the lineup Thursday night and subscribers will no longer be able to view any KSL TV programming including KSL TV News, NBC Prime, Studio 5, NFL football and more.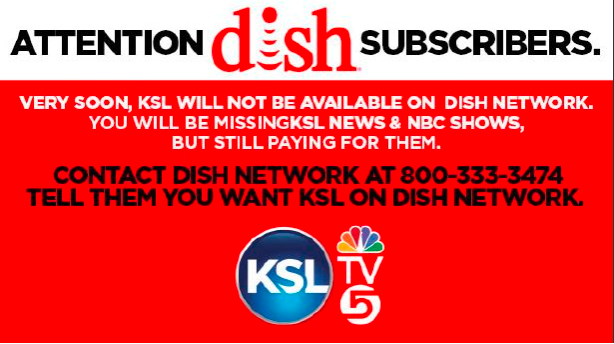 Courtesy of KSL 5 TVDISH subscribers who still want to watch KSL TV programming can receive the signal over the air with an antennae or change their subscription to Comcast, DirecTV or Google Fiber.
KSL's signal is retransmitted by about 30 different satellite and cable systems throughout the area and KSL is paid a retransmission fee by each provider that wants to carry the broadcast signal. The retransmission fees are determined through contract negotiations.
According to KSL TV, it has offered DISH the same rates that DISH pays other local stations in the Salt Lake market, but DISH has repeatedly rejected the offer. The channel will remain dark until KSL and DISH reach an agreement.
"We will continue to negotiate with DISH-TV and remain committed to serving our viewers and this community," Vea said.
Viewers are encouraged to call DISH-TV at 800-333-3474 to tell DISH they want to keep KSL.
---
Liesl is a web reporter at KSL.com and a student at Brigham Young University. You can email her at lnielsen@ksl.com.
×
Most recent Utah stories