Estimated read time: 2-3 minutes
This archived news story is available only for your personal, non-commercial use. Information in the story may be outdated or superseded by additional information. Reading or replaying the story in its archived form does not constitute a republication of the story.
There's new information today about an attack outside an IHOP restaurant in Orem on Saturday morning.
The suspect, who was shot and wounded by an off-duty police officer from Chicago, had a run-in with police just two days before Saturday's incident.
Some of the suspect's family members called Salt Lake police on Thursday to report he was acting erratically and had not taken prescribed medication. Orem police say the fact he was not taking his medication may have been a factor in the unprovoked attack with a pair of scissors on Saturday morning.
Sergio Weffer is the suspect in Saturday's stabbing. After relatives called police on Thursday, officers determined he was not a danger to himself or others, but that changed on Saturday morning.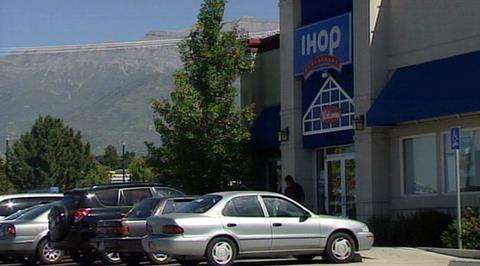 Lt. Doug Edwards of the Orem Department of Public Safety said, "He appeared to be suffering from a psychotic episode."
Police say Weffer began stabbing a man outside of the Orem restaurant for no apparent reason. An off-duty police officer from Chicago saw what was happening and opened fire on the suspect.
"He was in the right place at the right time and saw what was going on and was able to stop it before the victim was seriously hurt," Edwards said.
But the victim, 28-year-old Spencer Cheshire of Boise, did suffer injuries that sent him to the hospital.
"The victim in the case had slicing wounds to his head, his neck, his chin and his arm. Fortunately there were no puncture wounds that required surgery or that really put his life in danger," Edwards explained.
Weffer was taken to the hospital to be treated for two gunshot wounds.
"He's in stable condition. They are going to keep him there for a week or so at least, for treatment of his wound. He was shot in the lower back and a grazing wound on his side," Edwards said.
The off-duty officer is back in Chicago, and the case is being reviewed by Orem police and the officer's supervisors in Illinois. But all evidence points to the Chicago officer being justified in stopping the stabbing.
"We're grateful that under the circumstances, that it turned out as well as it did, that nobody's dead," Edwards said.
Sergio Weffer is expected to be taken to jail once he leaves the hospital. Between now and then, prosecutors will screen the case for charges.
E-mail: spenrod@ksl.com
×
Related links
Most recent Utah stories