Estimated read time: 3-4 minutes
This archived news story is available only for your personal, non-commercial use. Information in the story may be outdated or superseded by additional information. Reading or replaying the story in its archived form does not constitute a republication of the story.
SALT LAKE CITY — About 150 members of Utah's Jewish community gathered in the rotunda of the state Capitol and heard messages of hope and kindness as they marked the fourth day of Hanukkah.
The celebration in recent years has moved to the Capitol after it grew too large for the Governor's Mansion. Gov. Gary Hebert, donning a kippah, was on hand to participate in Rabbi Benny Zippel's ceremonial lighting of the menorah.
"Let me also offer my own prayer to the god of Abraham, Isaac and Jacob on your behalf and on behalf of the Jewish community and on behalf of the state of Utah as we come together as friends and neighbors, and try to bring light to this world that needs a light," Herbert said. "Because we certainly have a lot of darkness going on in the world."
Rabbi Zippel also delivered remarks about the significance of the menorah, saying it was symbolic of bringing light into the world.
"It's a timely and reassuring message, for the forces of darkness are ever present," Rabbi Zippel said, quoting at length a 1980 message from Rabbi Menachem Schneerson in Brooklyn, New York. "Moreover, the danger does not come exclusively from outside. It often lurks close to home, in the form of insidious erosion of time-honored values and principles that are at the foundation of any decent human society. Needless to say, darkness is not chased away by brooms and sticks, but by illumination."
In addition to prayers, attendees sang along with spiritual and patriotic music, including a rendition of "God Bless America."
Herbert and state Rep. Patrice Arent, D-Millcreek, Utah's only Jewish legislator, also focused their remarks on the symbolism of putting light into the world.
"Hanukkah is a festival of light" that values the importance of religious freedom, said Arent, who is also co-president of the National Association of Jewish Legislators.
"Shining our collective light on religious discrimination ... throughout the world ... we can make a difference in working for freedom for all people," she said, making special note of immigrants and refugees.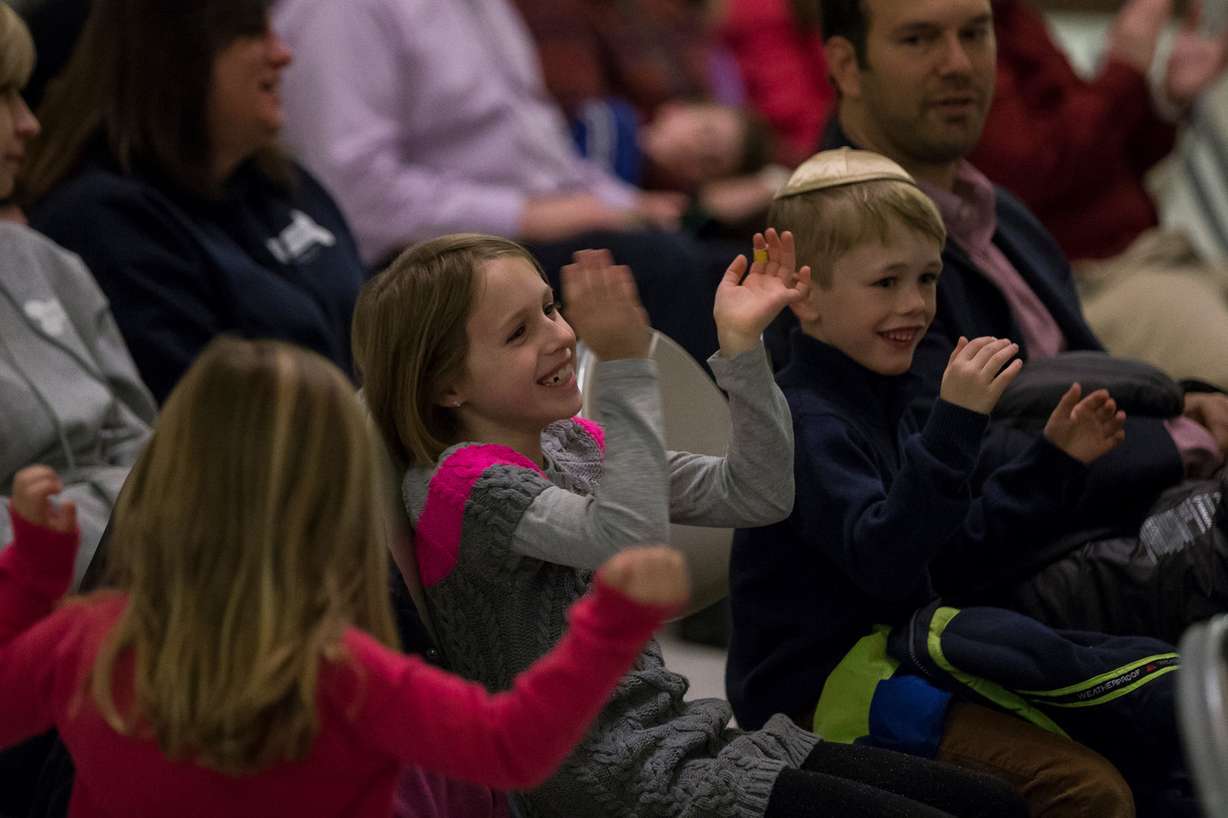 Arent and Herbert both also quoted Martin Luther King Jr. about ridding the world of hatred.
"Darkness cannot drive out darkness. Only light can do that," they each quoted King as saying. "Hate cannot drive out hate. Only love can do that."
Herbert also drew impromptu applause as he focused some of his remarks on the importance of supporting Israel in the Middle East.
"I shudder to think what it'd be like without the state of Israel there as kind of a ... buffering influence in some of those troubling areas," the governor said, recalling a trade mission to Israel he took part in three years ago.
But mostly, Hebert said, the celebration of Hanukkah reminds him of the individual opportunity to spread light and kindness from person to person.
"Doesn't everybody need a little love and compassion at times in life?" He asked those gathered. "Probably a little bit every day."
×
Photos
Most recent Utah stories