Estimated read time: 3-4 minutes
This archived news story is available only for your personal, non-commercial use. Information in the story may be outdated or superseded by additional information. Reading or replaying the story in its archived form does not constitute a republication of the story.
SANDY — For Blake Anderson, free movies are one of the biggest benefits of his job.
"That is one of the perks," he said with a laugh. "You know, I'm not going to lie. I go a lot."
Catching the latest film is pretty easy when you work right upstairs. Anderson is the President of Megaplex Theaters and the building at Jordan Commons is a bit of a second home.
"I actually started when I was a kid in high school," he said. "It was popcorn and serving drinks and helping tear tickets and things."
As big Megaplex's flagship theater is — in the scheme of things — it's tiny.
The brand is known across Utah, with 15 locations in the state and one in Nevada, but the rest of the country is covered with massive chains, sporting thousands of screens.
While AMCs and Cinemarks dot the nation, Anderson says he's proud to call Megaplex home — and when the excitement hits a fever pitch, he can't resist being in the thick of it.
"One of the things we do — when we have big openings — is we close the home office," he said. "All of us, from HR to marketing to food and beverage, we all go out and work with our teams."
That means exactly what you think it does. Some nights, you'll find him right back where he started: popping popcorn.
"We literally become team members," Anderson said. "We ask the GM, 'What can we help you with?'"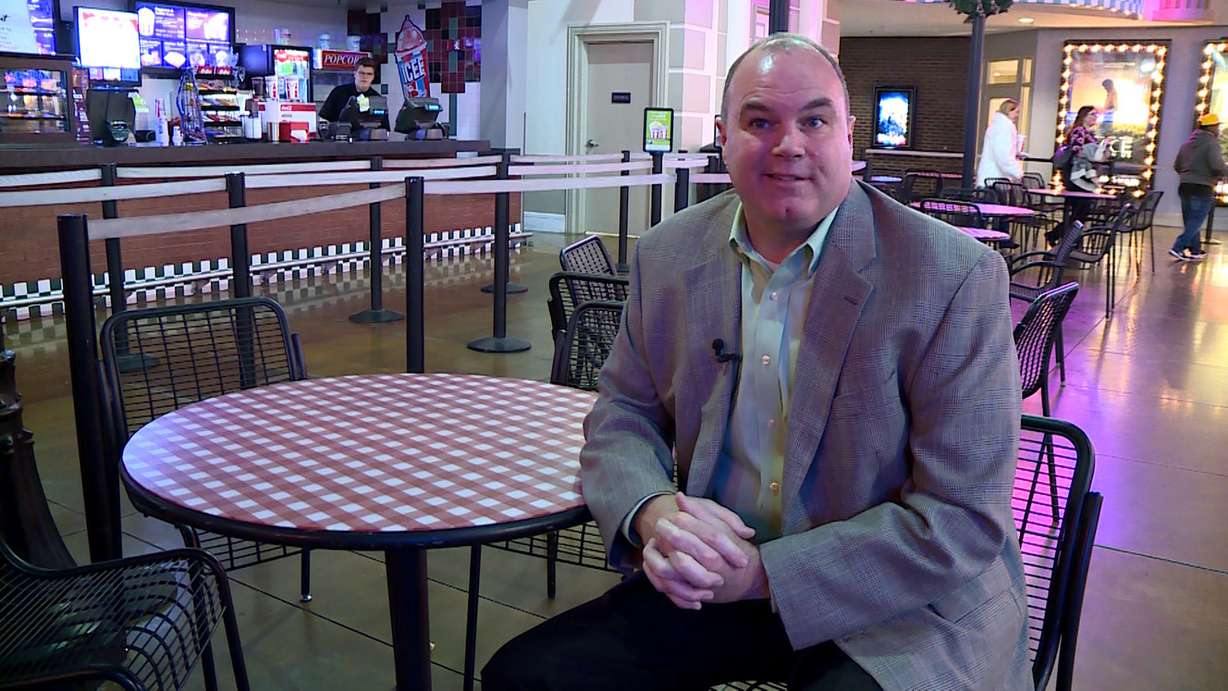 Anderson just had his latest chance to relive his high school days, with the release of the latest Star Wars movie, "Rogue One."
"My particular job that night, opening night, was to stand at the podium and tear tickets," he said.
And that's where Anderson was when his phone rang.
"I got a call from one of our film buyers, and he said, 'You're tracking to be number one,'" he said.
The Megaplex at Jordan Commons ranked number one in the entire country for opening night of "Rogue One," narrowly beat out the Empire 25 theater in Manhattan. Anderson says their victory is even more impressive because the win isn't based on the number of customers, but on revenue.
"So that means it's probably doing double what some of our competitors are doing in New York, San Francisco and L.A. because they charge more for tickets," he said.
This isn't the first time a Megaplex theater has received such a coveted ranking. Anderson says they've won in the past, for films from the "Harry Potter" or "Pirates of the Caribbean" series — but for him, this triumph is a little different.
"Most of the movies where we hit number one are very family-based," he said. "But Star Wars is one of those that appeals to everyone across the board. There's a lot more competition out in the world to hit a number one status."
That may be a big victory for a small theater chain, but Anderson's already looking ahead to 2017. He hopes some of next year's releases will land his theaters near the top of the rankings.
And despite the pressures of a busy Christmas season, you'd better believe he found the time to see "Rogue One."
"Loved it," said Anderson. "I went in very apprehensive, but came out pleasantly surprised."
×
Photos
Most recent Utah stories