Estimated read time: 2-3 minutes
This archived news story is available only for your personal, non-commercial use. Information in the story may be outdated or superseded by additional information. Reading or replaying the story in its archived form does not constitute a republication of the story.
(Photo: Eberhard Bamberg)
Utah engineers have developed a new technique for slicing a premium element used in solar cells, that in turn could slice costs.
The engineers, led by Assistant Professor Eberhard Bamberg, have come up with a new way to cut the chemical agent germanium.
"We make them more robust, that is, they don't have cracks below the surface. They're also straighter, and they have reduced warp and reduced bulk," he said.
Translation: The new method lowers the cost by reducing waste and breakage of the semi-conductor.
Heavy solar panels on rooftops are cumbersome now because so many of them are needed to capture a broad spectrum of light.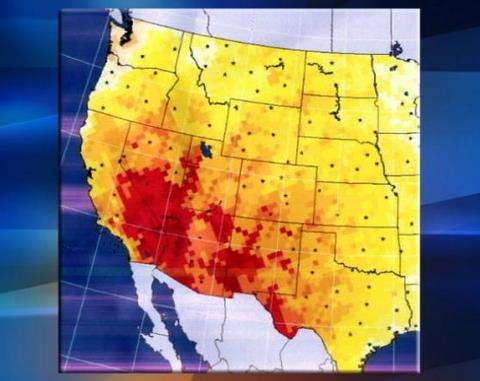 Germanium is expensive and used mostly by NASA for spacecrafts and satellites. Unlike silicone, which is cheaper and more commonly used, germanium as the bottom layer of solar cells combined in a unit is 40 to 50 percent more efficient.
That means on a house top, a small array would capture a lot of light.
It could mean solar panels that not only are more efficient but aesthetically pleasing as well. They would not sit in a frame but would be built inside the roof of a house while it's under construction, as part of the design.
Dr. Bamberg said, "Maybe we can have them as small as a little roof window, if you can think of it that way, a little sky window."
The U's prototype machine uses an electrically charged wire that at 1,650 degrees Fahrenheit slices brittle germanium into even thinner wafers than conventional steel wire saws have been able to do so far. Thinner slices with less waste means more for the buck. Germanium runs about $680 per pound.
"If you take the example of about 100 microns, which is quite thin, you can cut almost 60 percent more wafers, which is a dramatic increase in productivity," Bamberg said.
He says the new technique is less expensive, and germanium is more efficient and lighter than the traditional silicon kind of solar cells.
"It should also affect what we will ultimately pay for germanium-based solar cells," he said. "So yes, I think it's a first important step."
In Utah, some places are on a high solar level. We get an average of eight or nine kilowatt hours of electricity per square meter per day from the sun. If you used germanium solar cells, it would take only one fourth to one fifth of the area required to capture that amount of energy.
"I think consumers are ready to look at alternative ways to use energy sources, and I think this will play a part of it," Bamberg said.
He predicts a new generation of nice-looking solar roofs could become a part of the U.S. landscape within the next two to three years.
E-mail: bbruce@ksl.com
E-mail: eyeates@ksl.com
×
Most recent Utah stories