Estimated read time: 3-4 minutes
This archived news story is available only for your personal, non-commercial use. Information in the story may be outdated or superseded by additional information. Reading or replaying the story in its archived form does not constitute a republication of the story.
SALT LAKE CITY — In this busy shopping season awash in holiday deals, residents in the market for a new vehicle can make a big impact on Utah's pollution problem.
Envision Utah, a public-private partnership promoting quality growth, solicited the help of the Utah Division of Air Quality to crunch the numbers on how choosing a vehicle with a better smog rating would impact air quality.
The ratings from the U.S. Environmental Protection Agency are found on the right-hand side of the fuel economy window sticker on new vehicles or on the vehicle emission control sticker under the hood of used vehicles.
Ari Bruening, Envision Utah's chief operating officer, said the typical car has a smog rating of five or six, but if consumers chose a vehicle with a rating of eight, emissions drop by 80 percent, or the equivalent of driving 11,000 fewer miles over a year's time.
"The bottom line is that buying a higher smog rating car will have a greater impact on air quality than almost anything else the average Utahn can do," he said.
The problem, Bruening pointed out, is that most people aren't even aware of smog ratings.
"We actually do presentations to groups of 200 to 300 people, and when we ask how many of them know about smog ratings, we get one, or two or maybe three hands that go up."
Glade Sowards, a policy analyst with the air quality division, said the smog ratings can be confusing, but people should consider them like rungs on a ladder. The rungs represent different emissions classifications by the EPA and a single model of a car can have varying smog ratings, depending on its emissions profile.
"I think what is really important is that going from a smog rating of five to a smog rating of eight may not seem like a big change, but it is not a linear progression," he said. "The difference is you can drive the same amount of miles in a year, but the vehicle (with rating of eight) will emit one fifth the amount of pollution. That is a big deal."
Chosing lower smog-producing vehicles has the potential to render dramatic impacts in the Salt Lake area, for example, where 50 percent of the pollution comes from the tailpipe, he added.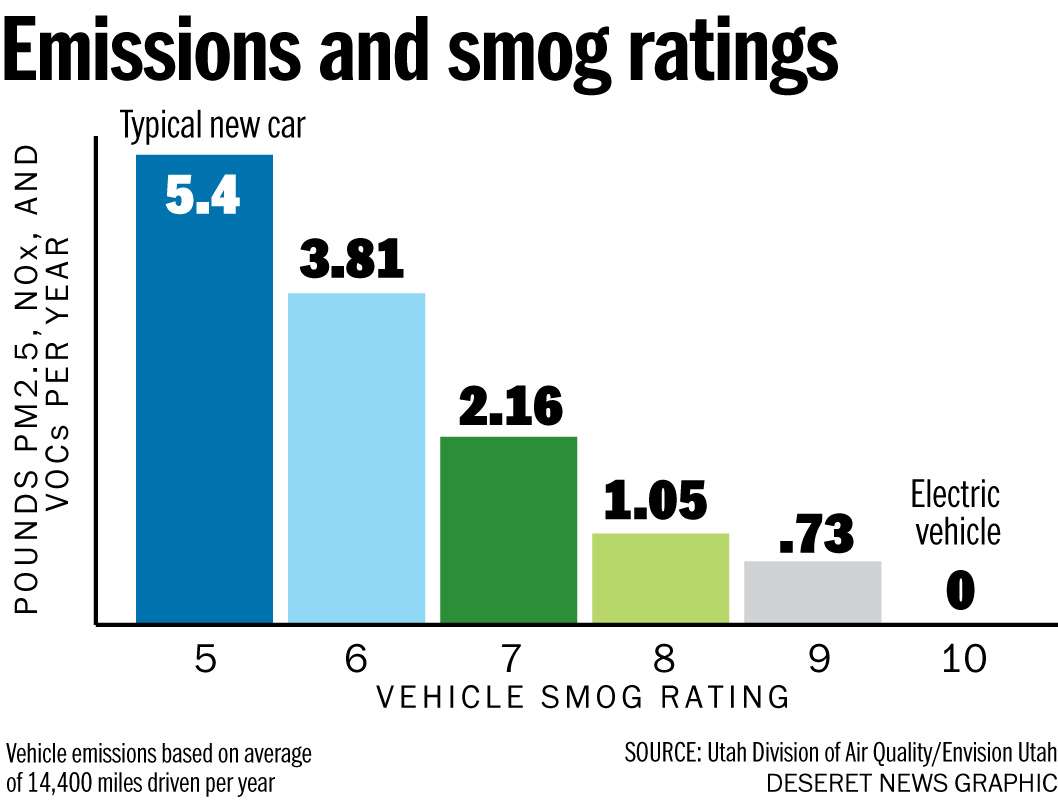 "It may be the vehicle you are looking for is not available with an eight rating," Sowards said. "But you can still choose the vehicle that best suits your needs with the highest available smog rating. There are still a lot of clean cars, including SUVs and minivans, that are somewhat cleaner than the others."
Both Bruening and Sowards said they have met with the Utah Automobile Dealers Association and local dealers in general to encourage them to spread the word to consumers.
In addition to smog ratings, the 2017 models now on the showroom floor are part of the initial rollout of the EPA's Tier 3 vehicle standards, which will be phased in through 2025.
While vehicles manufactured in 2016 are dramatically more fuel-efficient and less polluting than vehicles manufactured before 2004, this next era of vehicles will be even cleaner-burning, Sowards said.
The new vehicle standards are also accompanied by fuel standards that mandate refineries reduce sulfur content in their gasoline.
Tailpipe emissions are the single largest contributor to the state's fine particulate, or PM2.5, pollution problem that occurs in the winter and its ozone struggles in the summer, regulators say.
Sowards said it is the precursors contained in exhaust — volatile organic compounds and nitrogen oxides — that team up as culprits behind the area's pollution woes.
Both Bruening and Sowards are encouraging residents to educate themselves about smog ratings and to be mindful of them when making a vehicle purchase.
The division has put information on its webpage and will assist people trying to learn more about the ratings. Vehicle owners can also go to www.fueleconomy.gov, and under the "find a car" tab determine their own vehicle's smog rating.
×
Photos
Most recent Utah stories