Estimated read time: 6-7 minutes
This archived news story is available only for your personal, non-commercial use. Information in the story may be outdated or superseded by additional information. Reading or replaying the story in its archived form does not constitute a republication of the story.
SALT LAKE CITY — The winter after her teenage son David passed away in his sleep, Martha Crook saw a news report that urged the community to donate coats and other warm clothing to Volunteers of America - Utah's Homeless Youth Center.
"As you can imagine, it was difficult giving David's things away," Crook said.
"I thought, 'Oh my gosh, we have ski clothes, we have everything so we can drop things off at the center.' I went in, dropped them off. That was great and I started volunteering," she said.
She didn't know then how that donation would eventually lead her to help hundreds of teenagers and rekindle memories of her son.
The following spring, more than a year after her son's death, Crook decided it was time to clean out his closet. His clothing was also donated to the youth center, which at the time operated out of small storefront on State Street.
Her boy's clothes went into what was then a small room crammed with donated clothing, although David's was larger than most. He was 6 feet 2 inches tall and weighed 210 pounds. "He wasn't a small child," Crook said.
The center's then-director, Charis Pankratz, asked Crook to operate the donation room for a while, which she did. A short time later, two young men walked into the center. One of them looked a lot like David.
"He was the same size, shaved head, and I saw him from the back," she said.
She watched them get excited as they sorted through David's donated clothing.
"One comment was, 'They're not mom jeans.' Of course I burst into tears. They turned and looked at me to see, 'Who's this crazy lady here?'"
Once the youths left, Crook walked into Pankratz's office and said, "'I can do more than sort clothes in the back room' because that's all I had really been doing."
Pankratz floated the idea of giving homeless youths backpacks stuffed with things they need and a few things just for fun. And the backpacks would be distributed for Christmas.
"I just said, 'I'll do it,' " Crook recalled.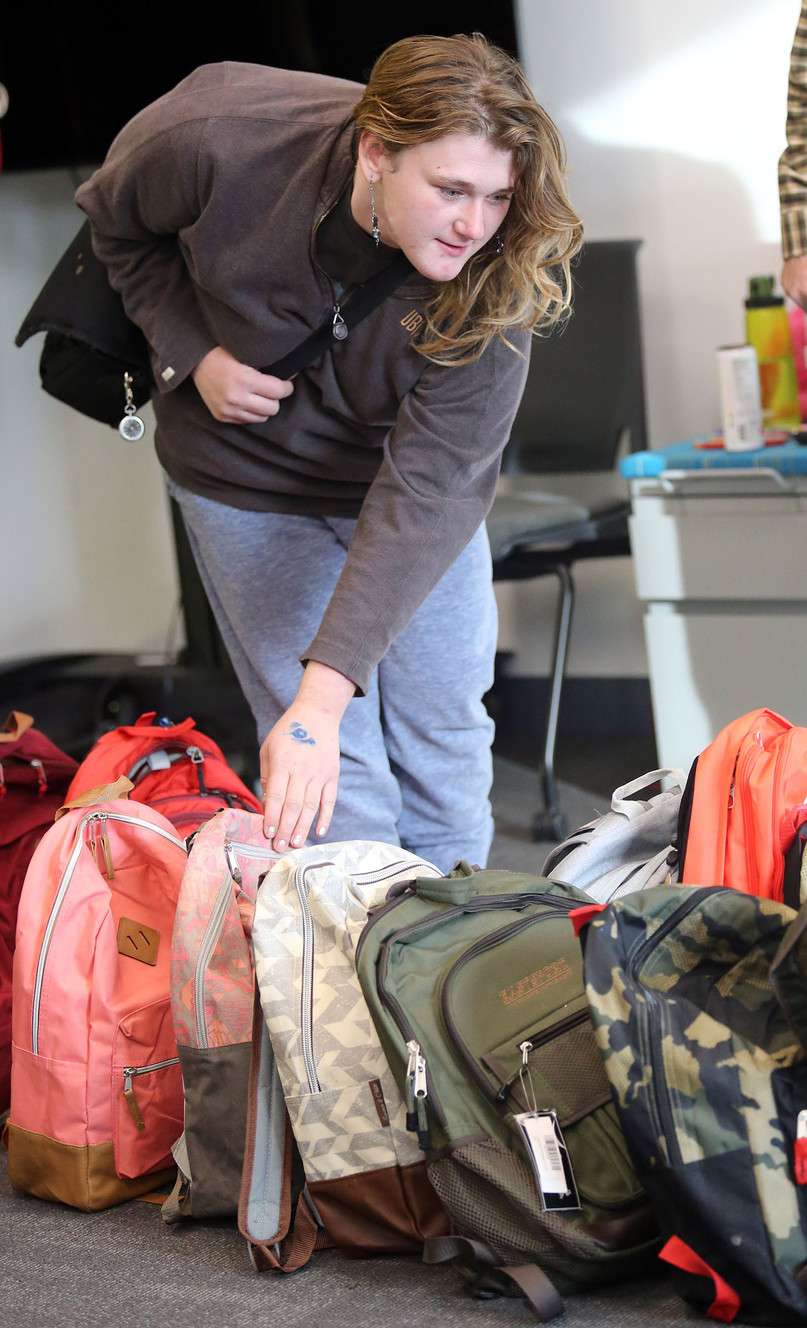 Crook's daughter wondered aloud how the family could afford such a project.
"I emailed friends and that's how it started. That year we were able to donate $8,000 and over 100 backpacks that had all the stuff in them, and it's only grown since," she said.
That was in 2010. Last year, the effort raised nearly $20,000 and some 300 backpacks were stuffed and distributed. Each contains underwear, socks, hand warmers, a water bottle, games, pens, notebooks, adult coloring books, markers, bus tokens, gift cards, etc. This year, Utah First Credit Union provided new shoes and Discover Card provided new coats.
"At this point in time it almost becomes like the sorcerer's apprentice, where I don't know where all the stuff comes from," she said.
The backpack distribution, now in its seventh year, is much different than its humble beginnings, which involved Crook's family filling backpacks in her small Sugar House home.
"I had tubs all over the living room and tubs on the kitchen table. I had family in for Thanksgiving, and I said, 'OK, we can cook as soon as all this stuff is filled.' That was the first year where we stuffed everything ourselves. Now we have this center. It's truly been great to have all of this support," she said.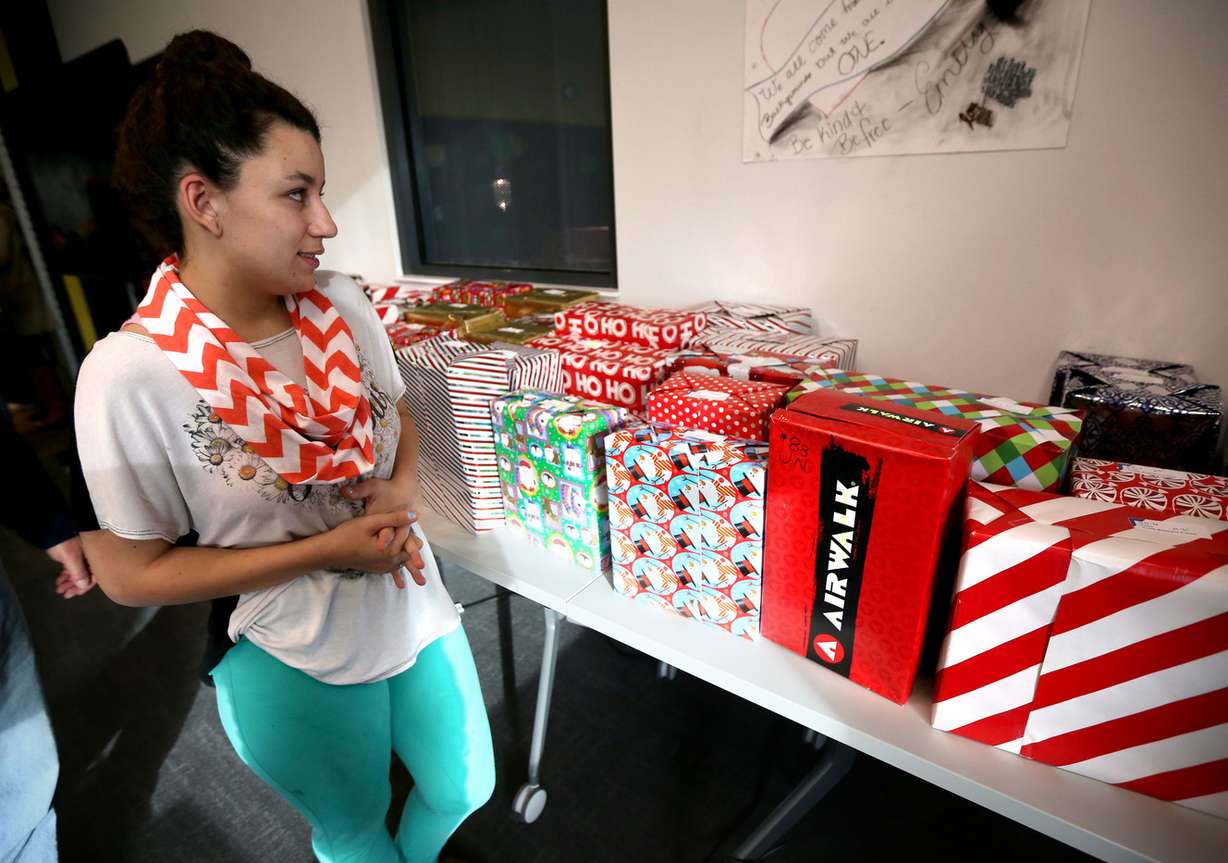 Crook said the event is a fitting tribute to her son. It also acknowledges her brother Jay Bundy's former employment with Volunteers of America's homeless outreach program and as a substance abuse counselor with two other nonprofit organizations.
Bundy occasionally took David with him on outreach visits, and the boy accompanied him on rafting trips with clients from the substance abuse treatment centers where he worked.
Those experiences obviously made an impression on the boy because in the fifth grade, when his teacher assigned him to write a book about what he wanted to do in his life, David wrote, "If I could change the world, I would cure homelessness. I would take care of substance abuse and mental health issues. I'd make sure all the kids and the people on the streets have warm clothes to wear."
The life lessons learned tagging along with his uncle were evident, his mom said. "For him to actually internalize that, wow."
Volunteering for Volunteers of America and later becoming a member of the nonprofit organization's board of directors "was totally natural to me."
Few of the youth who receive backpacks are familiar with the back story of the Fill the Pack project.
For most, "it's Christmas," meaning it likely it is the only gift they will receive this year, one youth explained.
Crook said the youth who went through the line this year and in years past are grateful, and she is grateful for the extended network that make Fill the Pack possible.
Samantha Klein, 20, said the gifts, which also include a movie pass, were an unexpected treat.
"It's really cool to see that people care enough to put their time and energy and effort and resources into helping out the youth here. There's a lot of good kids here. I'm trying to get my life back on track and it's nice to know other people are willing to provide resources to help with that. It's really nice to be reminded that people care," she said.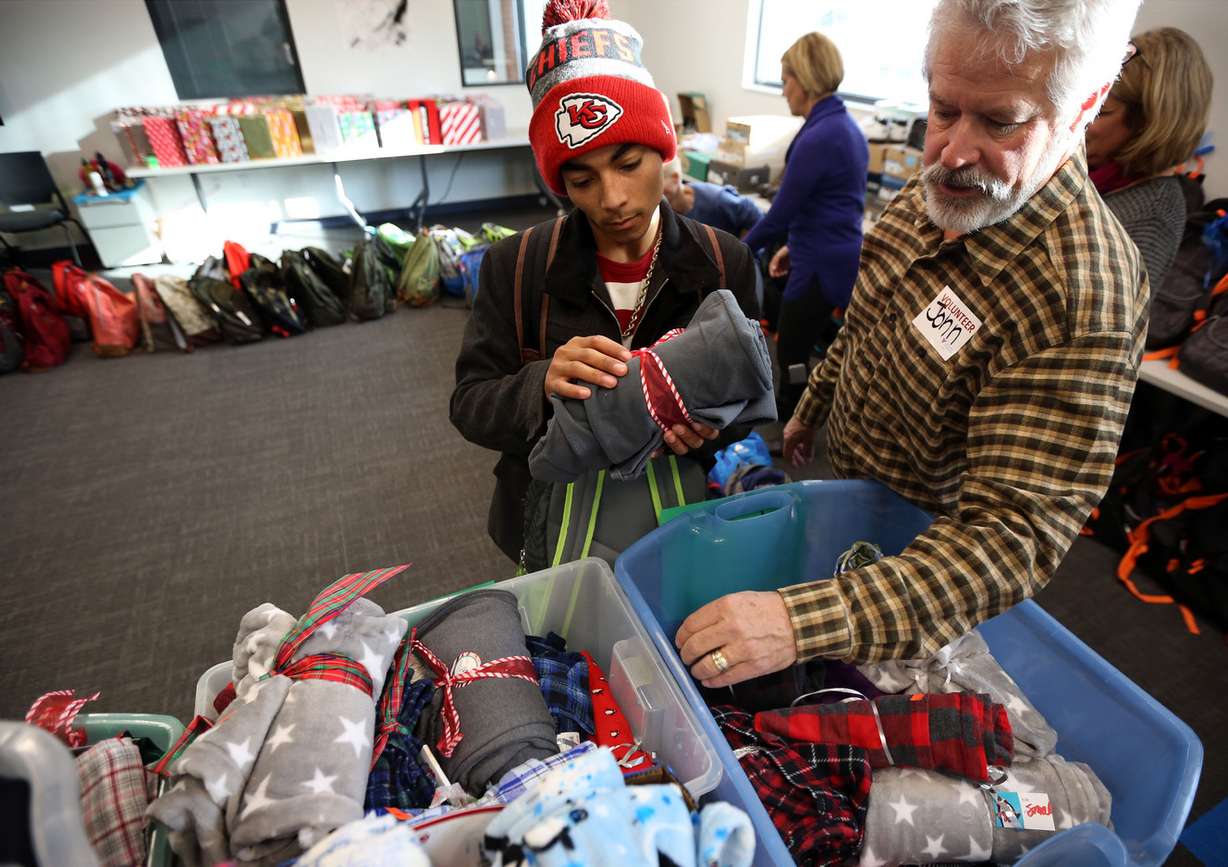 Crook, a career educator, said she's struck by the teens' gratitude for the backpack and other gifts.
"When you give them the packs, we have underwear and socks and they're so appreciative — so appreciative. They can't believe they get a movie ticket. Just that attitude. I think we've lost that in so much of our culture. That's sad," she said.
As the youth entered the second-floor conference room where this past week's giveaway took place in Volunteers of America's new Homeless Youth Center at 888 S. 400 West, Crook said she thought about her son and the fact that the people the event helps "are just kids," who through a variety of circumstances, are experiencing homelessness.
"My kids grew up in Park City. My kids had everything. They didn't think so but they did. For the turn of a coin, a twist of something, a different circumstance, who knows. But these are just kids. It just really breaks my heart to see that. But on the other hand, a great project. It's good. This is Christmas for them."
And for Crook?
"This brings David home for the holidays," she said. Email: marjorie@deseretnews.com
×
Photos
Most recent Utah stories